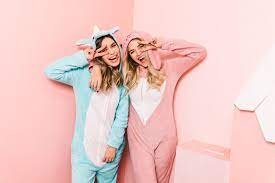 If you enjoy dressing up, you are probably aware of the different costumes that exist on the market, but have you ever tried pajama suits?
Also known as kigurumi, this Japanese garment made of fluffy material is worn in winter. They are colorful and add fun to your everyday life when it's chilly. In fact, its name comes from the Japanese words "kiru" meaning to wear and "nuigurumi" meaning plush.
We are seeing more and more of them at mass events such as music festivals or in the city during marathons. The reason is simple: they are easy to wear and instantly give the appearance of a costume. They are perfectly in line with the kawaii universe that suits Japanese culture.
You just have to slip them on and you're good to go, you have the perfect outfit for all kinds of occasions. In addition, their soft and fluffy texture is very popular, as wearing them gives the feeling of having a stuffed animal on oneself.
Here are some tips for choosing the right outfit and finding the fun indoor outfit that suits you.
What size to choose?
As we have seen, kigurumis are comfortable clothing, both in terms of texture and cut. They are easy to put on and easy to wear. That's why we often find outfits with patterns of characters from manga culture, you can find outfits in the colors of the crew members of Luffy from One Piece or even a kigurumi with the look of Totoro.
As for the size, most of the time they are cut oversized, like a onesie in short. This cut can be confusing at first, but it is much better to wear this type of clothing as it provides more ease in your movements so that you don't feel tight inside.
In addition, loose-fitting clothing helps to better retain heat close to your body. As they are wide, they retain more heat close to your body. In fact, the warm air will be more present in your garment, which helps to better fight against the cold.
What pattern to choose?
There are tons of different patterns in this category, we couldn't list them all, but there are some that catch our attention. If you want to dress up in the Japanese style, try to choose the craziest costumes!
Animal pyjama suits
First of all, animal patterns, which are the ones we find the most in stores or on the internet. There are hundreds that will make you feel like you're at the zoo, we can even bet that you can't imagine the number of models that exist.
The most common ones are panda pyjama suits, but there are also more adventurous designs such as zebra, dragon or dinosaur patterns! Sometimes, the originality can be found in the colors, there are models with fairly common animal patterns but with extravagant colors, such as multicolored cats.
Pajama costumes with your favorite characters After animals, it's time to talk about cartoon and video game characters. Mario, Pokémon, Zelda, so many licenses that have influenced the childhood of millions of us, these characters are ingrained in our memory and for some, they are still very modern and relevant.
That's why there are many pajamas with the colors of these characters in Japan, they are there to accompany you in your sleep and also in your costumes.
For example, you can choose a Pokémon costume, by taking a costume of one of the game's characters, the most obvious being Pikachu, but there is probably a model for every existing Pokémon.
What material to choose?
Once you're done looking at all of that, you can start looking at the materials.
There are several, but we can focus on four of them:
Silk is a luxurious material, soft to the touch and easy to wear. You can wear it in the summer, as it is ideal for hot weather. It seems that silk is a "cold material", to recognize it and especially to differentiate it from polyester, you can compare the two materials by touch. If one of them is warmer to the touch, it is polyester, silk is "cold to the touch". It is rare to find onesies made of this material, usually it is kimonos that are designed in this way.
Wool is a natural material that is known for its breathable properties. Contrary to what many people may think, woolen clothes are breathable, which makes them more comfortable to wear and prevents the accumulation of sweat inside, especially when you move a lot. It is highly recommended for children who are used to being active, with this type of texture they will be more comfortable to move.
Cotton is an abundant material on the market, it is easy to weave and that is why there are so many clothes designed with it. With it, you will have an easy-to-wear onesie for a reasonable price, it is a good alternative that is both economical and viable.
Polyester is a synthetic material that we do not recommend. It does not have any natural qualities like the other materials and can even wear out quickly after only a few washes. How to wash it? To wash them, we recommend not to insist too much on their cleanliness and to let them be worn for some time before washing them. This does not mean that you should wear them dirty, but you can wash them once a month without any problem.
Now you know how to dress like a modern Japanese at home, it's up to you to discover them and be inspired by this style.