I picked most beautiful ryokan in Japan for this article. One of its highlights is a gorgeous stained glass bath, which makes it perfect for a relaxing getaway.
But that's not the only thing that will captivate you! The delicious breakfast and the delightful atmosphere of the surroundings will also bring you a sense of joy and healing.
Discover 5 Most Beautiful Ryokan In Japan:
Table of Contents
1.Obama Onsen Relaxing Inn Ryokan Yamadaya/Nagasaki
Enjoy a luxurious stay at the foot of Unzen and watch the beautiful sunset. A hot spring inn with a superb view
Address: 905-7 Kitahonmachi, Obama-cho, Unzen City, Nagasaki Prefecture
Obama Onsen has an abundance of hot water that you can enjoy. In the "Giyaman Bath," an indoor bath with vibrant colors typical of Nagasaki, you can soak in natural hot springs straight from the source. It has a dreamy atmosphere where you can relax and feel extraordinary. Another recommendation is the open-air bath called "Irihi no Yu," where you can soak while watching the beautiful sunset. After sunset, you can even use it as a private family bath.
For a nostalgic experience, there's the 8 tatami Japanese-style room (sea side). You can relax and unwind on the wide veranda chair while admiring the sea view, or stretch out and take it easy on the tatami mats. Let the soothing sound of waves relax you
. If you prefer beds, there are also Western-style rooms available.
Indulge in a sumptuous breakfast featuring an array of local seafood. You'll be treated to a variety of side dishes including grilled fish, salads, and seasonal vegetables.

2.Kurokawa Onsen Yamabiko Ryokan/Kumamoto
Spend a relaxing time in Kumamoto's unexplored hot springs
Address: 6704 Kurokawa, Manganji, Minamioguni-machi, Aso-gun, Kumamoto Prefecture
Located along the Chikugo River, the Yamabiko Ryokan offers a selection of Japanese-style and Western-style rooms, each with its own unique charm. The second-floor Japanese-style room called "Rindo" is adorned with warm and inviting traditional furnishings.
Additionally, the ryokan provides accommodations for dogs and even a hot spring, so if you're planning to travel with your beloved pet, be sure to consider it.
At the women's public bath, you'll find beautiful stained glass .The gentle light shining through the glass creates a soothing and tranquil atmosphere. Along with the open-air bath and large public bath, there are six different private baths available, offering a variety of open-air bathing experiences.
One of these private baths is called the "Roman Bath," which also features stained glass. Unlike the vibrant colors of the public bath, this bath has a calm and serene ambiance. When you open the large windows, you'll be greeted by lush greenery and a refreshing breeze, providing a comfortable setting.

3. Hatago Kayausagi / Oita
A nostalgic traditional house inn where you can feel the romance of the Taisho era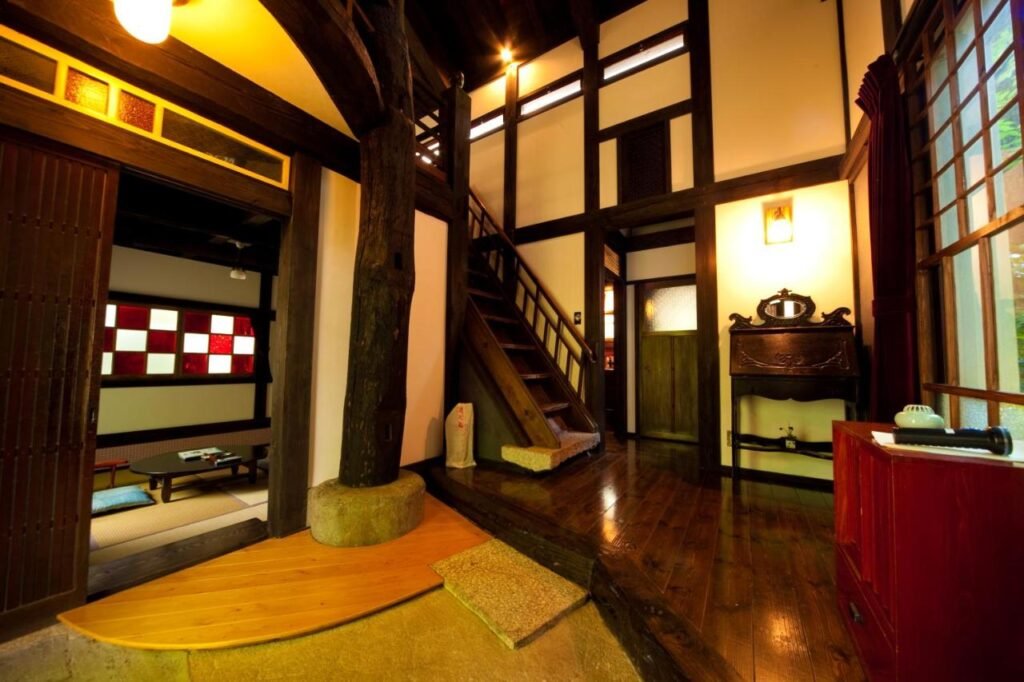 Address: 1529-1 Kotohiracho, Hita City, Oita Prefecture
The building is adorned with frosted glass and stained glass, creating a charming Taisho-era atmosphere throughout. Even the large public baths, "Iwao no Yu" and "Yuragi no Yu," feature beautiful stained glass framed in wood.
The guest rooms also showcase the exquisite use of stained glass, adding to the overall ambiance. The annex called "Romankaku Tsukinohana" is a Western-style building with both indoor and open-air baths that offer the luxury of flowing hot springs. The spacious maisonette-style rooms provide a villa-like experience, with a total of seven detached rooms and six rooms in the main building. The blend of traditional and modern interior design will surely captivate you.
For both dinner and breakfast, you'll have the pleasure of dining in a private dining room. Breakfast consists of a healthy and satisfying Japanese set meal. In the morning, you can enjoy the refreshing sunlight filtering through the trees from a Japanese-style room overlooking the Takase River.

4. Kyoto Inn Hiiragiya/Kyoto
A unforgettable stay at an inn with historical hospitality in Kyoto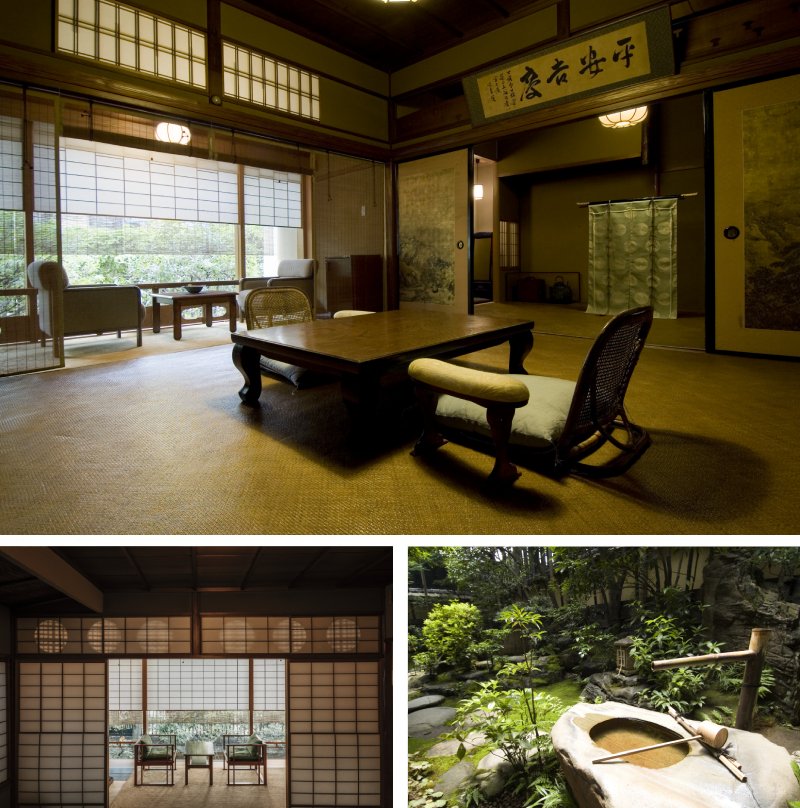 Address: Prefecture, Kyoto City, Nakagyo Ward, Fuyacho, Anekoji Agaru, Nakahakusan
Step back in time by about 200 years. Hiiragiya, established during the late Edo period, stands as one of Kyoto's oldest inns, boasting a rich historical heritage. With a two-story wooden Sukiya-style old building and a newer establishment constructed in 2006, you can experience the timeless beauty of traditional Japan even in its modern form.
This charming inn holds a special bath with a touch of history. The family bath features a stained glass artwork generously donated by Mr. Sanchi Ogawa, renowned as Japan's top stained glass artist. This stained glass piece, created during the late Meiji period and later entrusted to the museum, portrays the emotionally rich scenery of Kyoto. Additionally, the bath area displays ceramic plates crafted by Rokubei Shimizu VI, adding an artistic touch.
Both the main building and the newly constructed building showcase the traditional Japanese architectural style known as Sukiya-zukuri, allowing guests to immerse themselves in the Kyoto atmosphere.
Indulge in a warm and gentle Kyoto-style breakfast. Savor carefully prepared Japanese dishes such as boiled tofu, grilled fish, and rice cooked in an earthenware pot, and feel your energy replenished with each bite.

5. Kurashiki Ivy Square/Okayama
Feel the charm of Kurashiki -a hotel in a historic building
Address: 7-2 Honmachi, Kurashiki City, Okayama Prefecture
Located a convenient 15-minute walk from Kurashiki Station, "Kurashiki Ivy Square" stands next to the historic Bikan Quarter in Kurashiki City, Okayama Prefecture. This complex tourist facility beautifully preserves and repurposes the Meiji-era Kurashiki Spinning Mill factory, making it an excellent base for sightseeing in Kurashiki.
Immerse yourself in the serene ambiance of the women's public bath, designed to resemble a lush green forest. Step into a natural interior that creates a soothing atmosphere. The gentle light from the green-stained glass gently embraces you, providing a sense of tranquility. As you soak in the bathtub, let the jet bubbles wash away your fatigue. The dressing room's stylish mosaic tiles add a touch of elegance.
Find solace in the guest rooms, where natural kindness fills the air.
Indulge in a delightful buffet breakfast at the classical-themed "Restaurant Tsuta." Delight in an abundance of seasonal ingredients, including Okayama's specialty dishes like "Sawara no Tataki," "Mamakari no Vinegar Pickled," homemade tofu, and hotel curry. With such an exciting lineup, it may be difficult to choose, but make sure to eat until you're satisfied. On pleasant weather days, enjoy your breakfast in the open-air courtyard square.
---