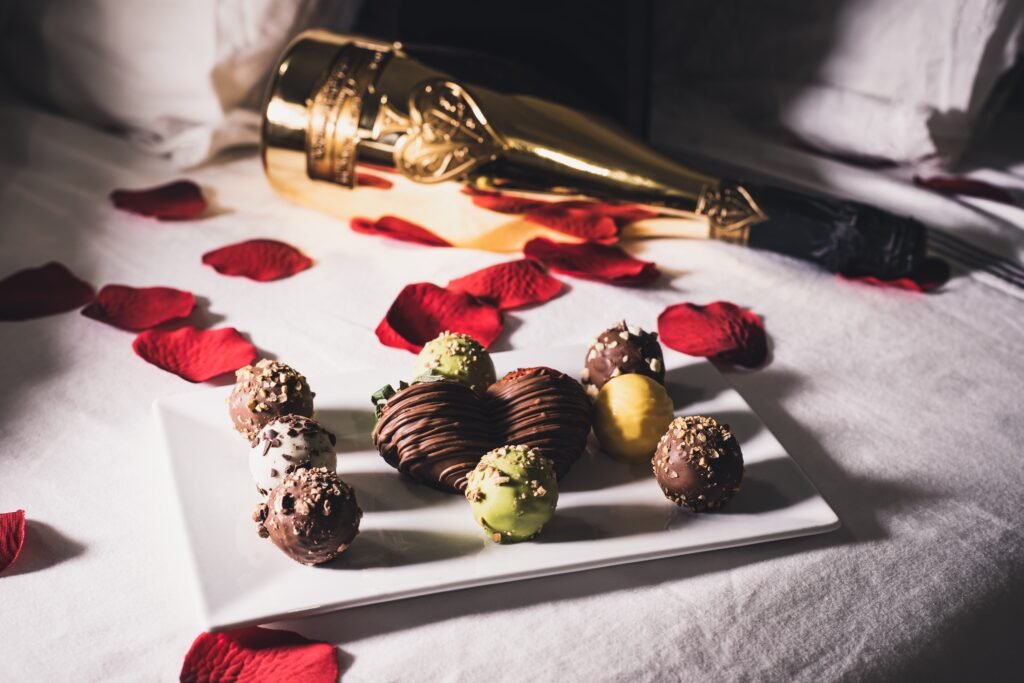 Make your special day truly unforgettable by indulging in a luxurious hotel experience in Tokyo.
From renowned, long-standing establishments that you simply must experience at least once, to hotels boasting stunning views that will make you exclaim, "This is Tokyo!"—whether it's overlooking Tokyo Bay or the majestic Tokyo Tower—and hotels featuring relaxing view baths, there's a perfect choice for every occasion. Celebrating special occasions in these remarkable hotels will create cherished memories that will last a lifetime.
Let's discover 16 Best Hotels For Couples In Tokyo:
Table of Contents
1. Hoshinoya Tokyo
Enjoy a quality stay at a traditional Japanese inn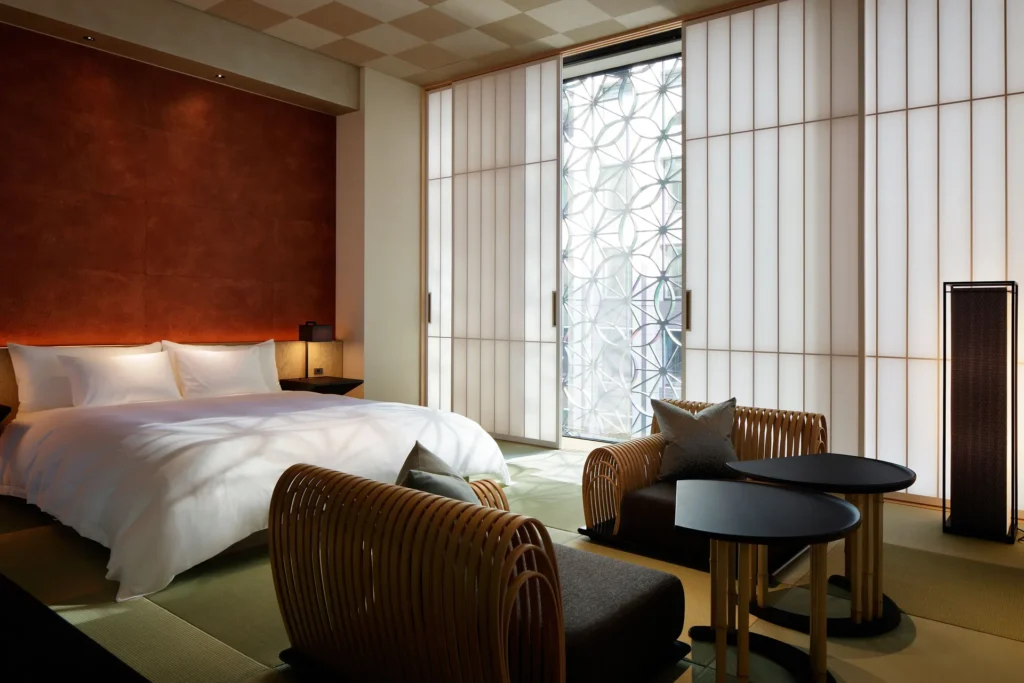 Address: 1-9-1 Otemachi, Chiyoda-ku, Tokyo
HOSHINOYA Tokyo is nestled in a prime location in the business district of Otemachi. A luxury ryokan based on the concept of a Japanese ryokan in a tower. There are three types of guest rooms: "Kiku", "Yuri" and "Sakura". Every room is full of Japanese atmosphere.
 In the "Chrysanthemum" room, the tatami mats and ceiling are decorated with a checkered pattern, and the outside of the window is decorated with hemp leaf patterns. With an interior that shines with traditional craftsmanship and fabrics in subdued colors, it's the perfect setting for spending a special time for a couple.

For dinner, take the course meal "Nippon Cuisine ~Fermentation~" in the dining room. A course meal that combines Japanese ingredients and French techniques. The ingredients used change with the seasons, so you'll want to visit again and again. There is also in-room dining, so you can choose according to your plan and preferences.
There is a bathtub in the room, but if you stay at Hoshinoya Tokyo, be sure to go to the bathroom on the top floor. You can enter the Otemachi Onsen, a natural hot spring pumped up from about 1,500m underground. At the end of the indoor bath is the open-air bath. Looking up, you can see the sky of Tokyo. Soaking in a natural hot spring in the middle of the city is unforgettable experience.
After dinner, how about taking a break at the Ochanoma Lounge? You can freely enjoy tea and drinks that match the season. Enjoy a relaxing conversation with your partner while drinking delicious tea.

2. Intercontinental Tokyo Bay
Overlooking the waterscape of Tokyo
Address: 1-16-2 Coast, Minato-ku, Tokyo
"Hotel InterContinental Tokyo Bay" is an 8-minute walk from JR Hamamatsucho Station and 16 minutes from Haneda Airport, where you can enjoy the beautiful and quiet Tokyo Bay area. From the window, you can enjoy the night view of Rainbow Bridge, Odaiba, Sumida River and the cluster of buildings in the city center. Enjoy the calm scenery of Tokyo, which is a little different from the busy Tokyo. This hotel is perfect for a relaxing anniversary.
The "Premium Room" is a luxurious space with windows not only in the bedroom but also in the bathroom. Enjoy an elegant bath time while gazing at the unobstructed view of the waterfront.
Various celebration plans are available, such as a plan with cake and sparkling wine, a plan with in-room dinner and champagne toast while watching the night view, a plan with rose petal decorations, a mini champagne bottle, and a bouquet of flowers. It will be an unforgettable romantic time!
There is 'Chef's Live Kitchen', a buffet restaurant with sea views, which serves delicious international cuisine, 'La Provence' offers authentic Southern French cuisine, and 'Zillion' offers healthy Italian cuisine.
During your stay, you can enjoy drinks and light meals at the new bar lounge 'Hudson Lounge' in 2021 and the 'New York Lounge'.

3. Mitsui Garden Hotel Ginza Premier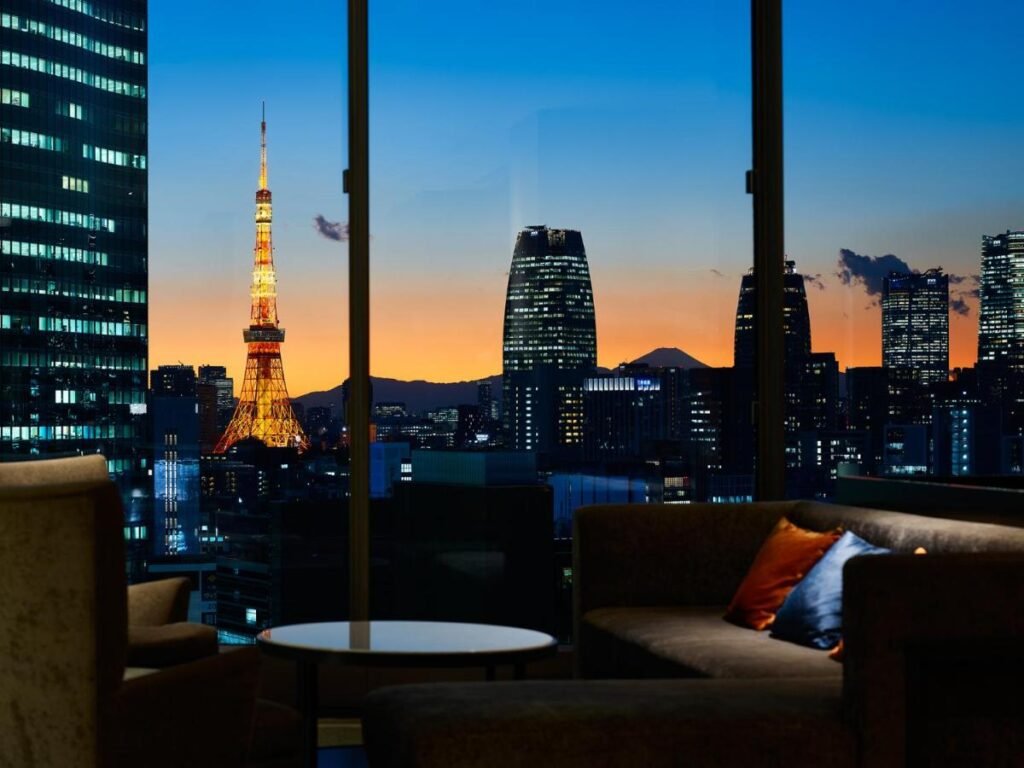 A city hotel with a great night view
Address: 8-13-1 Ginza, Chuo-ku, Tokyo
"Mitsui Garden Hotel Ginza Premier" is conveniently located about 4 minutes on foot from "Shimbashi" station on the Tokyo Metro Ginza Line and about 7 minutes on foot from "Ginza" station. It is a tower hotel with a stylish design both inside and out. Especially recommended for couples is the "view bath" type room where you can enjoy the night view while bathing.
There are 4 types of view bath type rooms: "Executive Twin", "Deluxe King", "Deluxe View Bath Twin" and "Superior View Bath Queen". All guest rooms offer a relaxing and romantic atmosphere.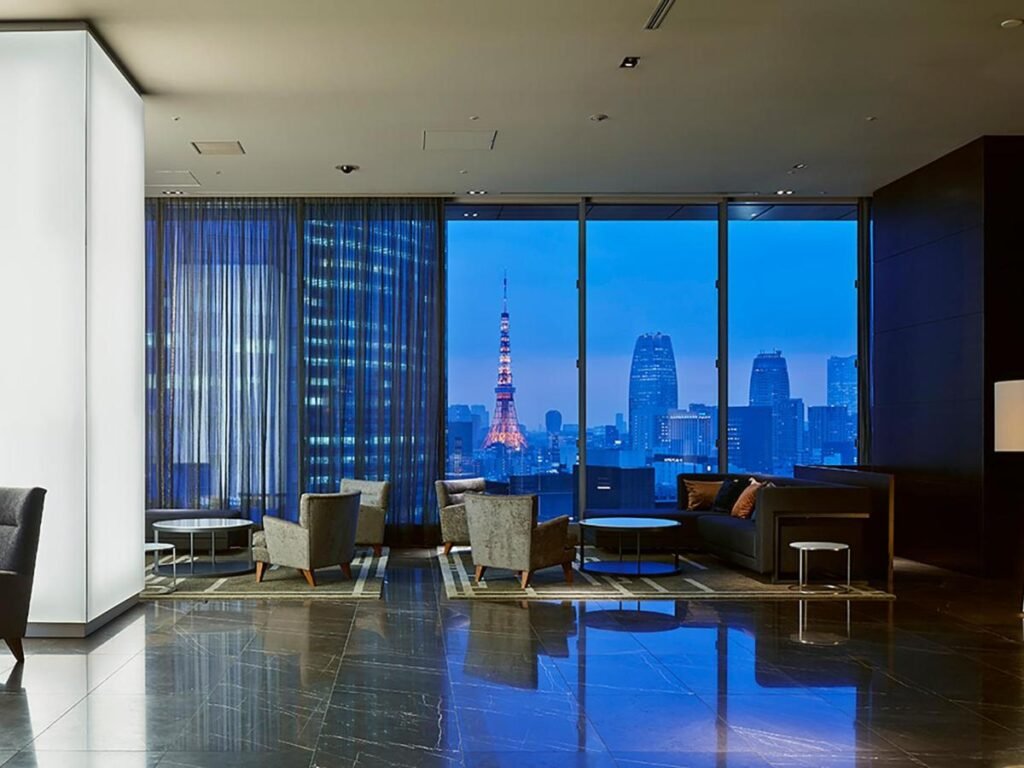 4. Hotel Chinzanso Tokyo
Marvel at an amazing "Tokyo Sea of ​​Clouds"
Address: 2-10-8 Sekiguchi, Bunkyo-ku, Tokyo
Hotel Chinzanso Tokyo is a 10-minute walk from Edogawabashi Station on the Tokyo Metro. There is a three-storied pagoda, a shrine, and a waterfall in the vast garden. Take a walk in the scenic garden, it will be a special time that is different from the usual date.
After enjoying a stroll through the garden, it's time to enjoy the view from above. The beauty of the Tokyo Sea of ​​Clouds that appears in the morning, noon, and night will take your breath away. 
You can choose from elegant rooms with a choice of garden or city views. Garden view is recommended for those who want to forget Tokyo and spend a quiet time, and city view is recommended for those who want to enjoy the glittering night view of the city. If you want to enjoy your time alone, how about an "in-room dinner stay" plan where you can enjoy dinner and wine in your room?
There is also an all-weather heated pool with a retractable roof. Even couples who are too busy to go on a resort trip can enjoy a little resort feeling and refresh themselves.
5.Grand Nikko Tokyo Daiba
Admire the night view of Rainbow Bridge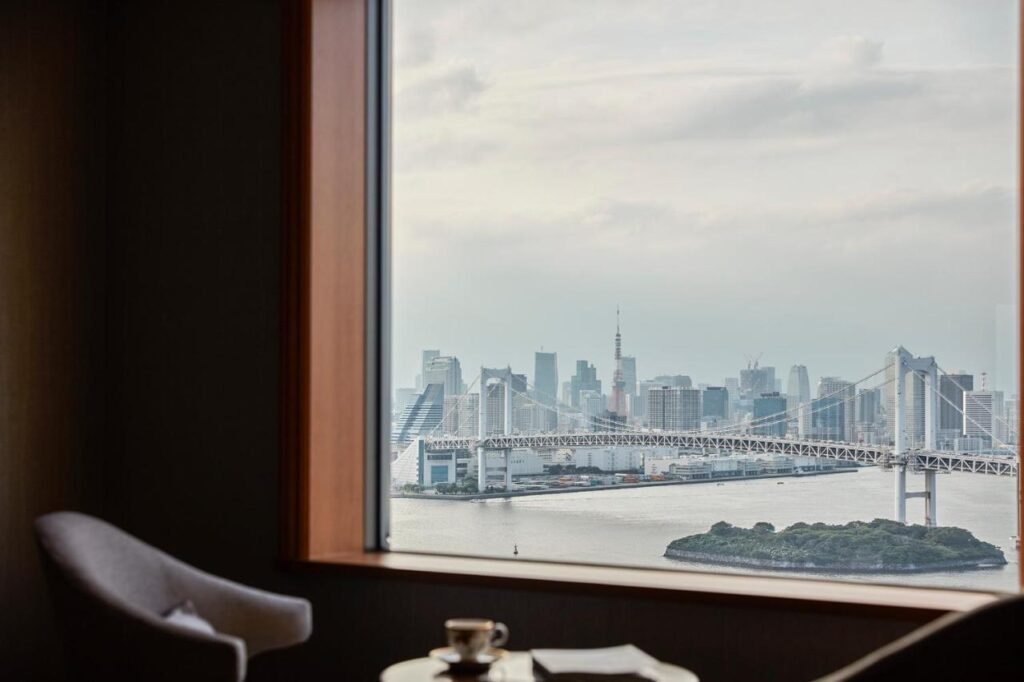 Address: 2-6-1 Daiba, Minato-ku, Tokyo
"Grand Nikko Tokyo Daiba", which is directly connected to Daiba Station in the Tokyo Bay area, is ideal for romantic stays. From the various types of guest rooms arranged in the north, south, east, and west, you can see "Tokyo Gate Bridge" to the east, "Tokyo Bay" to the west, "Haneda Airport" to the south, and "Rainbow Bridge" to the north.
Dine in "The Grill on 30th" on the top floor with a panoramic view of Tokyo Tower and Rainbow Bridge ,it is very romantic. Enjoy a dinner that stimulates the five senses.

The bay view floors are located on the 20th to 24th floors, and we recommend the "Rainbow Bridge Side" rooms where you can see the Rainbow Bridge. The guest rooms are at least about 30 square meters, so you can spend relaxing time in a spacious space. You will be enchanted by the glittering lights of the Rainbow Bridge that you can see from the window.

6. Andaz Tokyo
Enjoy romantic moments at the 24-hour Andaz Lounge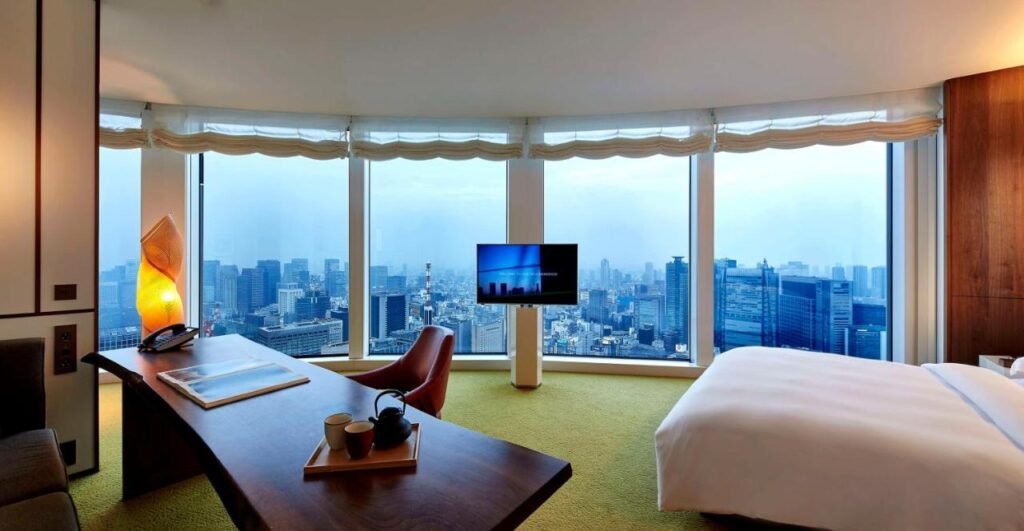 Address: 1-23-4 Toranomon, Minato-ku, Tokyo
"Andaz Tokyo" is located in the landmark "Toranomon Hills" in the Ginza, Shimbashi, Toranomon area. A luxury lifestyle hotel managed by Hyatt Hotels and Resorts. All guest rooms are above the 47th floor. On the top floor, the 52nd floor, there is a chapel, which is said to be the highest in Tokyo, and a rooftop bar.
All the rooms are modern and stylish. Even the standard room is over 50 square meters in size, and has a relaxed atmosphere. 
The pool is on the 37th floor. You can spend a luxurious time swimming while watching the night view. 

7. Centurion Hotel Grand Akasaka
Enjoy luxury of the bed used by the British royal family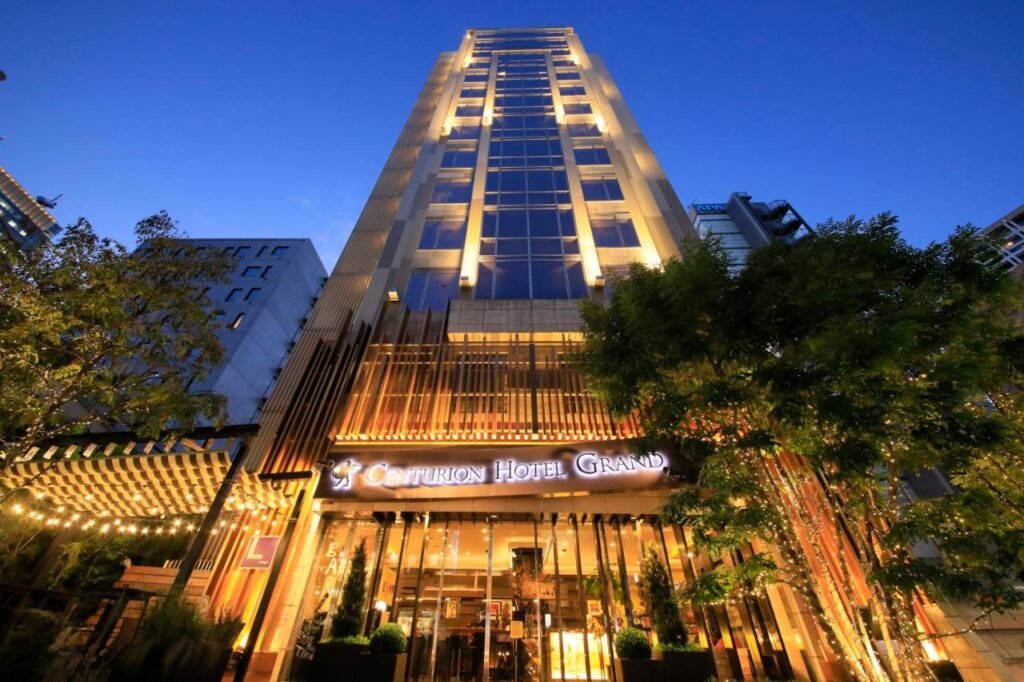 Address: 3-19-3 Akasaka, Minato-ku, Tokyo
"Centurion Hotel Grand Akasaka", which is about a 4-minute walk from Tokyo Metro "Akasaka Mitsuke Station", is in a perfect location for a romantic Tokyo date. Because it is a designer hotel, it is a sophisticated and fashionable space.
The stylish guest rooms, which incorporate elements such as Japanese, Asian, and Oriental elements, are perfect for a sleepover date. The bed is the "Slumberland", which is a purveyor to the British royal family. Spacious suite rooms are recommended for relaxing with your loved ones.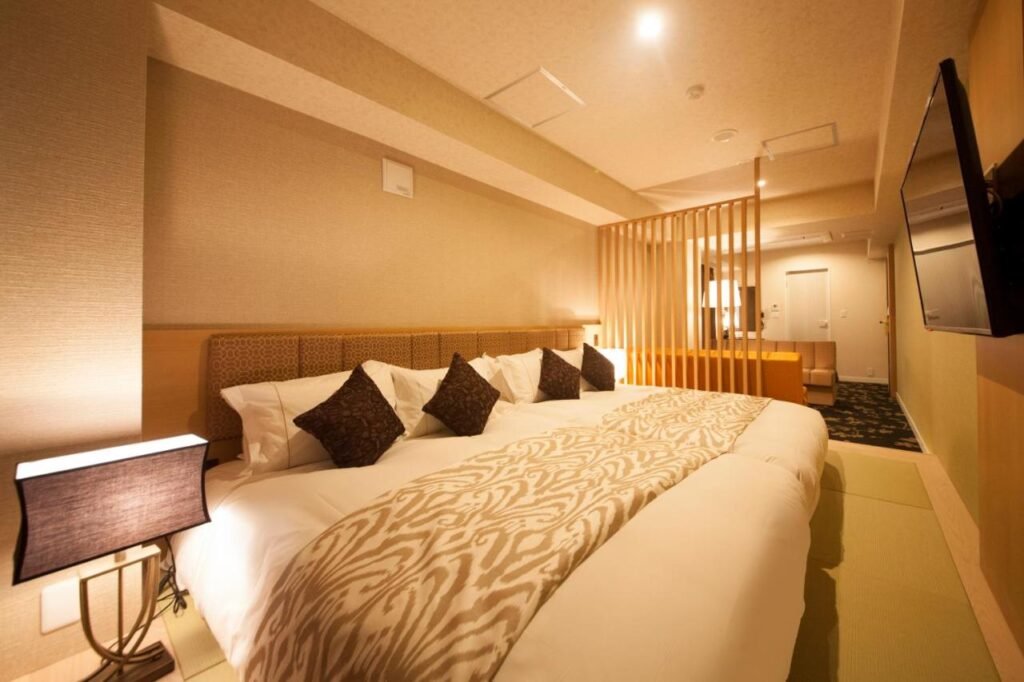 8. Hotel The Celestine Tokyo Shiba
Relax in a quiet lounge & patio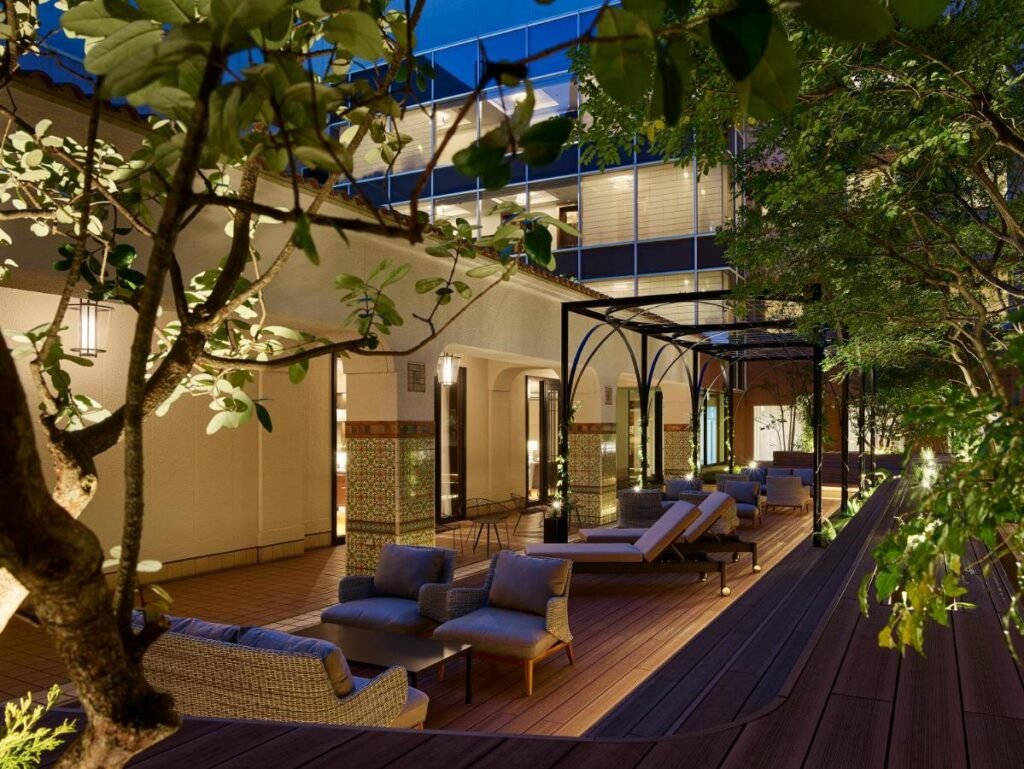 Address: 3-23-1 Shiba, Minato-ku, Tokyo
Hotel The Celestine Tokyo Shiba is about a 1-minute walk from Shibakoen Station on the Toei Subway Mita Line. Near the peaceful "Shiba Park," there's a tranquil place filled with greenery and gentle sunlight. It's a cozy hotel that feels like an extension of your daily life, perfect for couples seeking a special and relaxed time together.
The "Executive Corner King" room is recommended for anniversaries. From the window of the luxurious corner room, you can see the glittering night view of Tokyo. There is also a dining table, so how about enjoying a leisurely dinner for two with room service?

In the cozy guest lounge, designed to resemble a comfortable living room, you can enjoy complimentary drinks and sweets. Depending on the time, there's a selection of wine, beer, and snacks available. The terrace features an open patio that gives off an international vibe. The combination of a homely atmosphere and high-quality surroundings creates a special ambiance.
Start your day with a delightful breakfast that will warm your heart .The breakfast buffet offers a wide array of dishes to choose from, and you can also indulge in freshly baked bread from "Maison Kaiser." They have an impressive selection of seven different types of bread, each carefully chosen to suit the season. Additionally, the "Chef's Counter" offers daily specials prepared right in front of you, adding an extra touch of enjoyment to your meal.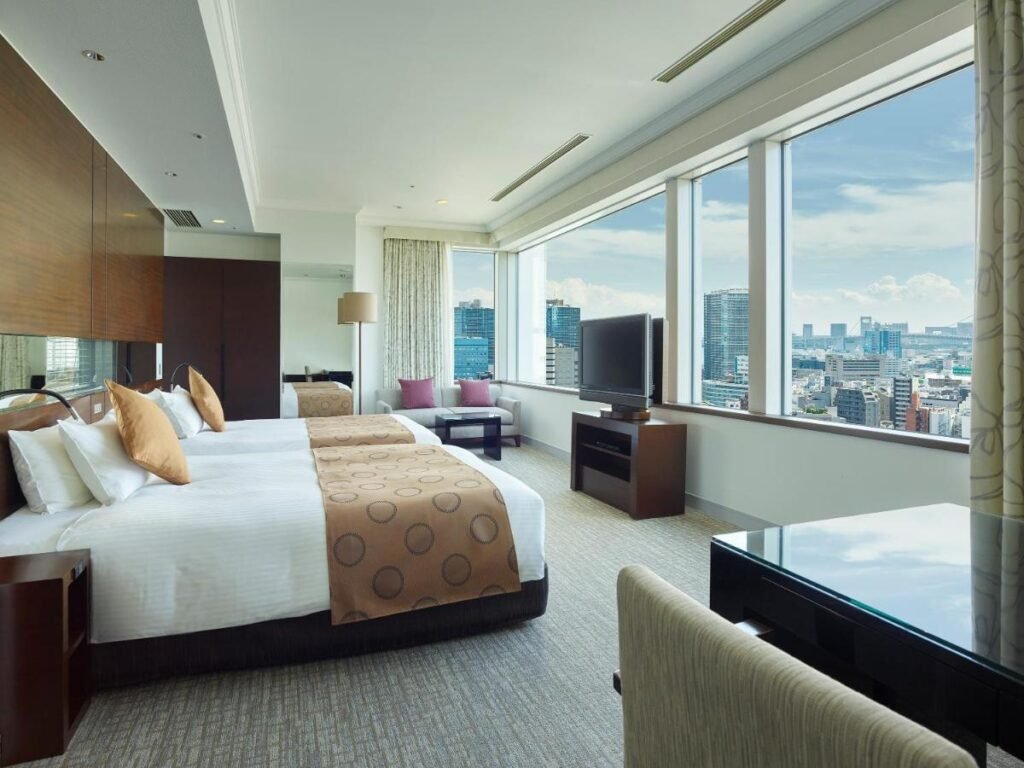 9. Imperial Hotel Tokyo
Spend a special time at a long-established hotel that represents Japan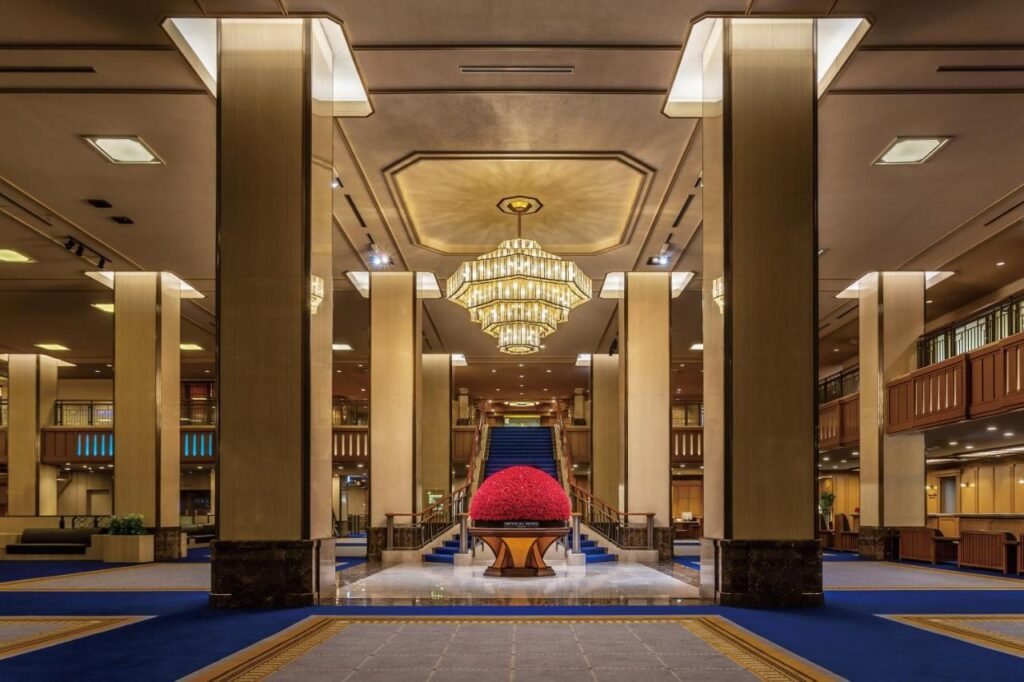 In 1890, the "Imperial Hotel Tokyo" opened its doors as a guest house in Japan. The hotel staff receives strict training to maintain a formal and graceful demeanor. Their attention to detail and the dignified atmosphere of the hotel create a special experience for guests.
The rooms are beautifully designed with stylish and soothing colors, offering an elegant interior. With various room types available, choosing one can be an exciting experience. Enjoy a refined and romantic time for two right in the heart of Tokyo.
Located on the mezzanine floor of the main building, the French restaurant "Les Saisons" is renowned as the best place for French cuisine in Japan.
10. Shangri-La Tokyo
Enjoy a special meal in one of 3 restaurants with night views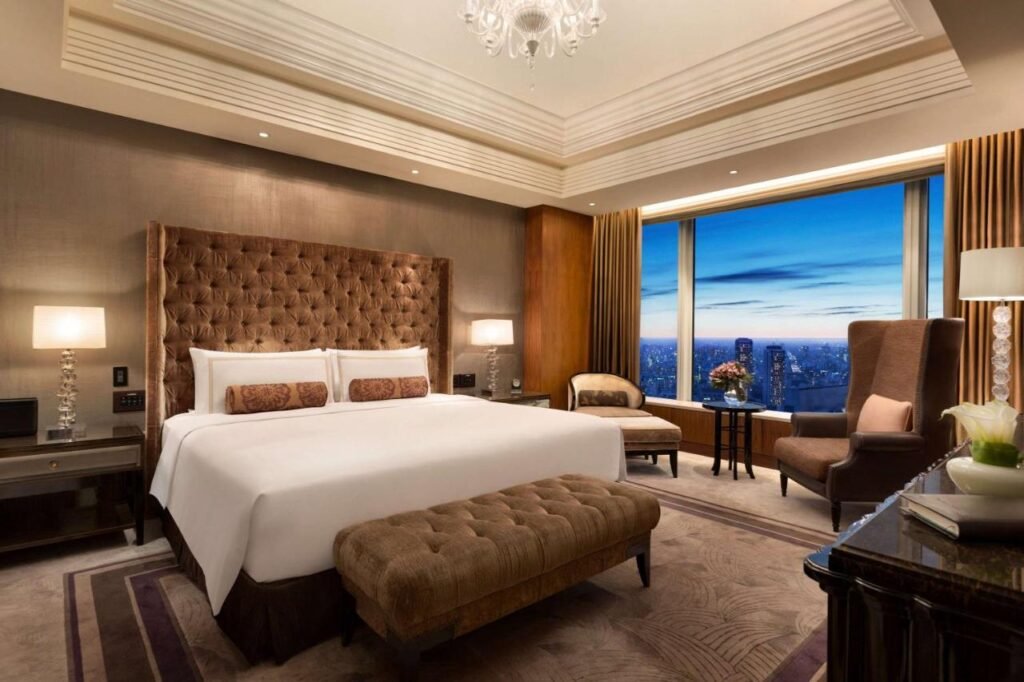 Address: Marunouchi Trust Tower Main Building, 1-8-3 Marunouchi, Chiyoda-ku, Tokyo
The "Shangri-La Tokyo" is conveniently located right next to Tokyo Station. As soon as you step inside, you'll be amazed by the elegant and stunning space that surrounds you.
The guest rooms are luxurious and will make you feel like royalty. In the "Deluxe Imperial Garden View" room, you can enjoy a breathtaking view of Tokyo Station, with trains bustling back and forth, the lined-up buildings of Marunouchi, and the lush greenery of the Imperial Palace. Take in the unique and captivating scenery that only central Tokyo can offer, together with your loved one.
Whether you choose the Italian restaurant "Piacere," the Japanese restaurant "Nadaman," or "The Lobby Lounge," you can savor delicious food while marveling at the stunning night view of Tokyo.
11. The Tokyo Station Hotel
 A dream hotel where you want to stay at least once
Address: 1-9-1 Marunouchi, Chiyoda-ku, Tokyo
The Tokyo Station Hotel is conveniently located right next to Tokyo Station, with a direct connection to the Marunouchi South Exit. Staying in this historic station building is a unique experience. Despite being in the heart of Tokyo, the hotel exudes an elegant atmosphere that will transport you to Europe. It's a dreamy hotel that you'll definitely want to stay in, especially for special occasions.
They also offer a wonderful anniversary plan that caters specifically to celebrating special events. This plan includes a delightful full-course French dinner at the restaurant "Blanc Rouge," along with an anniversary cake and a glass of champagne. As an extra touch, you can even receive a bouquet or flower arrangement as a gift .
For breakfast, you can head to the guest lounge called "Atrium," located in the central attic of the station building. They serve a fantastic morning buffet with a wide variety of about 100 dishes to choose from. The carefully arranged dishes on the buffet table are beautiful .Plus, you can witness the chef preparing gorgeous French toast right in front of you. Both the ambiance and the food are perfect for enjoying an extraordinary breakfast experience.
The "Dome Side Comfort King" room offers a sense of spaciousness with its ceiling height of about 4 meters. You can even get a close-up view of the beautiful dome relief of the station building.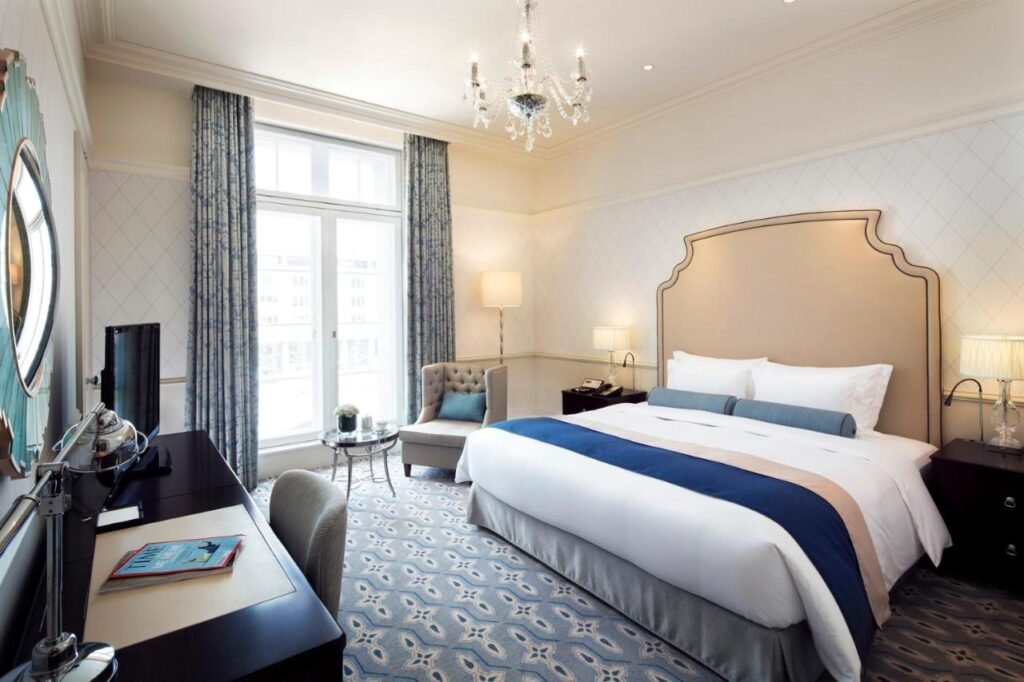 12. Conrad Tokyo
An urban oasis where you can unwind in the lounge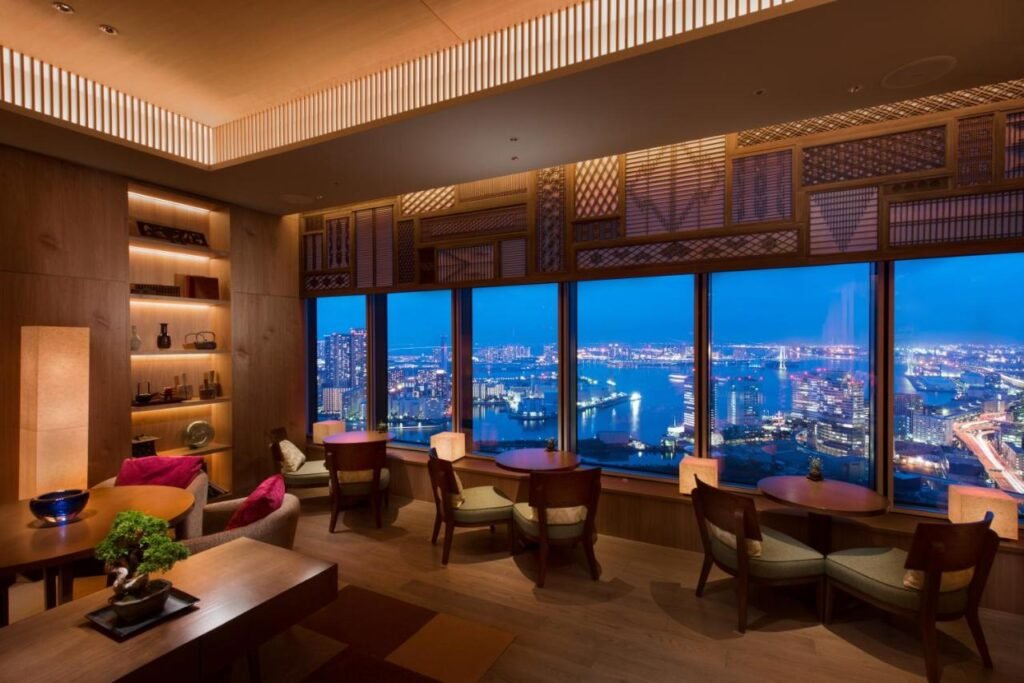 Address: 1-9-1 Higashi-Shimbashi, Minato-ku, Tokyo
"Conrad Tokyo" is situated in the scenic waterfront area of Shiodome in Tokyo. Their top-notch service ensures that you'll experience a luxurious stay. On the hotel's top floor, you'll find the "Executive Lounge" facing Tokyo Bay and Hama-rikyu Gardens. Guests staying on the executive floor can enjoy complimentary afternoon tea and evening cocktails.
The guest rooms feature a modern and luxurious design, with ceilings reaching approximately 3 meters, creating a wonderfully open and spacious feel.
At "China Blue", a contemporary Cantonese restaurant, you can indulge in the delightful flavors of fresh ingredients and seasonal dishes. The restaurant's glass windows offer a captivating view of the dynamic Tokyo Bay at night.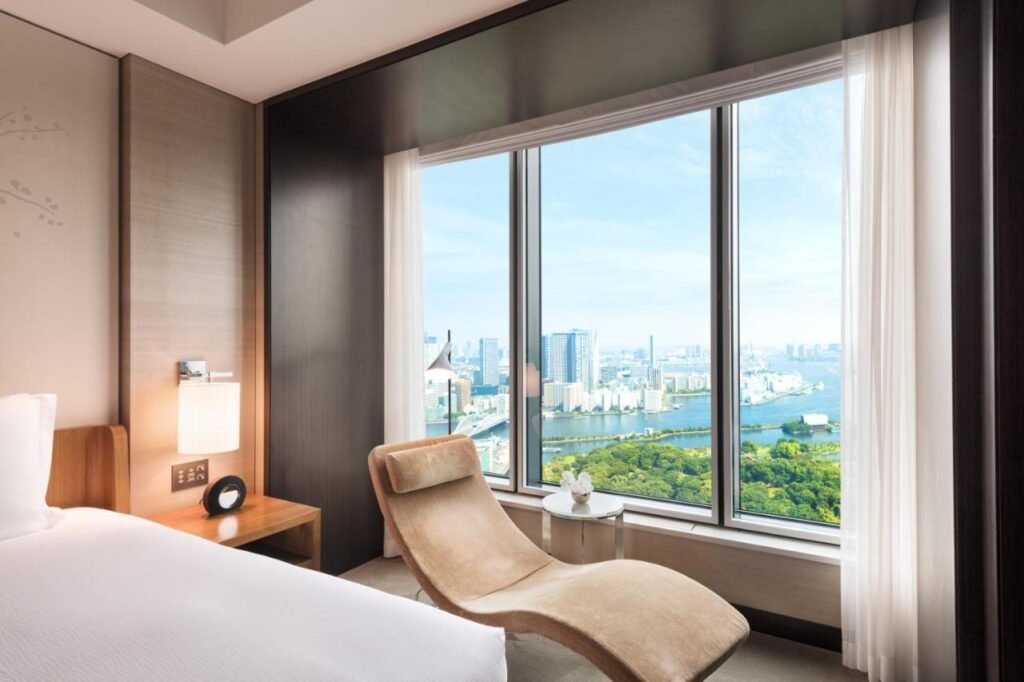 13. Park Hyatt Tokyo
Spend your special day in the sky
The "Park Hyatt Tokyo" is located approximately a 12-minute walk from Shinjuku Station. It stands out among the luxurious hotels in Tokyo and is famous for attracting foreign celebrities like "Lady Gaga" who visit incognito. The hotel is known for its impeccable service and provides a space where guests can experience a special sense of relaxation, making it incredibly popular.
The hotel rooms are designed to be lavish and glamorous. What sets this hotel apart is its tasteful and minimalist approach. Within the spacious and serene atmosphere, the view of Shinjuku from the rooms resembles the dazzling night skyline of Manhattan.
At the "New York Grill & Bar" restaurant, you can indulge in international cuisine inspired by the vibrant food scene of New York, where culinary delights from around the world converge. Additionally, you can enjoy live jazz performances, adding to the authentic New York ambiance.
Guests have complimentary access to the spa and fitness facility called "Club on the Park" on the 47th floor. Sitting by the poolside, you can enjoy the ever-changing scenery of Tokyo as the hours pass by, adding an extra touch of tranquility to your experience.
14. The Peninsula Tokyo
A luxury hotel where you can bring your dog
Address: 1-8-1 Yurakucho, Chiyoda-ku, Tokyo
"The Peninsula Tokyo" is a renowned Tokyo landmark situated facing the Imperial Palace Gardens and Hibiya Park. It's conveniently located within walking distance from Ginza, known for its theaters and shopping facilities, making it a highly recommended hotel for a romantic Ginza date. While all the rooms have a Western-style design, they incorporate Japanese accents to create a relaxing atmosphere. Moreover, the hotel offers pet-friendly rooms, perfect for couples who adore dogs.
The guest rooms feature earthy colors, creating a warm and inviting ambiance. Even the standard rooms are spacious, measuring around 50 square meters, providing a luxurious experience. Depending on the season and accommodation plan, guests may enjoy the exclusive privilege of "Peninsula Time." This allows you to check-in as early as 6:00 am on the day of your stay and extend your check-out until 10:00 pm at no extra cost.
Located on the top floor of the hotel, "Peter Bar" is connected to "Steak & Grill Peter. This elegant bar offers a breathtaking view of Tokyo at night.
Start your morning with an exquisite breakfast served through room service. How about indulging in a Chinese-style porridge and dim sum? It's a perfect way for the two of you to kickstart a delightful day together.
15. Mandarin Oriental Tokyo
Amazing hotel abundant with luxury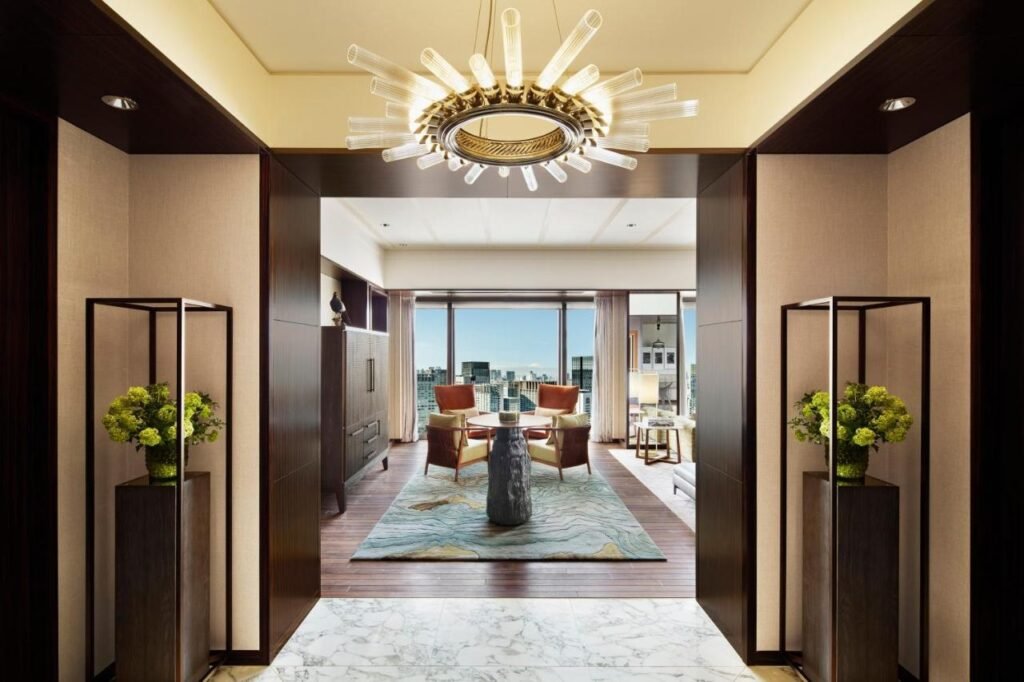 Address: 2-1-1 Nihonbashimuromachi, Chuo-ku, Tokyo
The "Mandarin Oriental Tokyo" is conveniently situated with direct access to "Mitsukoshimae Station" on the Tokyo Metro Ginza Line. It is a world-renowned luxury hotel operated by the esteemed Mandarin Oriental Hotel Group. Despite being located in the vibrant Nihonbashi area, the moment you step into the hotel, you'll be embraced by a serene and tranquil ambiance.
The hotel boasts a calming atmosphere, characteristic of the Nihonbashi area, with warm and gentle lighting that adds to the overall ambiance. Depending on your room selection, you may enjoy a breathtaking view of the Skytree or the majestic Mount Fuji from your window.
On the top floor of the hotel, you'll find the delightful "Keshiki" Italian dining restaurant. Here, you can indulge in authentic Italian flavors while immersing yourself in the stunning surroundings.
16. The Prince Gallery Tokyo Kioicho
Celebrate at the lounge bar with a night view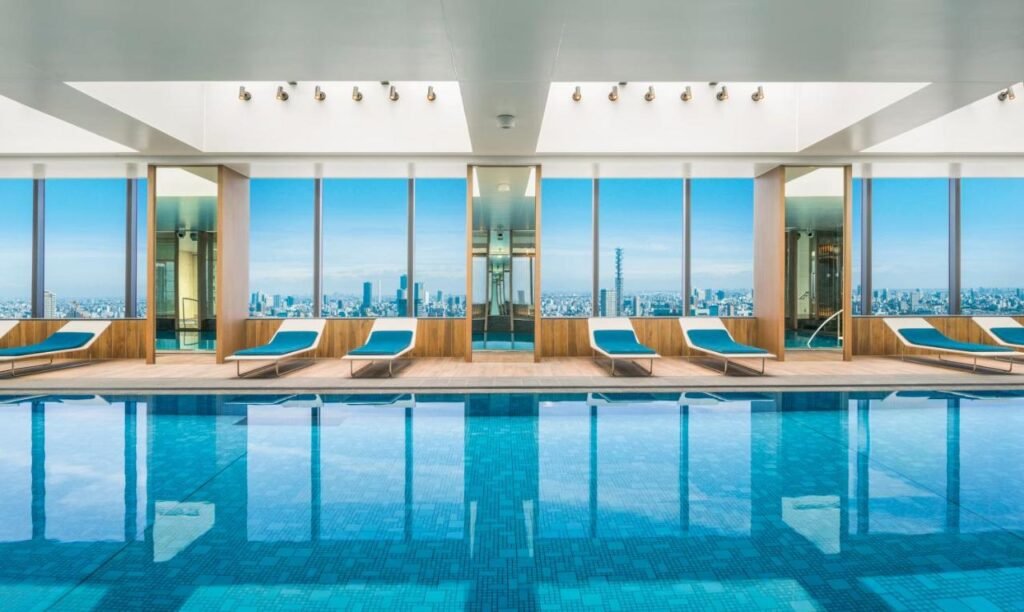 Address: 1-2 Kioicho, Chiyoda-ku, Tokyo
The Prince Gallery Tokyo Kioicho" is conveniently located just a 1-minute walk from Akasaka Mitsuke Station. It occupies the 30th to 36th floors of the magnificent "Tokyo Garden Terrace Kioicho" building, standing as the pinnacle of luxury within the Prince Hotels brand. With its top-notch facilities and impeccable services, this hotel is a must-stay destination for special anniversaries and occasions.
The rooms are equipped with state-of-the-art features, such as tablet-controlled lighting and curtain adjustments, adding a touch of modernity to your stay.
Indulge in the exquisite "Sky Gallery Lounge Levita," a cocktail lounge bar located on the 35th and 36th floors within the sky lobby. As you sip your drink, marvel at the ever-changing scenery of Tokyo through the expansive glass windows. The large window frames resemble artistic picture frames, enhancing the beauty of the sparkling cityscape that unfolds like a captivating kaleidoscope.
Additionally, there are special plans available that include the delivery of an anniversary cake adorned with roses and accompanied by sparkling wine, making your celebration even more memorable.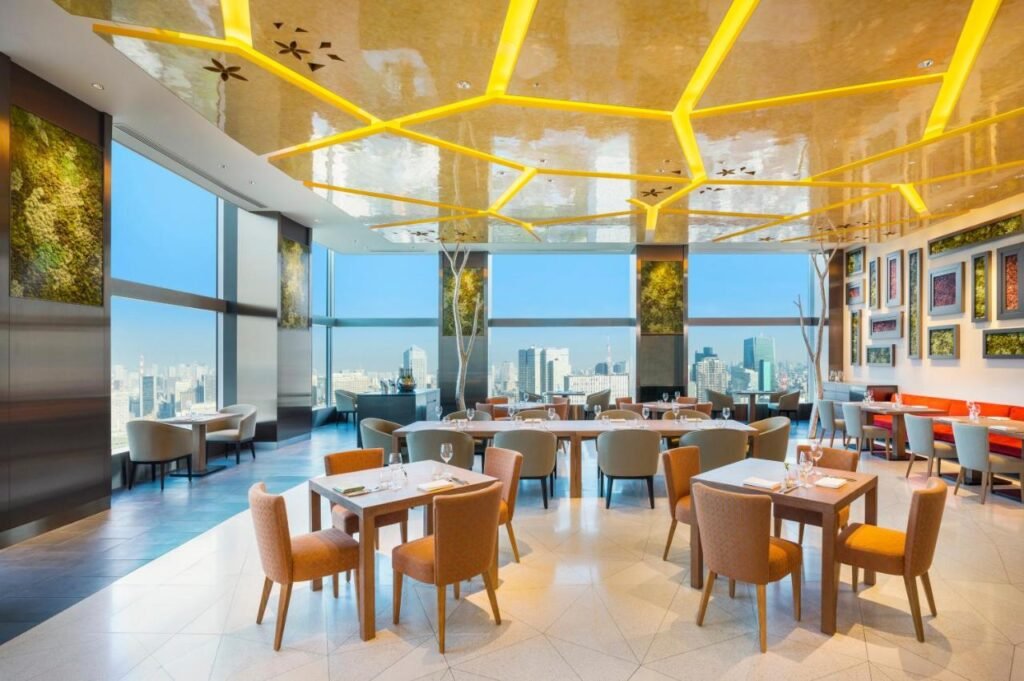 ---