This is the time of year when enjoying a drink outside feels just right. In this blog, we're going to tell you about some special places – they're like secret spots – where you can have a great time. These are famous restaurants, kind of hidden away. You can find them in the heart of the city. It's a chance to get away from the busy everyday life and have a peaceful evening up on the rooftop.
Rooftop bars in Tokyo:
Table of Contents
1. Bvlgari Bar
Bulgari Hotel Tokyo" opened on the 40th to 45th floors of "Tokyo Midtown Yaesu", which opened in front of Tokyo Station. On the top floor, the 45th floor, is the Bvlgari Bar.
When you go there, you've got to try the "Bvlgari Cocktail." They serve it everywhere in the world, and they even have their own special glass for it. It's a cool twist on the classic Negroni. They mix gin, Aperol (that's an Italian drink), pineapple, orange, and lemon juice.
And that's not all – they've got almost 20 other cocktails too. For food, they've got tasty dishes made by Niko Romito, the expert behind the main restaurant, "Il Ristorante Niko Romito."
The place is big, inside and out, so groups can easily hang out. If you go out to the terrace, you'll get a view of Tokyo Station, and depending on when you go, you'll see different views of Tokyo.
Website: https://www.bulgarihotels.com/en_US/tokyo
Address: 2-2-1 Yaesu, Chuo-ku, Tokyo Bvlgari Hotel Tokyo 45th Floor, Tokyo
2. Le Jardin De Tweed
The name of the place is like "tweed garden," and they make it look like a garden with tweed plants all around. You can sit at tables or on comfy couches, and there are big umbrellas to give you shade. On the terrace, there's a cool bar with their special logo on the wall. They've got drinks made by Minoru Nishida, a famous bartender in Kyoto.
You can sip on champagne, wine, special cocktails, and more while you watch the sun go down and the lights of Ginza come to life. It's a nice way to spend time.
Website: https://www.instagram.com/lejardindetweed
Address: Chanel Ginza Building 11F, 3-5-3 Ginza, Chuo-ku, Tokyo
3. The Roof Shibuya Sky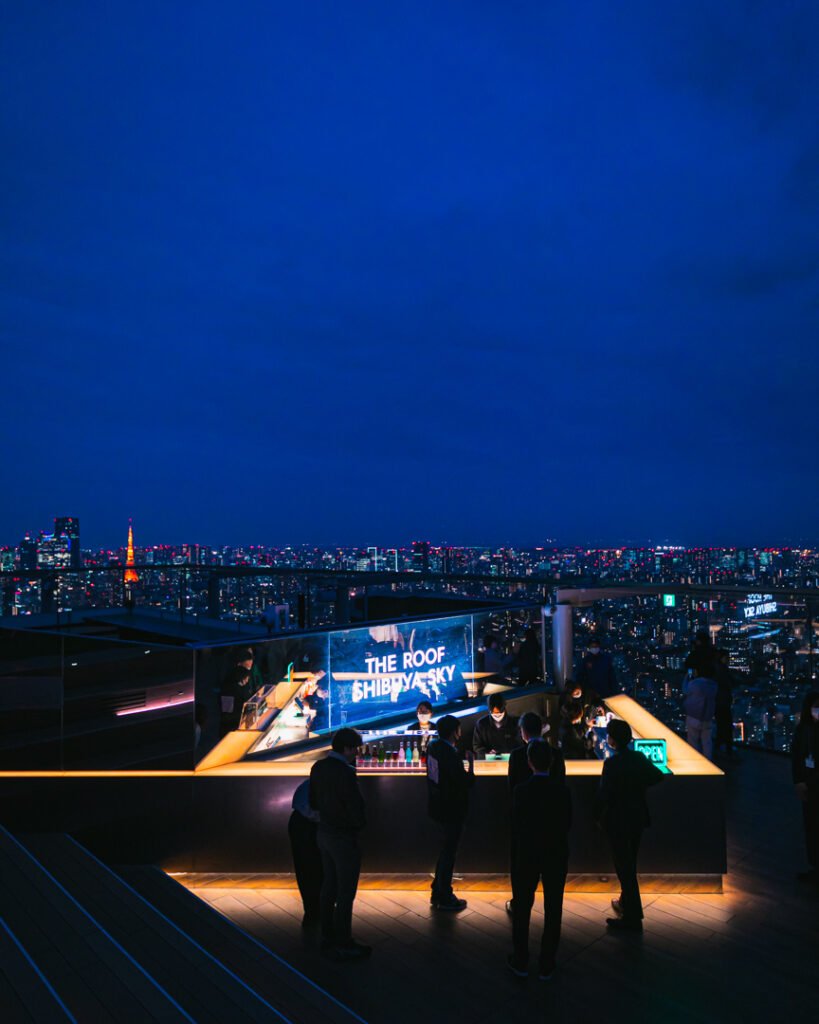 At about 230 meters up in the air, there's a 360-degree outdoor deck. You'll find it up on the rooftop of Shibuya Scramble Square.
This is a cool bar with a superb view where you can spend a special night will open for a limited time on the rooftop observation space of SHIBUYA SKY. 
At the venue, there are "standing table seats" where you can easily order a la carte and drinks, and "sofa seats" with alcohol and snacks (reservation required, minimum of 2 people). In addition, a playlist "THE ROOF MIX" selected by popular artists will be played to create a special space. Entry to the rooftop bar is limited to those over the age of 20, and a separate entrance fee for Shibuya Sky is required
Website: https://www.shibuya-scramble-square.com.e.apy.hp.transer.com/shops_restaurants/index.html
Address: Shibuya Scramble Square 14th, 45th and 46th floors, rooftop, 2-24-12 Shibuya, Shibuya-ku, Tokyo
4. Jam 17 Dining & Bar
The place consists of a rooftop terrace, party room, dining room and bar.
They use veggies from around Kanto and make food in a special oven that keeps the great taste. At the bar, "The SG Club" makes the cocktails and even has cool events with guest bartenders. And guess what? You can also have really good gelato made from the stuff from "JAM17 GELATERIA."
Website: https://www.panpacific.com/en/hotels-and-resorts/hotel-groove-shinjuku/dining/jam17-dining.html
Address: 1-29-1 Kabukicho, Shinjuku-ku, Tokyo Tokyu Kabukicho Tower 17th Floor, Tokyo
5. Hacienda del Cielo Modern Mexicano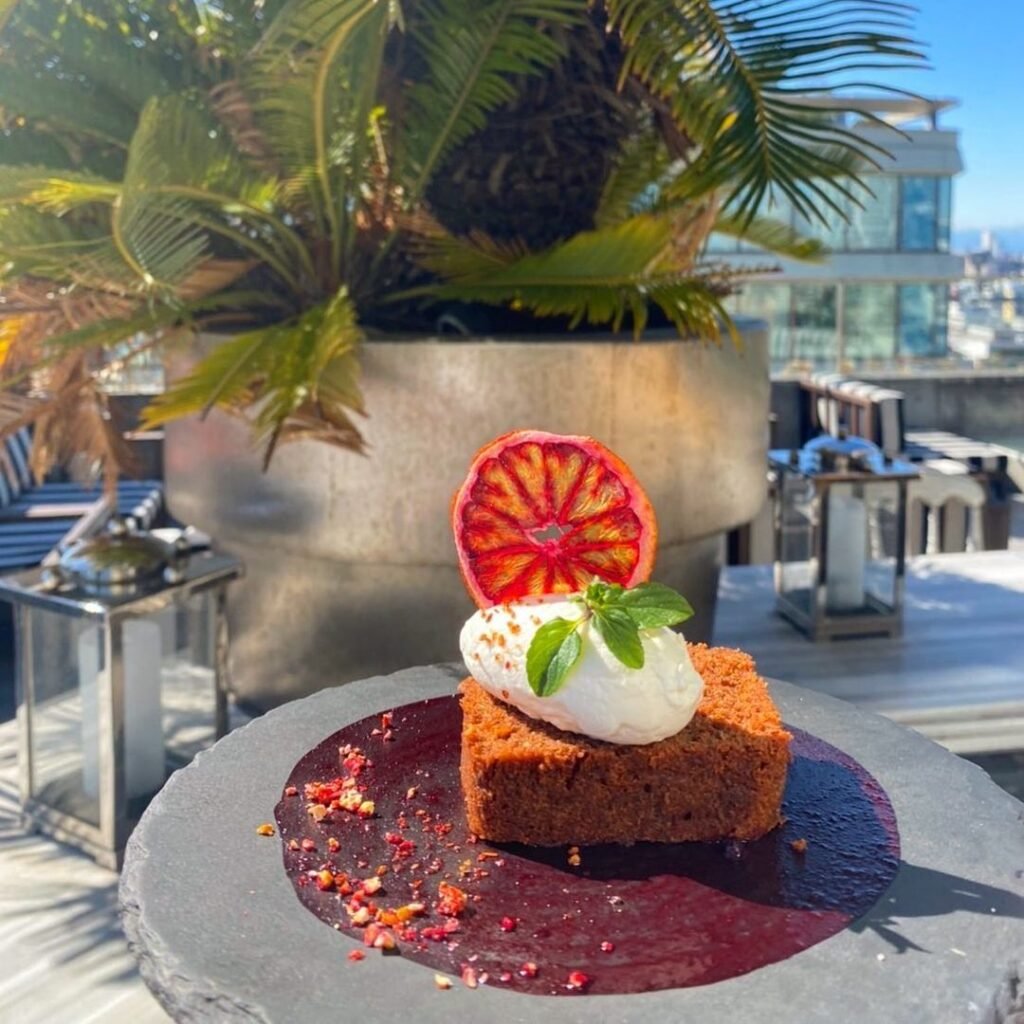 Just a 5-minute stroll from Daikanyama Station, there's this modern Mexican spot. They've got all the classics like tacos and burritos, plus drinks from South America like margaritas, mojitos, and even non-alcoholic options. At lunch, you can try different sets with a drink, like the "Chipotle Chicken Burrito" or "His Surf & Turf Fajitas with Marlin and Beef Skirt Steak" (that's grilled veggies and meat on an iron plate).
The name "Hacienda del Cielo" means "empty house" in Spanish. And the cool thing about this place is it's just as open as that name suggests. When you hop in the elevator to the 9th floor, you'll be amazed by how tall the ceiling is – 8 meters! Plus, the view of Tokyo from inside is super city-like and strong. You'll really get a feel for the unique vibe of this spot.
Website: https://www.huge.co.jp/restaurant/modern-mexicano/hacienda
Address: 9F MANSARD DAIKANYAMA Building,10-1Sarugakucho,shibuya-ku,Tokyo,150-0033
6. Two Rooms Grill Bar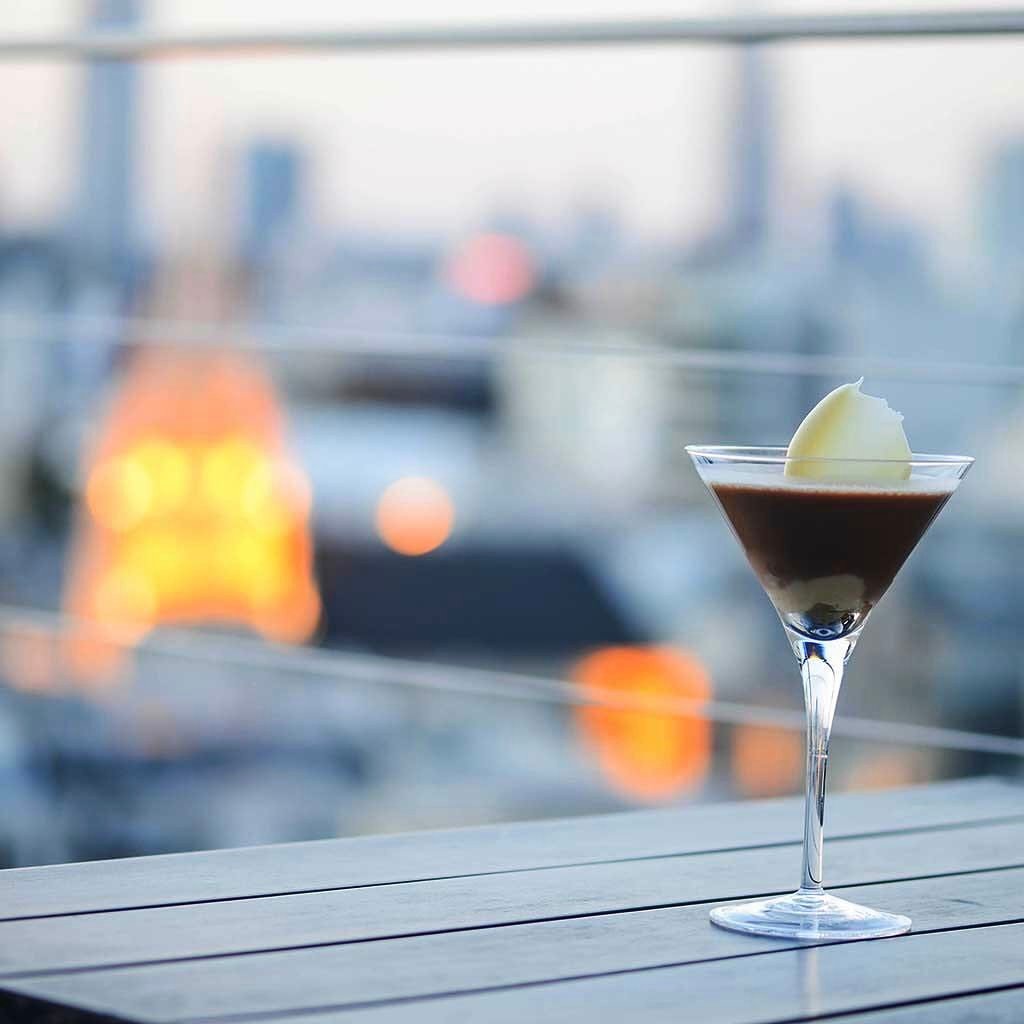 There's this fancy dining bar on the 5th floor of the "Ao Building" in Omotesando. They've got all kinds of special foods like seafood and steaks. You can try stuff like "Kilpatrick" (that's garlic grilled oysters) which is great with wine. They also do "Today's Fresh Fish Teppanyaki" and "Premium Beef Her Char Grill." People really like the "TWO ROOMS Caesar Salad." It's a big piece of lettuce with lots of cheesy sauce, and it's creamy and famous.
They call it "TWO ROOMS" because it's right in the middle of the place, connecting the seats outside on the terrace where there's water underfoot, and the regular seats indoors. The inside seats are comfy and classy, but the view from the terrace is amazing. When the weather's nice, it'll feel like you're eating at a restaurant in another country.
Website: https://tworooms.jp/en/
Address: 5F AO Building 3-11-7 Kita-Aoyama, Minato-ku, Tokyo
7. Eighty Six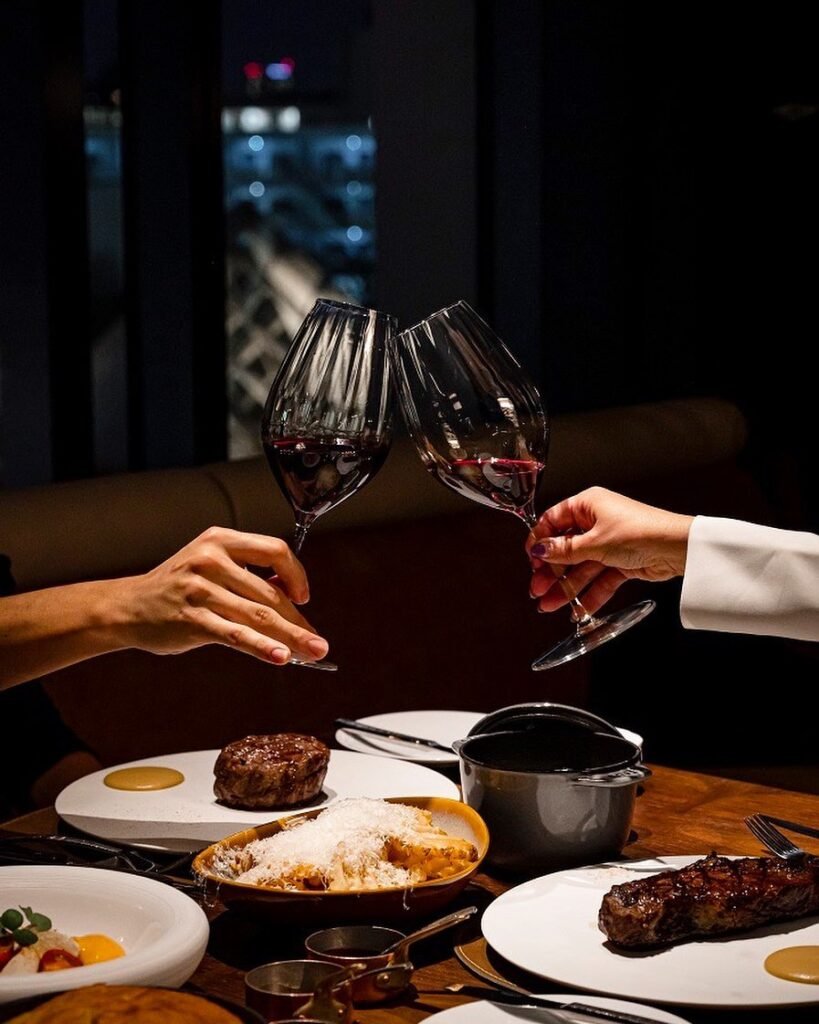 Opened in December 2022, the rooftop bar "Eighty Six (86)" is located in the penthouse on the top floor of "Kimpton Shinjuku Tokyo". You can enjoy drinks and food while watching the night view of Shinjuku.
Great cocktails inspired by America's Prohibition era, such as "Dark Tsaline", "Fake Manhattan" and "New York Junkster". As for the food, you can enjoy appetizing items such as "roast pork, kimchi, cucumber, soy sauce koji mayonnaise, fried buns" to desserts such as "Neapolitan ice cream".
Website: https://www.kimptonshinjuku.com/tokyo-restaurants/rooftop-bar-86/
Address: Kimpton Shinjuku Tokyo 17th Floor, 3-4-7 Nishi-Shinjuku, Shinjuku-ku, Tokyo
8. Privado
A hideout bar on the top floor of the complex " MIRROR" overlooking the Sumida River in Kuramae. You can enter the store by pressing the intercom at the entrance on the first floor, making it the perfect place for a special date. In addition to standard cocktails such as margaritas, the menu offers a wide variety of whiskeys and cigars. From the terrace seats, you can have the view of Tokyo Skytree and Sumida River all to yourself.
Website: https://www.privado.jp/
Address: MIRROR 7F, 2-15-5 Kuramae, Taito-ku, Tokyo
9. Rooftop Bar
A bar located on the top floor of "Hotel Andaz Tokyo" in Toranomon Hills . You can overlook the night view of Tokyo, and from the terrace you can see the scenery of Tokyo Bay. Drinks include premium teas and seasonal fruit-based cocktails, as well as domestic draft beer, premium champagne, and sake.
Website: https://www.andaztokyo.jp/restaurants/en/rooftop-bar/
Address: Toranomon Hills 52F, 1-23-4 Toranomon, Minato-ku, Tokyo
10. Bar Tenmar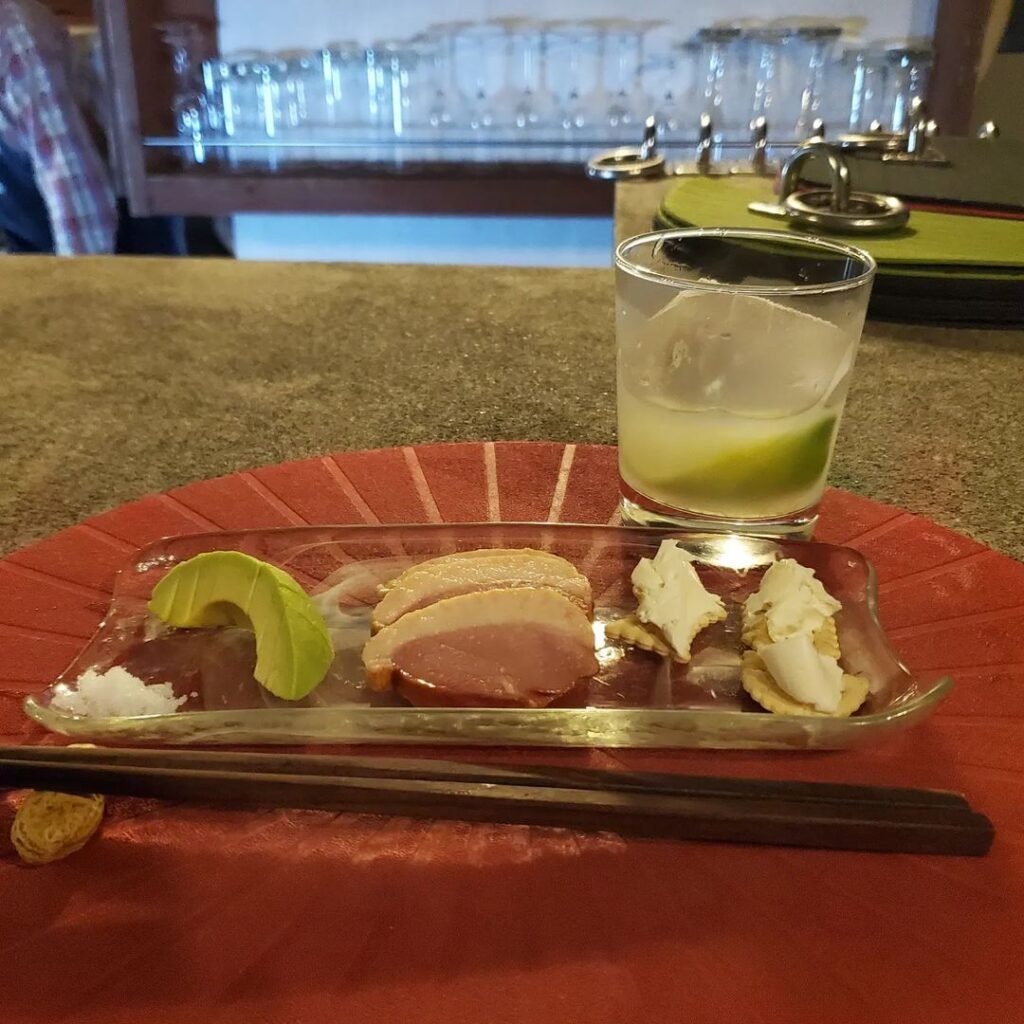 A hidden bar on Kannai Sakura-dori on the roof of a tobacco shop. When you climb the stairs outside and reach the rooftop, the master, who was a former teacher, is making cocktails under the night sky. Both drinks and food are 500 yen, and it's a cash-on style, but everything is authentic. It is open all year round, but since it has no roof, it is unfortunately closed on days of rain, strong winds, and extreme cold. It's a nice bar to visit on a sunny night.
Website: http://bartenmar.com/
Address: Kanagawa Prefecture Yokohama City Naka Ward Aioicho 2-52 Kurihara Tobacco Shop Rooftop Kanagawa