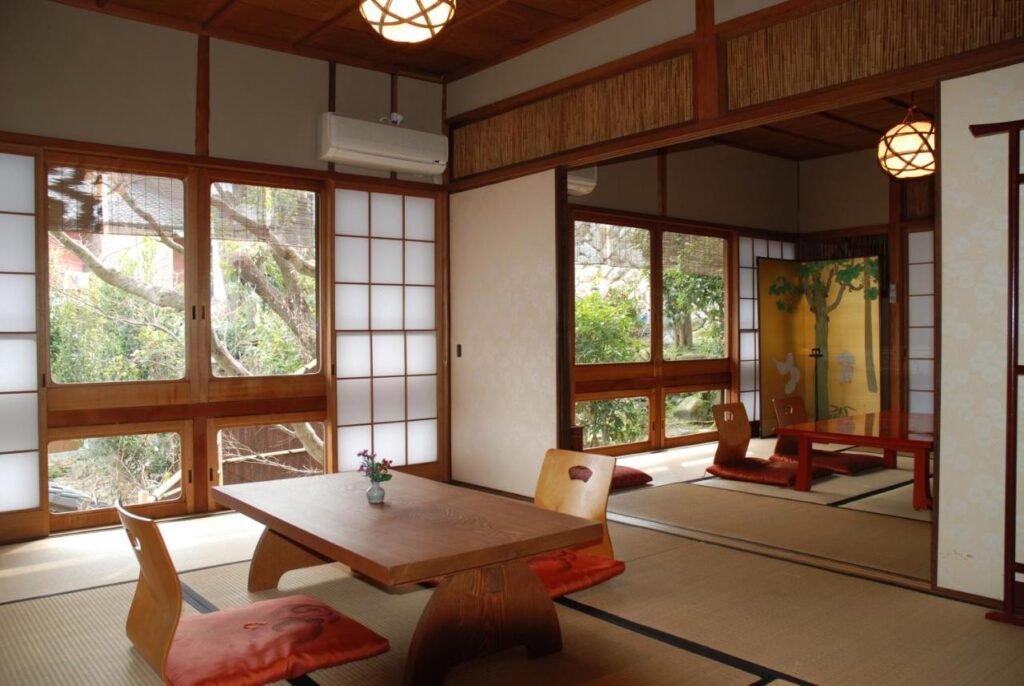 The ryokan is a typically Japanese traditional accommodation. If you have always dreamed of experiencing Japan, Kyoto is the ideal place because the historical setting of this city is particularly suited to this type of establishment. For your next stay in Japan, if you are looking for a hotel in the former capital, a ryokan will allow you to appreciate the charm of the country and, above all, to add a touch of tradition to your trip.
Discover Ryokan with Private Onsen in Kyoto:
Table of Contents
The ryokan is a unique place with a particular ambiance
Its origins date back to the Edo period, when they provided lodging for travelers passing through. The Japanese bourgeoisie also came to relax there, as couples or families, taking advantage of the facilities offered by the establishment, such as the onsen (natural hot spring). Nowadays, they are no longer reserved for an elite but accessible to everyone. There are options for all budgets, although the price will naturally vary depending on the quality of services offered.
A ryokan is dedicated to serenity, and refinement is the order of the day. You will notice the particular care given to the interior design, with simple and elegant decor and often carefully arranged objects on display. The staff will also be attentive to ensure that your stay goes as smoothly as possible.
Very often, a corner of nature will be highlighted. A garden around the ryokan or a small patio reserved for guests only. The most high-end ryokans offer private small gardens for each room. An breathtaking view of a little zen space just for you.

Japanese people like simple and uncluttered rooms. In your room, there will be no partition, a tatami floor, and the furniture will mainly consist of a low table and a few cushions. A futon will be folded in a corner or stored in a closet. A yukata will be available for you to wear and relax, for example, to go to the baths.
Some ryokans also offer dinner, which will be served directly in your room. Composed of several small dishes made with seasonal ingredients, they will allow you to discover the flavors of Japanese cuisine.
In which district to book a ryokan in Kyoto?
If you are looking to book a ryokan in Kyoto, Gion is definitely the neighborhood to choose. It has several advantages:
A central location in Kyoto
A lively neighborhood with many restaurants and nightlife options
Easy access to public transportation, with several bus and subway lines
Proximity to Nishiki market and other shopping galleries.
Higashiyama, located in the eastern part of the city, is also a good choice for a ryokan due to its historical atmosphere and close proximity to many temples and shrines. However, the area can be quite quiet in the evenings, so you may need to head back to Gion for dinner.
What is the price for a ryokan in Kyoto?
One often gets the impression that ryokans are synonymous with luxury and therefore high prices. This is mainly the image that is being marketed, because like the rest of Japan, ryokans have various prices. I tested different price ranges to verify for myself what to expect.
Prices for one night start around €50, and for that, you will have a room with minimal furniture: a futon and a small coffee table. The bathroom and toilets are communal. You will easily understand that for this price, you should not expect great service quality.
Then, the higher the prices go, the more the quality is expected to be there. Some hotels sometimes pretend to be ryokans to attract customers. Do not hesitate to check customer reviews to make the right choice.
How to book?
In preparation for my first trip to Japan, I tried to contact ryokans directly, hoping to find exceptional places while making good deals. It was more difficult than expected:
The establishments do not necessarily have a website, except for the largest ones. If you want to taste the charm of an authentic family-run ryokan, you will have to find them differently;
I was traveling alone, and some ryokans did not want to rent a room to a single person. The reason is that the room price was billed per person, so it was much more profitable for them to rent to a couple or a couple with children.
So in the end, I turned to online booking platforms. This was not a bad choice after all:
There are options for all budgets, with the possibility to filter according to certain personal criteria (neighborhood, private bathroom, etc.);
Some establishments do not hesitate to make big discounts on the last rooms, so great opportunities to seize;
No payment at the time of booking, with the possibility of cancellation up to a few days before the stay.
List of the 7 best ryokans in Kyoto:
1. Yadoya Manjirō
Ideally located just a 5-minute walk from the Kiyomizu-dera Temple in the Higashiyama district, you can enjoy the small alleyways that empty out in the evening. This typical Japanese inn has a carefully curated atmosphere, with a superb interior garden. I love it for its authenticity, the kindness of its staff, and its setting that irresistibly invites you to stroll around.
2. Kyo no Yado Sangen Ninenzaka
This small ryokan with four rooms has a lot of charm. Its location in the eastern part of the Gion district allows you to discover many sites on foot, during privileged hours and avoiding the crowds of tourists. The onsen on the roof is fabulous in the evening with the illuminated pagoda.
Private lounge in front of a zen garden just for you.
3. Matsui Honkan
The setting and refined decoration correspond to the image we have of a traditional ryokan. Located between the Nishiki market and Pontocho, it allows you to enjoy the city peacefully. Definitely one of the best establishments in Japan.
The entrance of the ryokan immediately gives an impression of luxury.
4. Seikoro Ryokan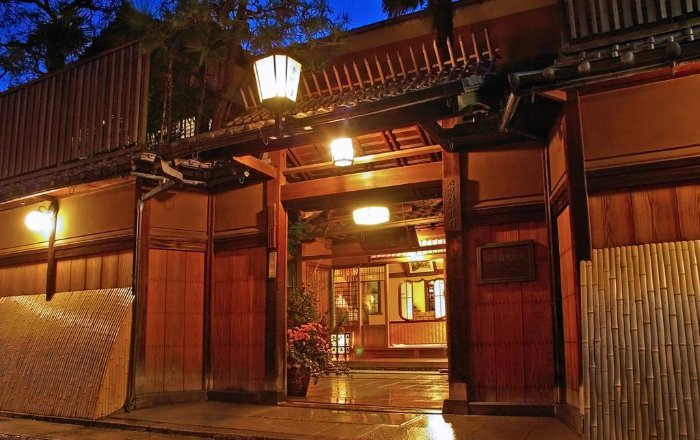 With its public bath, spa, and wooden bathtubs, it's really a magical place. Very good location in a very quiet street of Gion and the staff is really dedicated and pleasant.
Elegant entrance hall of the ryokan, the most elegant in Kyoto.
5. Ryokan Motonago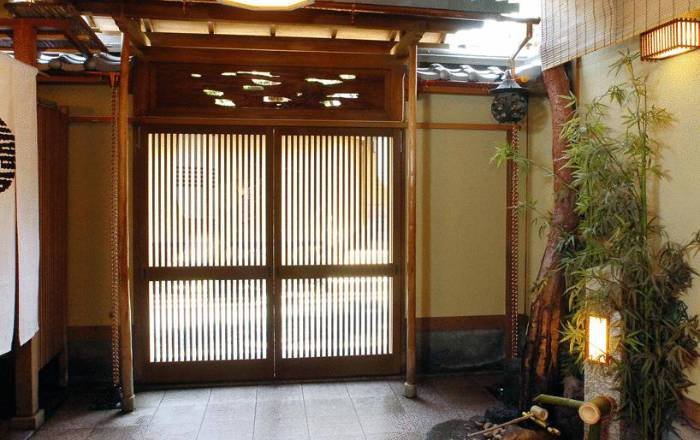 Nothing more than a traditional Japanese inn recommended by the Michelin guide. 5 minutes from Yasaka Shrine, it is ideal for those who want to explore the city and its historic monuments.
The room has a private garden for a Zen atmosphere.
6. NAZUNA Kyoto Nijo-tei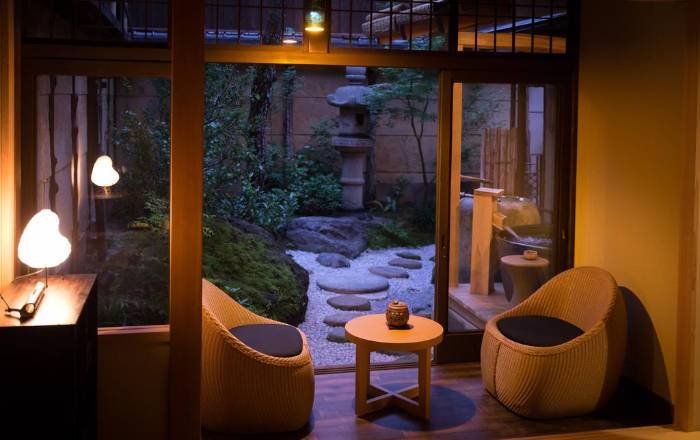 Incredible service in an incredible place, with a mix of tradition and luxury. We fell in love with the Zen garden and the private onsen. This ryokan even offers a tea ceremony upon your arrival.
The room has a private bath.
7. Gion Ryokan Q-beh
Ideal for those looking for a ryokan on a budget, it's worth considering. You stay in a dormitory but this renovated old house is a dive into ancient Japan. Its location in the Gion district allows easy access to the entire city.
MORE STAY OPTIONS: