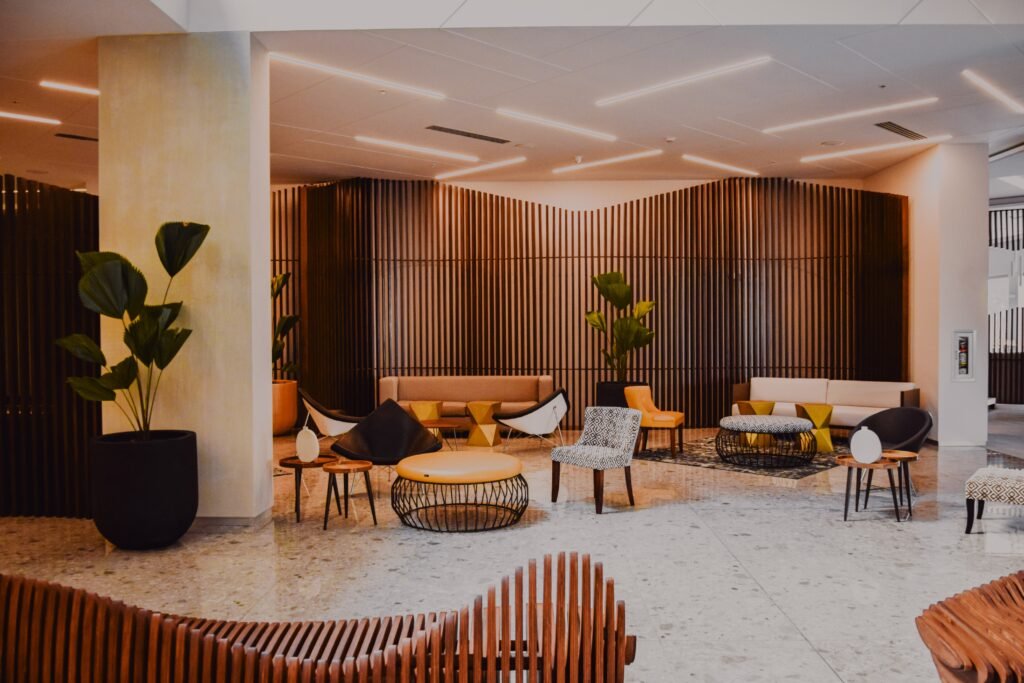 Japan is one of the world's most exciting and magical travel destinations. Its colorful shrines, fascinating geisha districts, and ancient Buddhist temples bear witness to the country's rich cultural heritage and ancient history. From the famous landmarks of the impressive imperial city of Kyoto to the bustling capital of Tokyo with its dizzying dimensions and neon lights, there is no shortage of top attractions to visit and explore in the land of the rising sun. With the recent opening of some ultra-luxury Aman, Ritz-Carlton, Four Seasons and Hyatt properties, the country now offers a portfolio of exclusive hotels that match the unique cultural experience.
In this article you can discover 10 best luxury hotels in Japan:
Table of Contents
10. HYATT REGENCY HAKONE RESORT & SPA
Hyatt Regency Hakone Resort & Spa is located in Honshu, an area famous for its onsen (hot springs) and views of Mount Fuji. The elegant yet relaxed ryokan-style hotel offers 80 spacious rooms and suites, all with a private terrace or balcony. Some rooms have tatami (reed mat) floors, an onsen, and a yukata (a traditional garment worn in the hotel). The hotel's intimate lounge has its own fireplace, which is the perfect decoration for those cold winter nights. As guests relax in the fresh air, forested hills and panoramic views of the Fuji-Hakone-Izu National Park, they can enjoy a balanced combination of Hyatt's world-class warm service and Japan's own style of hospitality, offering the option of a sumptuous dinner and breakfast as part of the pampered experience.
9. ST REGIS OSAKA
The St. Regis Osaka is located on the famous Midosuji street, also intimately known as Osaka's Champs Elysees. An eloquent expression of comfort and refined Japanese aesthetics, Osaka's Finest Hotel offers an abode of tranquility and comfort, with its 160 rooms and suites elegantly decorated with refined furnishings and rich textures. Guests can enjoy exquisite dining at Rue d'Or, La Veduta or at Teppanyaki WAJO; discover the epitome of luxurious pampering at the hotel's exclusive Iridium Spa; or enjoy magnificent views of the Osaka skyline from the serenity of the 12th floor terrace. St. Regis Osaka is located in close proximity to popular destinations such as Universal Studios Japan, Osaka Aquarium Kaiyukan, and the city's most exclusive shopping districts. 
8. PARQUE HYATT NISEKO HANAZONO
Park Hyatt Niseko, Hanazono sets a new benchmark for luxury hotels in Niseko, a year-round mountain retreat in the heart of Japan's premier ski area. With international architecture and interior design, exceptional accommodations, exquisite culinary offerings, sophisticated works of art and the legendary service of the Park Hyatt brand, Park Hyatt Niseko offers a refined and sophisticated experience. Floor-to-ceiling windows frame Mount Yotei and the Annupuri ranges outside 100 simply refined rooms; The exclusive suites have their own onsens .Guests find all ways to play in the powder of winter, while the summer months offer rafting, golf, and hiking in nearby Shikotsu-Toya National Park, a UNESCO Global Geopark. The famous city of Sapporo and its breweries are two hours away.
6. PARQUE HYATT TOKYO
From the moment a guest walks in and picks up their room key on a sterling silver key ring, it's clear that a stay at Park Hyatt Tokyo will be a "higher" experience. High above the bustling city, this oasis occupies the top 14 floors of the 52-story Shinjuku Park Tower, offering views that stretch from the city skyline to Mount Fuji. The sights and sounds of Shinjuku are easily accessible, but inside your spacious room (complete with a personal entertainment center and soaking tub), you'll enjoy total serenity. Come at night, see and be seen at the stylish New York Grill & Bar, the best place in town for live jazz and breathtaking views. Head to the luxurious Club on the Park for swimming and spa treatments. Sofia Coppola's beautiful film  Lost in Translation  (2003) was filmed at the Park Hyatt Tokyo.
5. ANDAZ TOKYO – A CONCEPT BY HYATT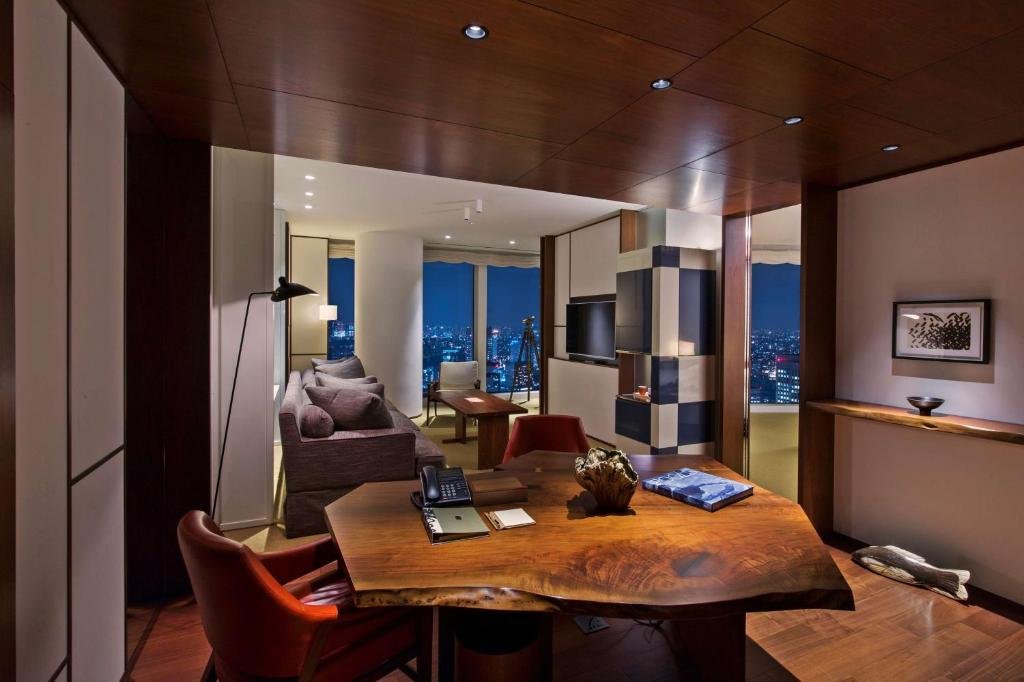 The second tallest skyscraper in Tokyo houses the country's first Andaz hotel, Andaz Tokyo is located on floors 47-52. This luxury hotel is as dynamic as Japan's vibrant capital beyond the massive floor-to-ceiling windows. Reflecting Japan's contemporary urban culture, guests can expect a dazzling experience at this hotel. Fusuma-inspired partitions add a traditional touch to the 164 futuristic rooms and suites, which seem to float above the urban landscape. From the apex of the tower on the top floor, Andaz brings unprecedented rooftop style to this city's dining and entertainment scene, with breathtaking views from the rooftop bar and the tallest free-standing wedding chapel in the city .
4. THE RITZ-CARLTON KYOTO
The Ritz-Carlton Kyoto is a luxurious and modern hotel inspired by Japan's traditional ryokan, offering expansive views of the Kamogawa River. By creating an experience that seamlessly blends Kyoto's centuries-old traditions with the finest services and facilities for which The Ritz-Carlton brand is renowned, the property truly brings the cultural heart of Japan to life. Minimalist contemporary interiors with floor-to-ceiling windows define 134 accommodations; some suites offer traditional décor, including futons and tatami mats. Guests can enjoy traditional Italian cuisine at La Locanda, sushi at Mizuki, and signature cocktails at the bar. Immerse yourself in local culture with the hotel's personalized Kyoto arts activities or get away from it all at the resort's excellent spa center.
3. AMAN TOKYO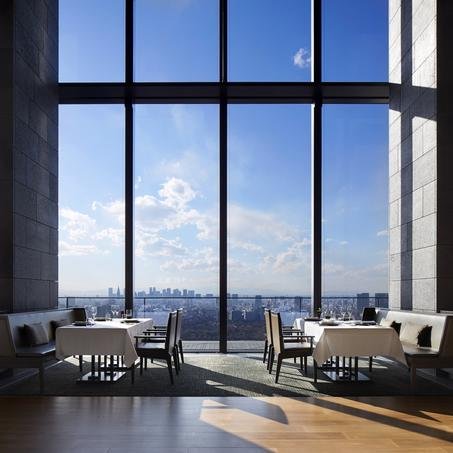 Occupying the top six floors of the newly constructed Otemachi Tower, Aman Tokyo is a luxury hotel and urban sanctuary high above the atmospheric whirlwind of tradition and modernity that epitomizes Japan's capital, Tokyo. The hotel draws its design inspiration from traditional Japanese residential structures, with classic Japanese materials such as wood, Washi paper and stone combined to great effect with modern technology and luxurious fabrics. The property has 84 rooms and suites, all with unique designs, magnificent views of the city and all contemporary comforts. Each room has a large furo,  a deep bathtub intrinsic to the Japanese ritual of bathing.There is also a continuous reference to nature, from the hotel's interior garden in the phenomenal lobby, to the fabrics and art incorporated into the design.
2. AMAN KYOTO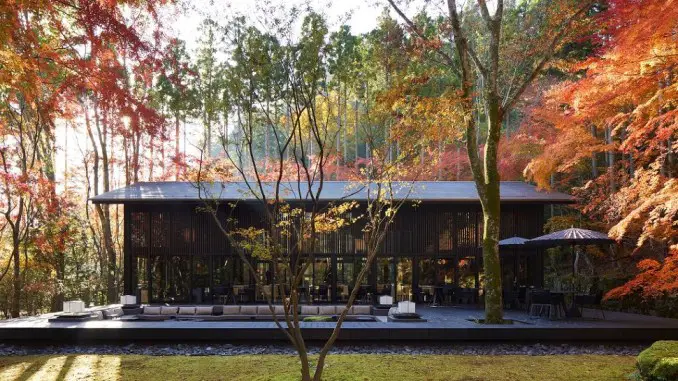 Surrounded by ancient forests that once provided shelter to a revered community of artists, Aman Tokyo pays homage to the traditional ryokan, albeit with a strikingly modern flair. The interiors are spacious and light-filled, cleverly designed to encourage peace, relaxation and contemplation at all times. Moss-covered stone pathways meander between pavilions housing 26 minimalist rooms with healing onsen baths that draw their waters from nearby mineral springs. The Living Pavilion serves Kyoto obanzai-style home cooking throughout the day, while the signature Taka-an restaurant is a culinary tribute to Honami Koetsu, who helped shape the culture and creative life of Kyoto's Takagamine district, and since there, Japan. like an everything. Guests here practice yoga, take a mindfulness walk, or explore Kyoto's 17 UNESCO World Heritage Sites.
1. AMANEMU, ISE-SHIMA NATIONAL PARK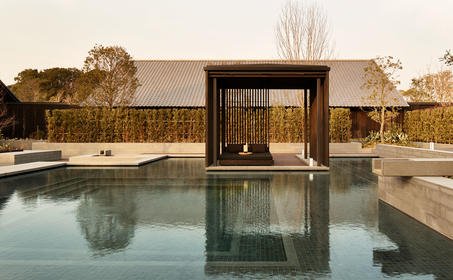 Celebrating the ancient Japanese tradition of onsen (mineral hot springs) in picturesque Ise Shima National Park, Amanemu is the country's best luxury hotel. The resort is perched on the rolling green shores of Ago Bay, known as Pearl Bay, on the west coast of Honshu, the main island of Japan. Each of its 24 suites and four villas has a private onsen, along with walls that open up to either tranquil Ago Bay or the surrounding forest. The entire design embraces a classic Japanese aesthetic, using natural materials and calming tones while framing the natural surroundings. Amanemu's spa features two large onsen bath pavilions, a watsu pool, four treatment suites, a gym, and a yoga studio.Guests can witness a prayer ceremony at the Ise Grand Shrine, or go fishing with a local fisherman and have the chef prepare fresh sashimi from their catch.