Experience a rejuvenating glamping adventure with breathtaking views of Mt. Fuji. Our selection includes only facilities where you can enjoy the splendid sight of this iconic mountain! Indulging in the serene beauty of nature while gazing at the majestic Mt. Fuji is undoubtedly the perfect way to recharge and revitalize. Why not embark on a trip that allows you to fully immerse yourself in the great outdoors?
Yamanashi Prefecture, located about an hour and a half by car from Tokyo, is a highly recommended destination. With its convenient accessibility, it's an ideal choice for a weekend getaway from the city. While Mt. Fuji, a designated World Heritage site, takes center stage, there are other scenic spots to explore as well.
Relax by the tranquil shores of Lake Kawaguchi, known for its splendid views of Mt. Fuji. Visit Oshino Hakkai, a natural spring with stunning blue water, or venture to Fuji-Q Highland, a must-visit destination for thrill-seekers and fans of exhilarating amusement park rides. You'll discover numerous sightseeing spots and activities that allow you to reconnect with nature and immerse yourself in its beauty.
Take a deep breath, soak in the magnificent scenery, and let your mind and body reset. This is your opportunity to refresh and rejuvenate to your heart's content.
8 Best Glamping Spots near Tokyo:
Table of Contents
1. Hoshinoya Fuji
 A tranquil stay in the forest with bonfire and concerts
Address: 1408 Oishi, Fujikawaguchiko Town, Minamitsuru District, Yamanashi Prefecture
HOSHINOYA Fuji, a glamping resort, is situated on a lush hill overlooking the majestic Mt. Fuji and Lake Kawaguchi, just a 20-minute drive from Chuo Expressway's "Kawaguchiko" IC. The cabins are uniquely designed on slopes, offering each room an open-air living area and a breathtaking view of Mt. Fuji right in front of you.
Experience the enchanting "Forest Concert" every night on the "Cloud Terrace," where wooden decks create a cloud-like atmosphere. Relax and enjoy the music at the bonfire bar while savoring delicious drinks.
For dinner, indulge in Dutch oven cooking featuring seasonal game such as deer and wild boar. Rest assured, a skilled "glamping master" will assist you in preparing these outdoor delicacies. Enjoy the nutritious and flavorful gibier cuisine while embracing the bounties of nature.
Hoshinoya Fuji offers a range of activities to immerse yourself in nature, including trekking and cycling. One highly recommended experience is canoeing on the tranquil Lake Kawaguchi in the early morning. Witness the captivating beauty of Mt. Fuji reflecting on the calm water surface, creating an unforgettable memory of your trip.

2. PICA Fujiyama
 Enjoy the outdoors in a comfortable air-conditioned dome tent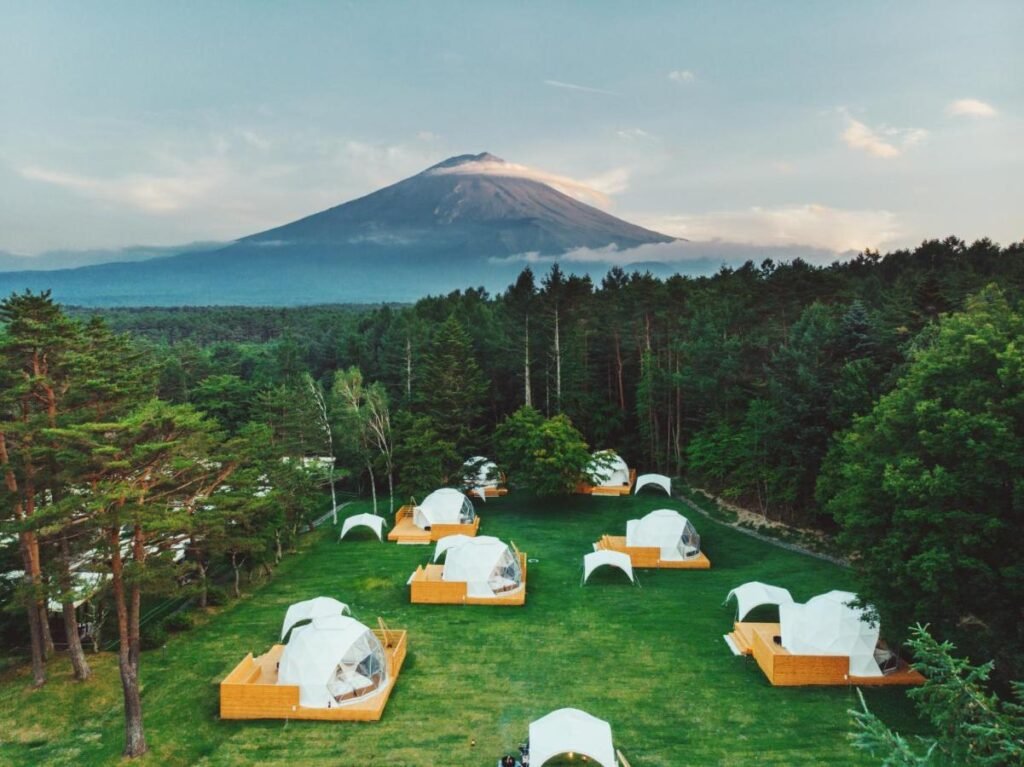 Address: 6662-10 Funatsu, Fujikawaguchiko Town, Minamitsuru District, Yamanashi Prefecture

The premium dome at "PICA Fujiyam" offers a spacious and bright atmosphere with its high ceiling and open design. It is fully air-conditioned, ensuring a comfortable stay regardless of the season or weather. The unique and adorable dome-shaped room is perfect for capturing memorable photos.
It is especially recommended for enthusiasts of outdoor activities. Relax and unwind in the comfortable "Premium Dome" while enjoying outdoor adventures such as BBQs and bonfires, where you can even try your hand at starting a fire.
3. TOCORO. Mt.Fuji CAMP & GLAMPING
Relax your mind and body with a glamping experience where you can enjoy an authentic sauna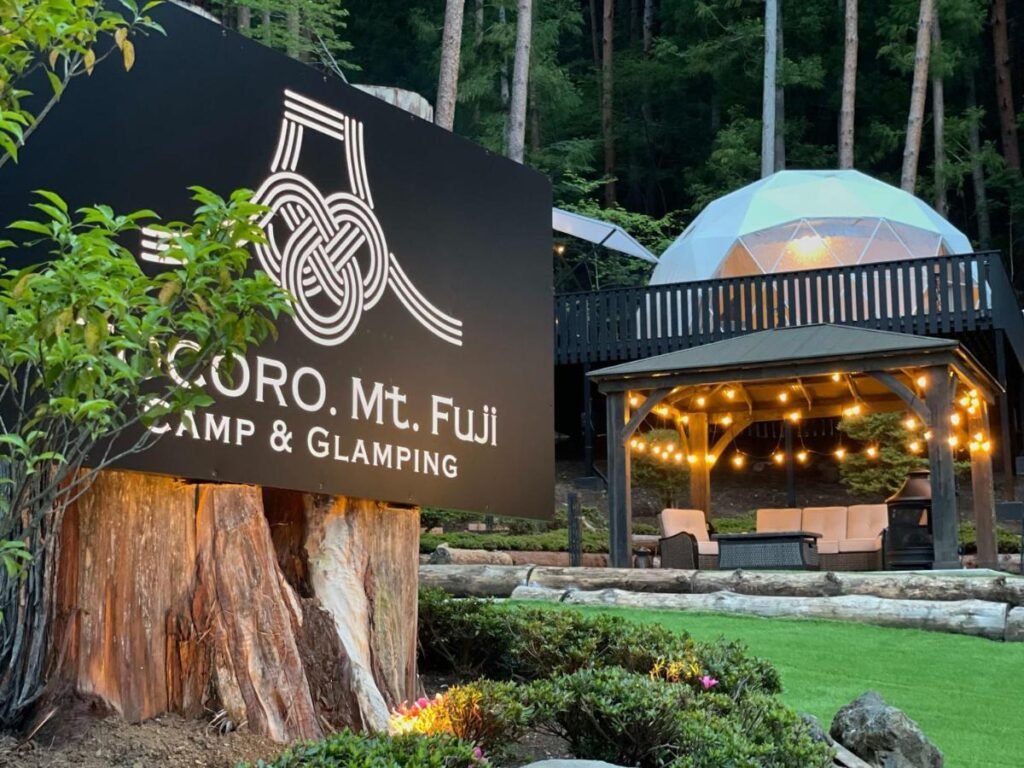 Address: 401-0305 Yamanashi, Fujikawaguchiko, 大石2533-1, Japan
"TOCORO. Mt.Fuji CAMP & GLAMPING: (Tokoro Mt. Fuji Camp & Glamping)" is about 20 minutes by free shuttle from Fujikyuko "Kawaguchiko Station". BBQ equipment, bonfire tools are all provided by the facility. This facility is perfect for modern people who can experience outdoors adventures.

The spacious dome tent at our glamping site can comfortably accommodate up to 6 people, offering insulation and comfort throughout the year, no matter the season or climate. Additionally, we have a dedicated dog run within the dome tent area, allowing you to bring your beloved furry friend along for the stay. Imagine lying on your cozy bed and gazing through the large window, where you'll be greeted by the breathtaking sight of Mt. Fuji, creating a truly relaxing and memorable experience.
But that's not all! They also have a special tent with an attached sauna for those seeking ultimate relaxation. This barrel-shaped sauna is an authentic Finnish sauna, equipped with a stove that ensures a proper sauna experience. Take your time to slowly warm up your body, and you'll feel the burdens melt away, leaving you feeling rejuvenated both physically and mentally.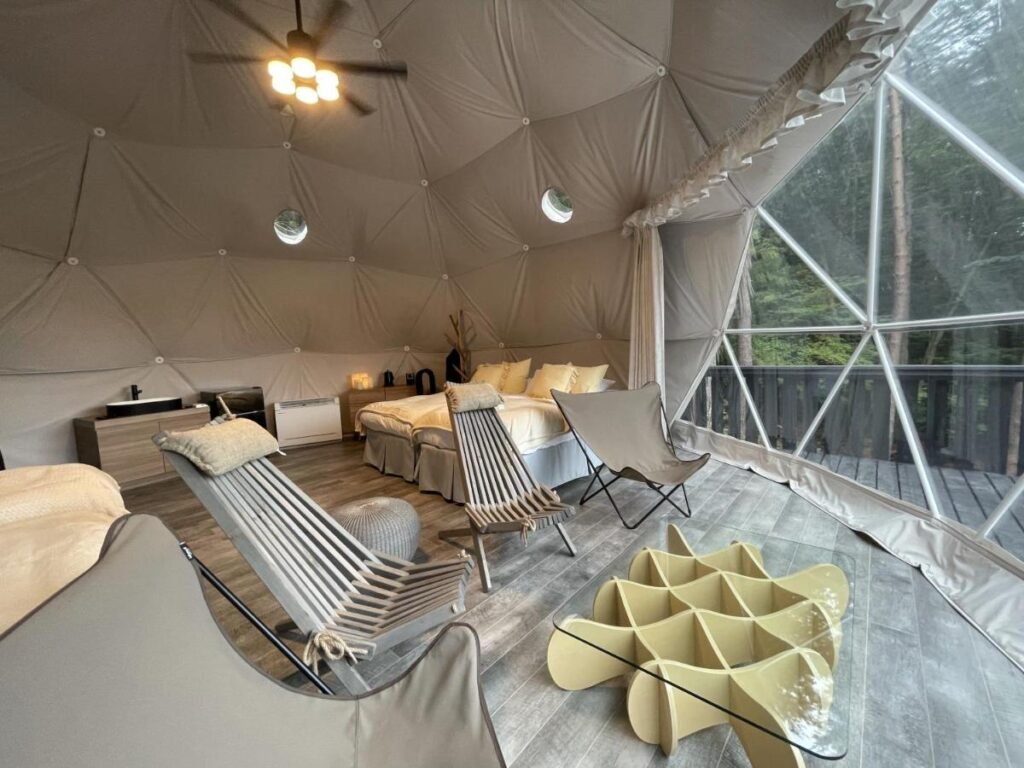 4. Mt. Shakushi Gateway Camp
 A soothing glamping experience with Mt. Fuji and a beautiful night view

Address: 4101 Daimyo Mikoyashiki, Fujiyoshida City, Yamanashi Prefecture
Located just a short 20-minute drive from the Chuo Expressway "Kawaguchiko" IC, you'll find "Shakushiyama Gateway Camp," perched on a scenic hill with magnificent views of Mt. Fuji. Immerse yourself in the best location while enjoying a comfortable stay in cozy dome tents. As night falls, the entire camp is adorned with flickering candlelights, creating a magical atmosphere that sets the perfect mood.
Step inside the spacious interior of the tents, which exudes a clean and inviting ambiance reminiscent of a high-end hotel. Thanks to their excellent insulation, you can relax comfortably at just the right temperature, regardless of the weather outside.
After a soothing time in the open dome tent, why not indulge in the private open-air bath, offering a spectacular view? Reservation is required, but it's absolutely worth it. Imagine soaking in the warm water while gazing at the majestic Mt. Fuji as it rises before your eyes—it's pure bliss!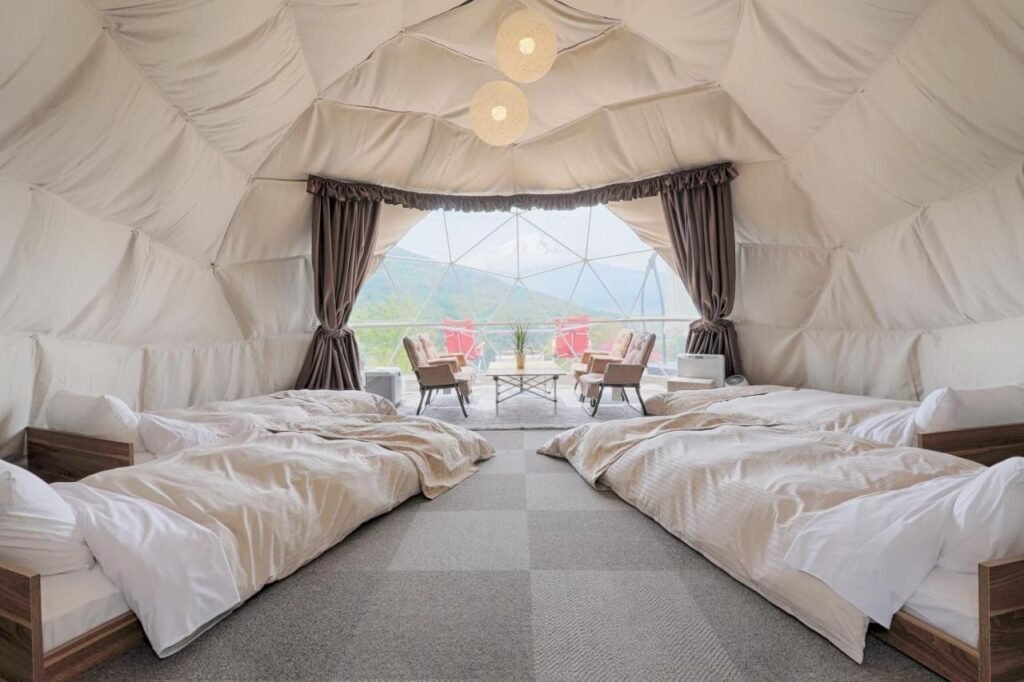 5. Dot Glamping
Unwind and enjoy the perfect blend of nature and comfort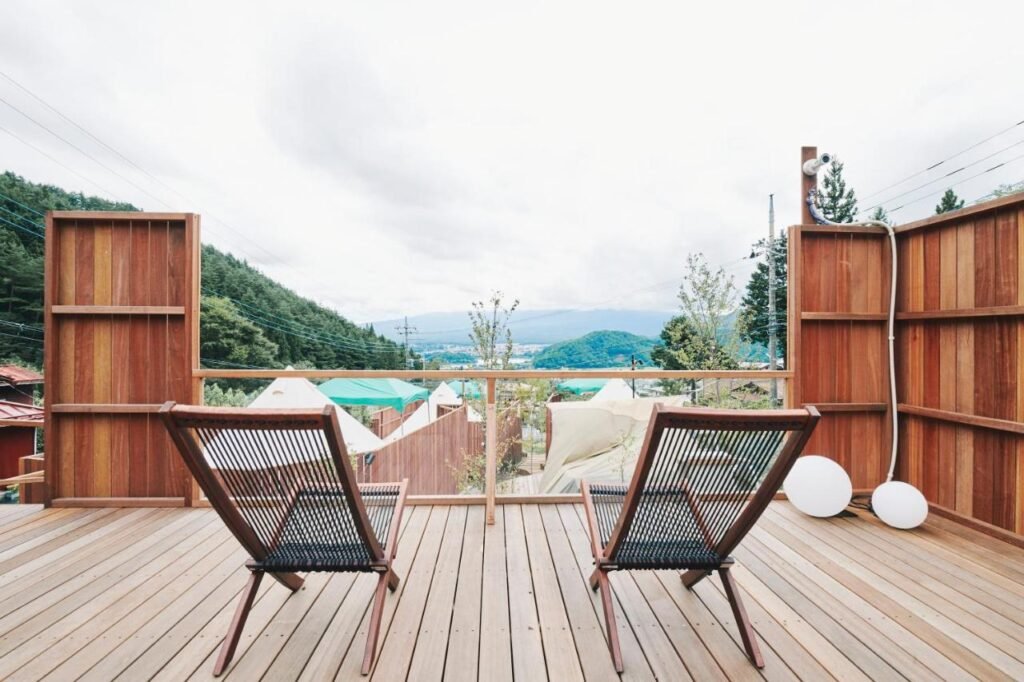 Address: 2872-65 Oishi, Fujikawaguchiko Town, Minamitsuru District, Yamanashi Prefecture

Welcome to "Dot Glamping," a stunning retreat overlooking the majestic Mount Fuji and scenic Lake Kawaguchi. Here, you can unwind and enjoy the perfect blend of nature and comfort. Whether you choose to relax in the glamping tents or cozy cottages with terraces, there is a range of unique experiences, including the option to rent a Nordic sauna, indulge in the aromatic flavors of shisha hookah, and even watch movies under the twinkling stars.
The glamping tents, designed to accommodate up to four people, are adorned with soft, gentle lighting that creates a cozy atmosphere. As night falls, lanterns illuminate the surroundings, casting a magical glow. Each tent comes with a wooden deck, allowing you to enjoy a drink under the starry night sky.
Dining on outdoor terrace amidst the fresh air is an experience like no other. Whether it's a sizzling BBQ feast at night or a breakfast accompanied by the breathtaking sight of Mount Fuji bathed in the morning glow, every meal becomes extraordinary.
6. Glamping Villa Hands Kawaguchiko
Enjoy villas with a wood stove and jacuzzi
Address: 3283-1 Katsuyama, Fujikawaguchiko Town, Minamitsuru District, Yamanashi Prefecture
"Glamping Villa Hands Kawaguchiko," is a delightful retreat nestled amidst the untouched forests at the foot of Mount Fuji. Comfortable villas offer a range of amenities, including Jacuzzi baths and wood stoves in every room.
One of the highlights of this facility is the ability to choose a room that suits your style: you can choose a villa with a terrace overlooking Mount Fuji or a unique dome tent called "PAO".
After a day filled with exciting activities, you can unwind and wash away the day's sweat in the large public bath. Additionally, there is a free-flowing open-air bath where you can soak in the soothing hot water.
7. The Villa Glamping Kawaguchiko
It's like a secret base. Stay in a private space
Address: 401-0310 Yamanashi, Fujikawaguchiko
Welcome to "The Villa Glamping Kawaguchiko," conveniently located just 10 minutes away from the Kawaguchiko Interchange. Each of five glamping tents provides a private space of approximately 100 square meters, allowing you to enjoy both the open natural surroundings and the comfort of indoor accommodations.
For dinner, you can have a delightful glamping BBQ supervised by a popular restaurant chef, ensuring a satisfying and flavorful meal. Additionally, there is a shared bar available for use from check-in until around 11:00 PM. It's the perfect spot for an enjoyable evening, allowing you to extend the fun with a second party at the bar.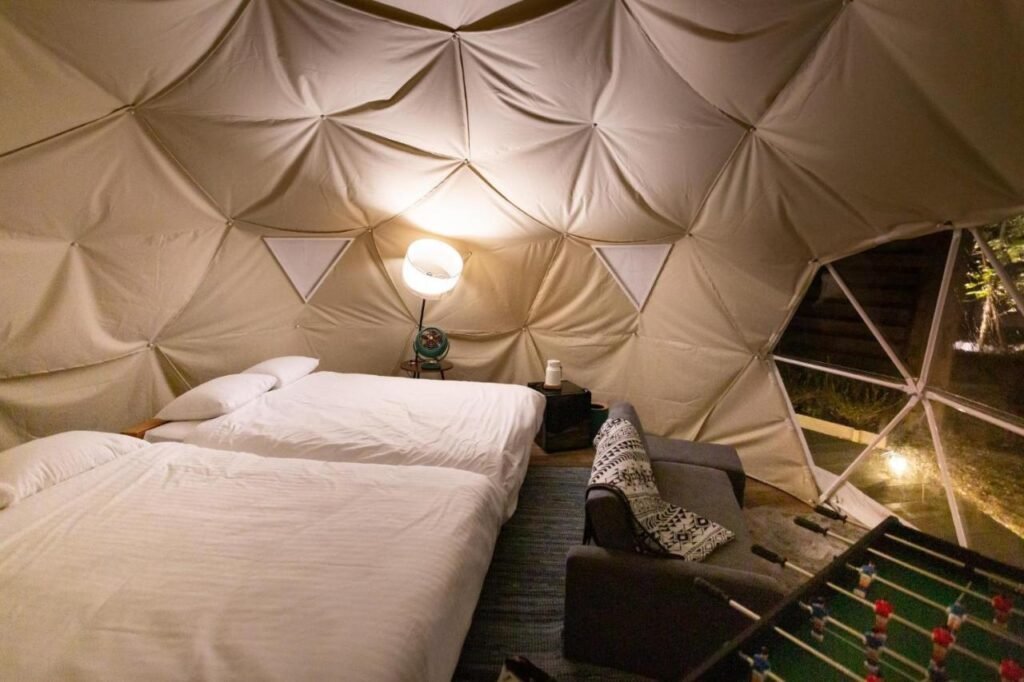 8. Kawaguchiko Country Cottage Ban
 Relaxing glamping in a cottage with a superb view

Address: 2092 Kawaguchi, Fujikawaguchiko Town, Minamitsuru District, Yamanashi Prefecture
"Kawaguchiko Country Cottage Ban" is nestled on a hill and cottage offers breathtaking views of magnificent Mt. Fuji and Lake Kawaguchi. The terrace that spans along the slope provides a remarkable sense of openness. You'll find hammocks and tents where you can unwind, allowing you to relax and rejuvenate.
The cottage is fully equipped with all the necessities, including a spacious kitchen and refrigerator. Additionally, there is a private open-air bath, allowing you to unwind and soothe your weary body after a day of sightseeing and activities.
For breakfast indulge in a hot pot-au-feu, accompanied by thick-sliced toast. It's also a delightful experience to savor breakfast on the terrace while admiring the morning sun illuminate the majestic Mt. Fuji.
---