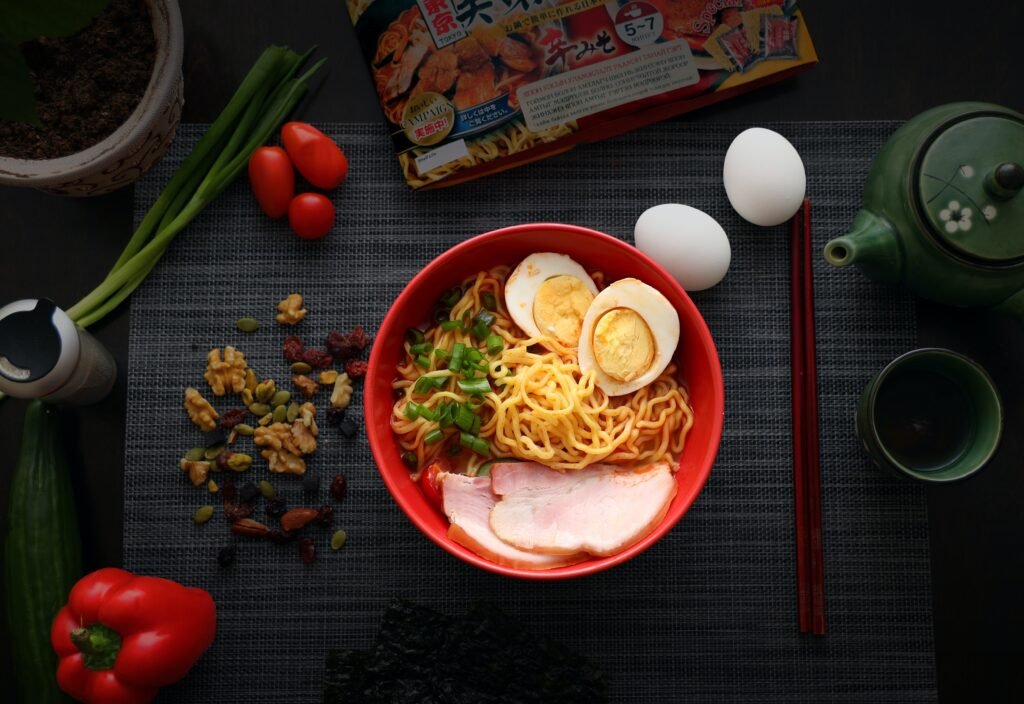 Traveling to Japan is good. Eating delicious Japanese food while traveling is even better! After having traveled quite a bit in the land of the rising sun, I present to you today 10 Japanese dishes that you absolutely must try.
Table of Contents
Ramen
Might as well start this list of dishes with the base of the base: the ramen. Although originally a Chinese dish, ramen is extremely popular in Japan. The Japanese have been able to reinvent it in many ways and it can be enjoyed very easily no matter where you are. Usually composed of a broth of soy soup, wheat noodles, slices of pork and a few vegetables, it is a hearty dish that we like to eat in winter. The ramen is not very expensive and is eaten as much for lunch as in the evening. Like a good fast food, it is also eaten after a big boozy evening.
Kaiseki meal
This is the traditional meal par excellence! You have certainly already seen beautiful tables like this in Japanese films or fiction. Be aware that this type of meal is the most commonly served in Ryokan-type hotels and is generally quite expensive. Kaiseki cuisine is characterized by the preparation of a mountain of small dishes served in a row during a single meal. All of these dishes are typically very refined (fish, meat, seafood, vegetables, etc.)
Do you know Okonomiyaki? What a complicated name for such a good dish! Okonomiyaki, which is often called a Japanese pancake, is actually a more complex recipe than that. It is often a base of cabbage and dough that is cooked on a plate and to which you can add a bunch of ingredients: prawns, meat, cheese, fish… All topped with mayonnaise, the famous Okonomiyaki and bonito sauce . While this may all sound complicated, I guarantee the end result is absolutely delicious! Okonomiyaki is a dish that is enjoyed with friends in the evening with a good beer. 
Tempura
 How good the Tempura are! Quite difficult to prepare when you start cooking, they among the most common dishes in Japan. Tempura are vegetable and shrimp "fritters" that are served either on their own or over a bowl of white rice. The breading used for the Tempura is very light and gives them all their flavor , they can be eaten by dipping them in salt or in soy sauce . 
Good sushi
Probably the most famous Japanese dish in the world and one of the best: sushi. Yes, but be careful, we are talking about good sushi, real sushi , not the poor quality sushi that you find in all Japanese (Chinese) restaurants in Europe or California or other Western fantasies. For a good sushi, few ingredients are needed: fish, rice, wasabi; but you need perfect control and a delicacy that requires years of training. Special mention for the Otoro Nigiri Sushi made with the fatty part of the tuna, highly prized and absolutely divine. For very good sushi in Japan, count at least 3000 yen.
Unagi Don
Undoubtedly one of the best dishes in Japan and one of my favorites: Unagi Don! It is simply a bowl of white rice covered with pieces of grilled eel and seasoned with soy sauce. Simple but absolutely delicious! A specialty of Nagoya but also of Miyajima, the recipe varies slightly depending on where you are in Japan. A real treat for the taste buds to taste for 3000 yen minimum.
Bento Konbini
Because you will not be a real adventurer in Japanese territory until you have tasted the famous Bento Konbini, I had to include them in this ranking. Bento is a typical dish that the Japanese eat regularly for lunch or on the go. It's a bit like the sandwich among the Japanese. 7-Eleven, Family Mart or even Sunkus, each Japanese convenience store brand has its specialties. From the great classics like Chicken Katsu to the limited offers that offer new maki each season, the choice is much wider . The Bento Konbini, the cheap and practical dish to eat in moderation.
Shabu Shabu
When winter arrives , nothing beats a good shabu shabu to warm up and especially to enjoy with friends. Here for one person, there are also large shabu shabu placed in the center of the table and shared with friends. The principle of the dish is simple: a broth in which you are invited to soak the meat and vegetables, before enjoying them with or without sauce (usually sesame). Pork or beef but also tofu, cabbage, shiitake or even mochi, you have something to enjoy.
Gyoza
These Japanese dumplings typically filled with pork and cabbage are actually inspired by Chinese dumplings. But no matter where they come from, they are delicious ! But it's hard to eat just one, believe me!
Diversity of food in an Izakaya
I could not finish this ranking without mentioning the Izakaya. Halfway between a bar and a restaurant, the izakaya is quite simply a place where the Japanese come to relax in the evening, drink a few beers and eat anything and everything.
Want some sushi? Ramen? Tempuras? Edamame? Takoyaki? Depending on the izakaya you choose, the dishes offered will be different, more or less expensive and more or less tasty. But one thing is certain, we always have a good time with friends in an Izakaya. 
You want some desert?
Don't forget the sweet! Find here an article about the best Japanese deserts.
---