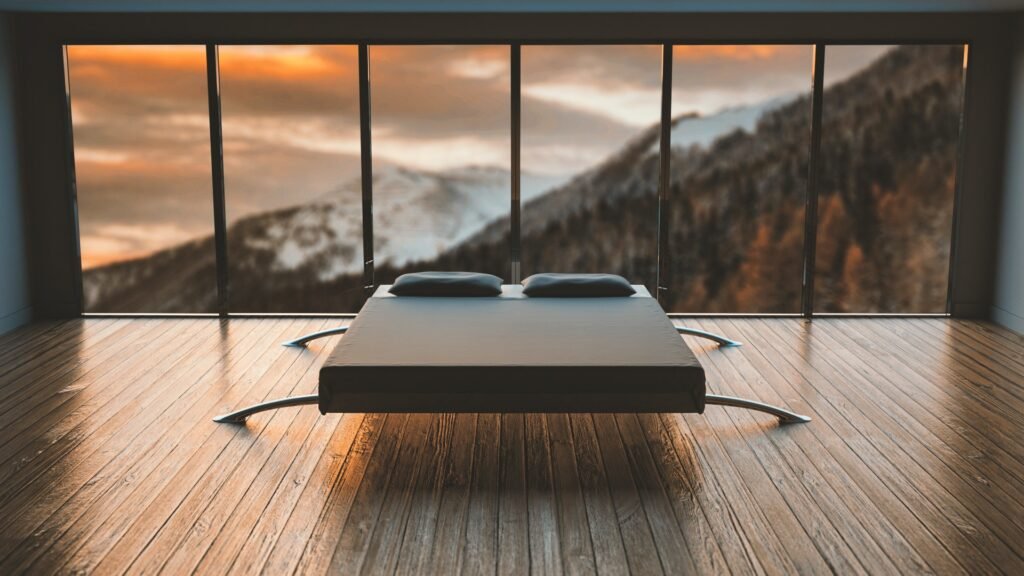 Have you heard of wabi-sabi? It's a Japanese concept that celebrates imperfection and uniqueness. This approach to interior design emphasizes rough textures, asymmetry, and unconventional shapes, and encourages a preference for handmade items and simple design. The idea is to appreciate beauty in the imperfect and avoid the pursuit of fancy or uniform decor. With wabi-sabi, you can achieve a sense of calm by embracing simplicity and imperfection in your decorating choices.
KEYS TO THE WABI-SABI STYLE OF DECORATION
Wabi-sabi is a Japanese aesthetic philosophy that values simplicity, natural imperfection, and the passage of time. It's often used in minimalist interior design, where only objects with personal or emotional significance are included. These homes are unpretentious and favor recovered or inherited items, and the color palette is neutral with natural textures and finishes. Natural light is important, and the interplay of light and shadow is constantly shifting throughout the day.
Wabi sabi home reminds us to appreciate the beauty in the passing of time and the imperfection of all things.
Table of Contents
1. WABI-SABI BEDROOM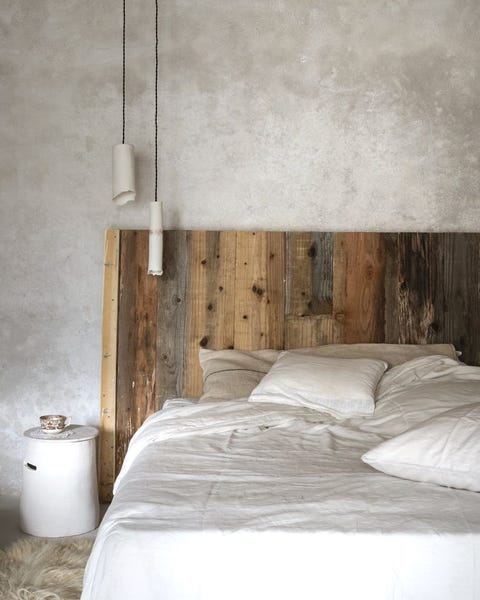 Pure simplicity, this is the sober decoration of this room. A headboard made with boards and a mini side table are enough to induce you to a restful sleep.
2. LIGHT AND CONTRASTS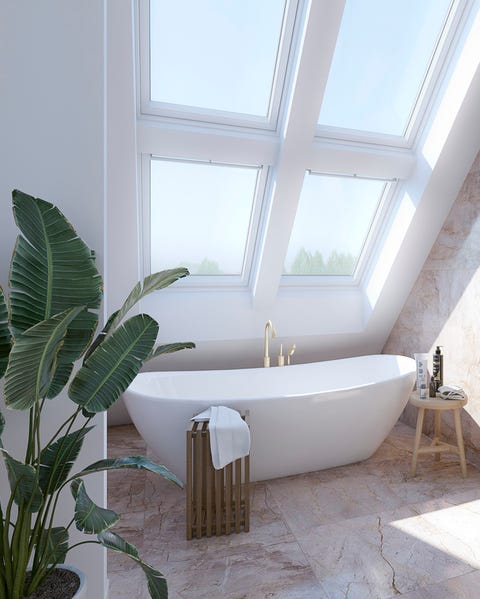 The search for balance is part of the wabi-sabi philosophy , which is why natural lighting is the perfect ally to create that set of backlights that generates a different experience for each person and at each moment of the day. Gaining natural light with roof windows in this environment is a success.

3. WOOD AND STONE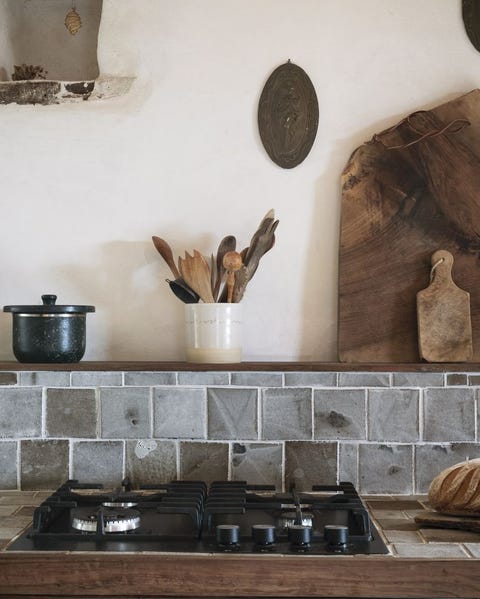 The raw, even rough, look of this kitchen brings us back to a rustic home environment. This is wabi-sabi style kitchen where natural materials rule. The white wall contrasts with the ceramic front and the wooden utensils.
4. THE VALUE OF CRAFTS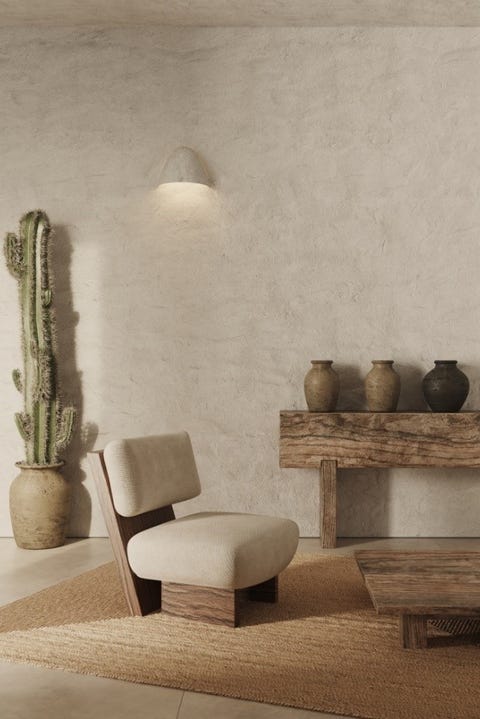 There is nothing more grand than ceramics from the hands of a craftsman. Each piece is unique, even if it is the same pattern, because their small imperfections make them different. Clay, stone, natural fibers, plants, organic fabrics and wood are the perfect allies to achieve a space decorated in wabi-sabi style.
5. THE COLOR OF THE EARTH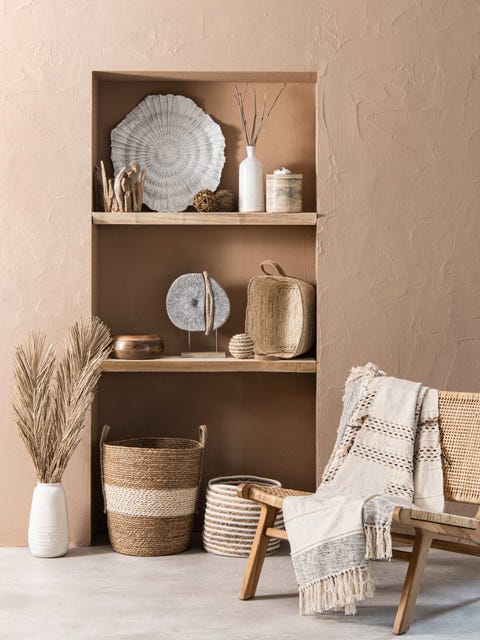 Earthy colors are perhaps the most consistent with the Wabi-Sabi philosophy . Do not forget to add them with details such as the color of the walls or in small baskets and objects. Of course, nothing to overwhelm the space.
6. RELAXING ATMOSPHERE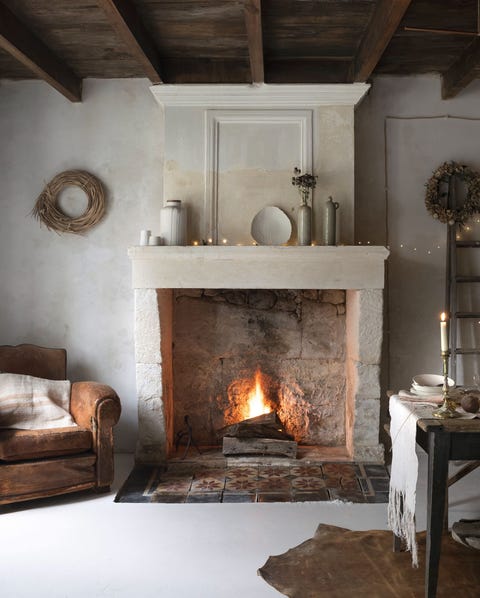 The play of light produced by the fire in the fireplace and the shadows of decorative elements can create poetic effect. The whitewashed walls are adorned with DIY wreaths and the floors have two rugs to make the room more welcoming.
7. DECORATE WITH SENSE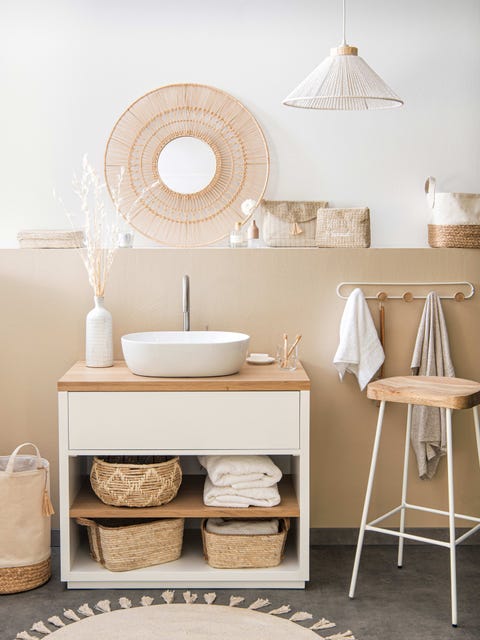 A flower, a mirror, a stool… Each of the elements that you use to decorate the rooms must have a reason to be there.
8. NATURAL BASE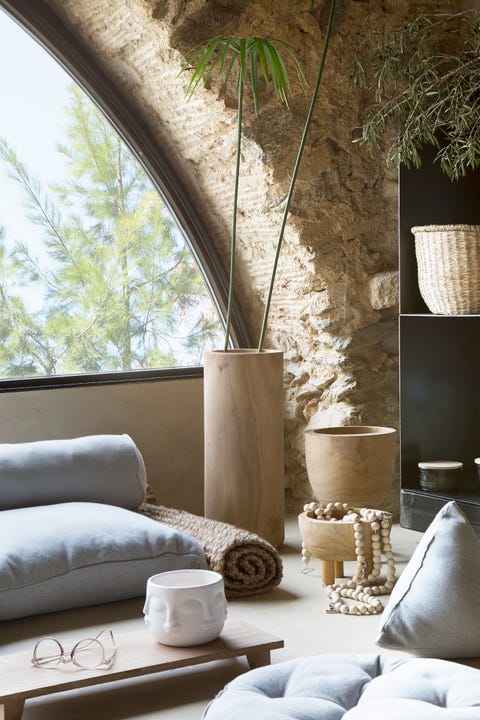 A simple, tall wooden vase can make the perfect base for an exotic plant.

9. PERFECT IMPERFECTION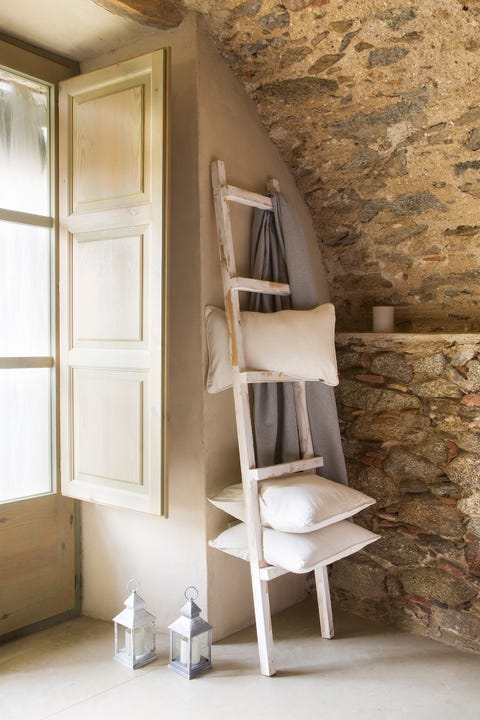 Details such as a stripped wooden ladder can create charming corners in any room.
10. TOTAL HARMONY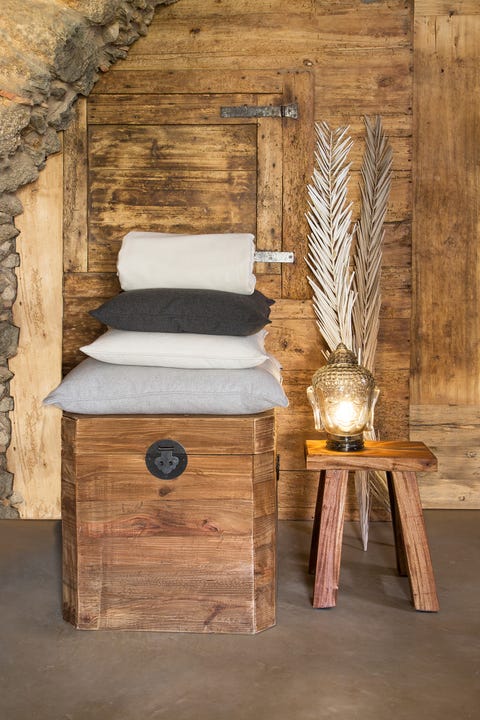 A fabric as natural as cotton fits perfectly with the Wabi-Sabi style . Combine several models of different sizes in neutral and soft tones to achieve total harmony.
11. THE CHARM OF WOOD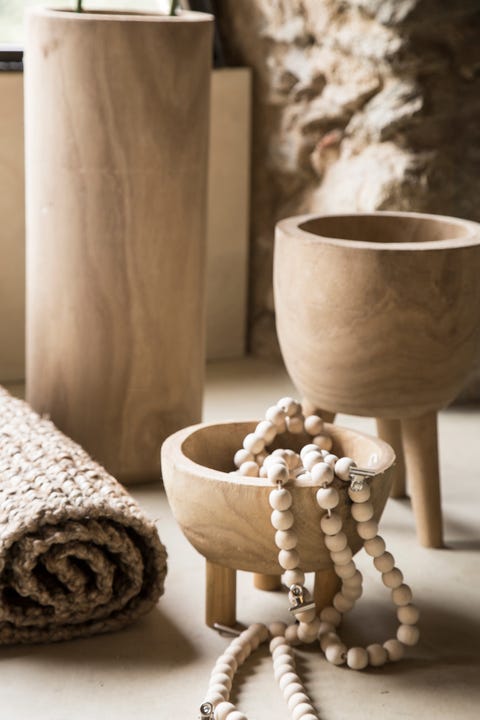 Don't forget to add  wooden bowls and pots , either on the dining room table or on top of a sideboard
12. UNEXPECTED DETAILS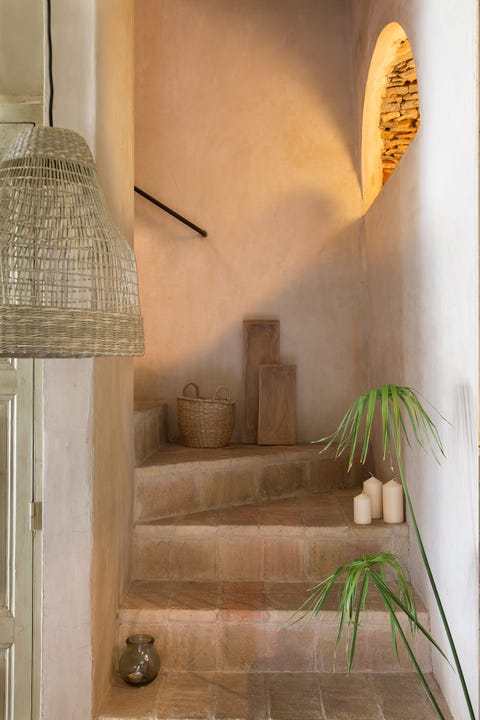 Stairs are usually totally wasted spaces, but just by adding a basket of natural fibers, some candles or a couple of wooden trays as decoration, you will completely change the environment.
13. LET IT FLOW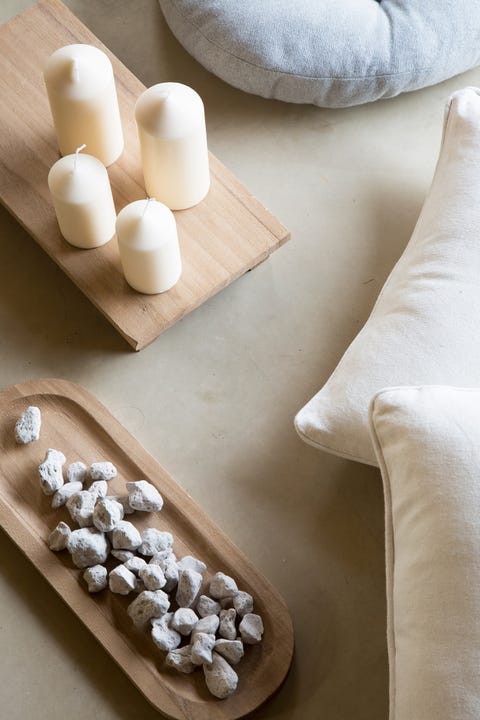 As you can see, a simple tray can have multiple uses: a base for candles, a support for appetizers… It's just a matter of letting your imagination flow.
14. MEDITATION TIME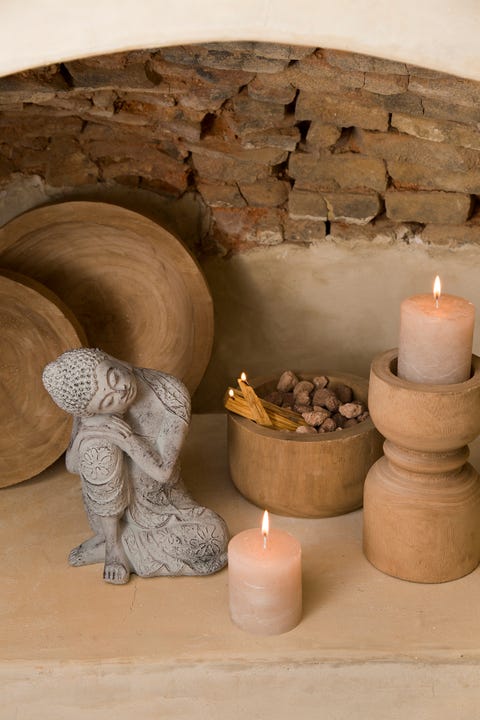 A small Buddha will always be welcome in any Wabi-Sabi decor. Our advice -create a meditation corner with a figurine, some candles, and maybe your favorite incense.
15. JUST RELAX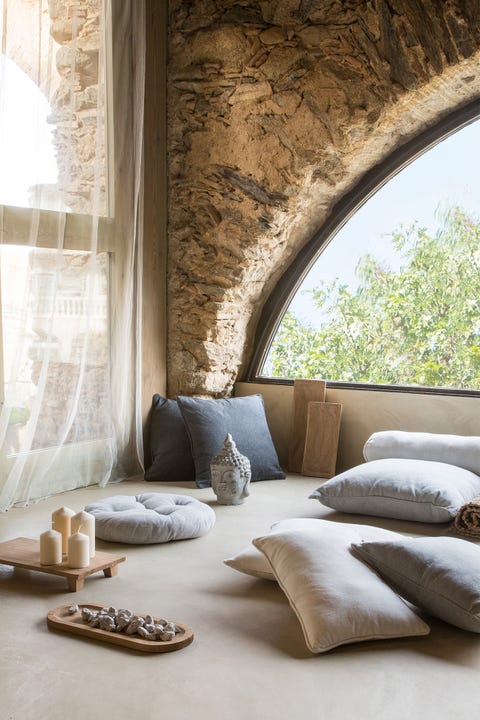 The simplicity of Wabi-Sabi inspires relaxed environments, where natural lighting and comfortable cushions take center stage.
16. CHIC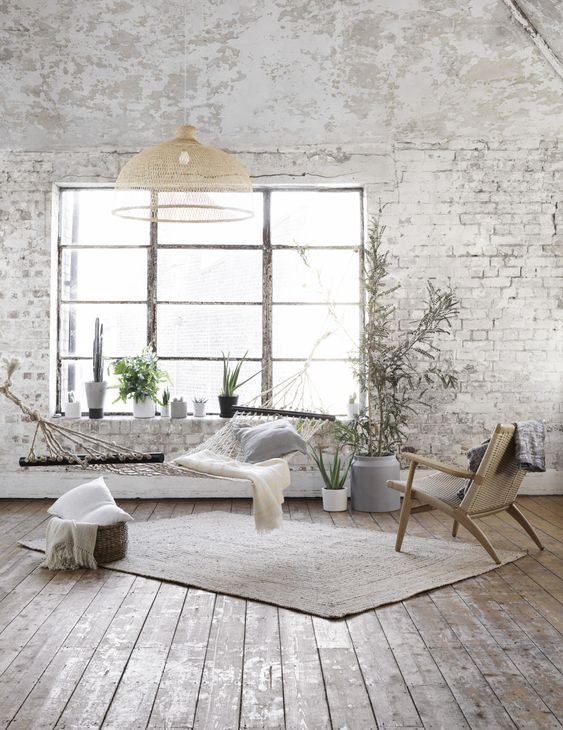 In this chic loft, the Wabi-Sabi style can be seen in the aged wooden floors and exposed brick walls with peeling paint… Isn't that looking cool and unique?
17. RUSTIC CHARM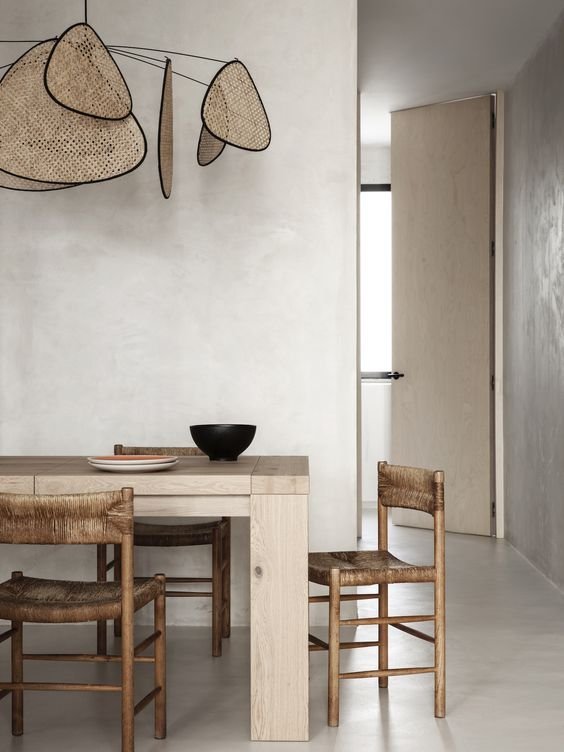 The table, the stools, the lamp… Everything is imperfectly beautiful. 
18. EXOTIC VIBE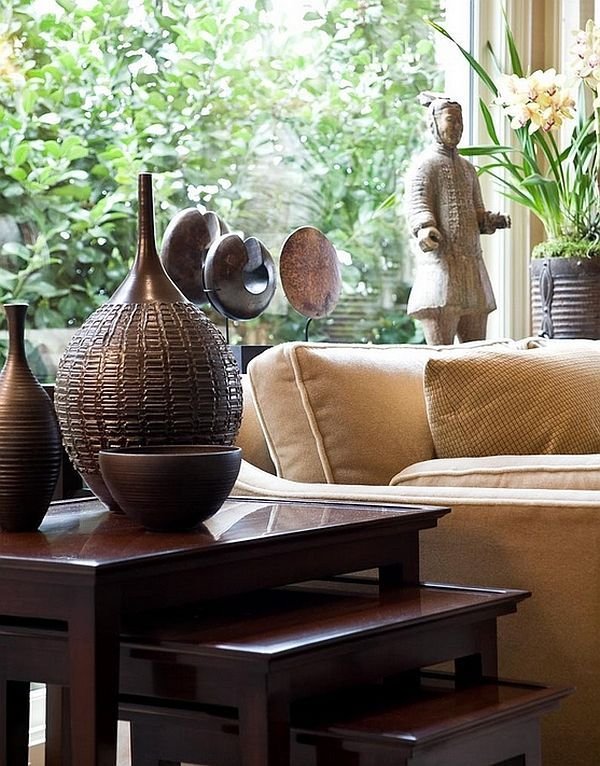 When you see this marvelous space , surely you imagine a house in the heart of Morocco… Exotic and spiritual!
19. GRAYSCALE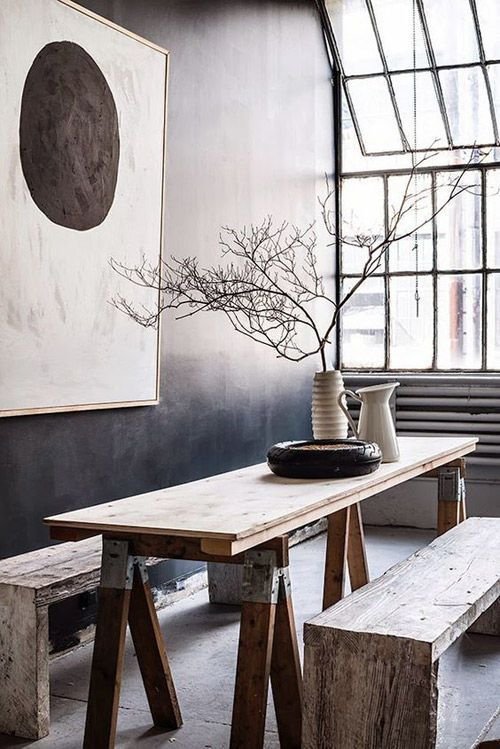 Another dining room that plays with natural wood and gray tones. Little tree of dry branches matches it perfectly!
20. IN THE BATHROOM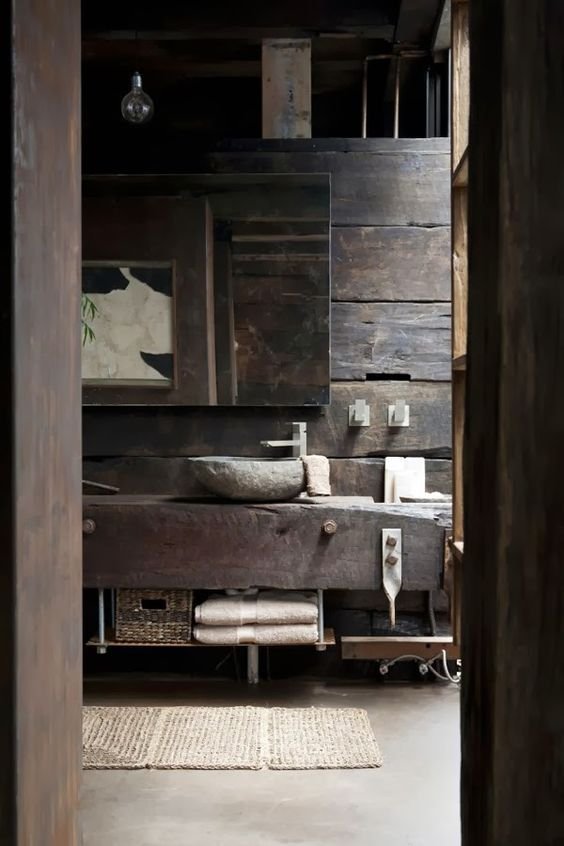 A bathroom made of natural wood with a stone sink… If you're into rustic style ,you will surely love it!
21. NATURAL
And you thinking about the color to paint the walls… Wait…natural, and so pretty!
22. ETHNIC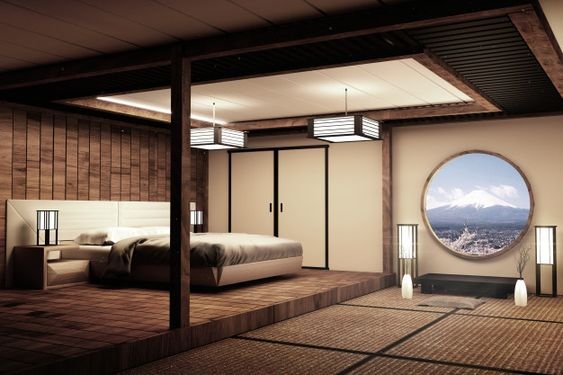 Sleeping in this room must be quite a mystical experience… Typical Japanese bedroom decor…inspiring!
23. MINIMALISM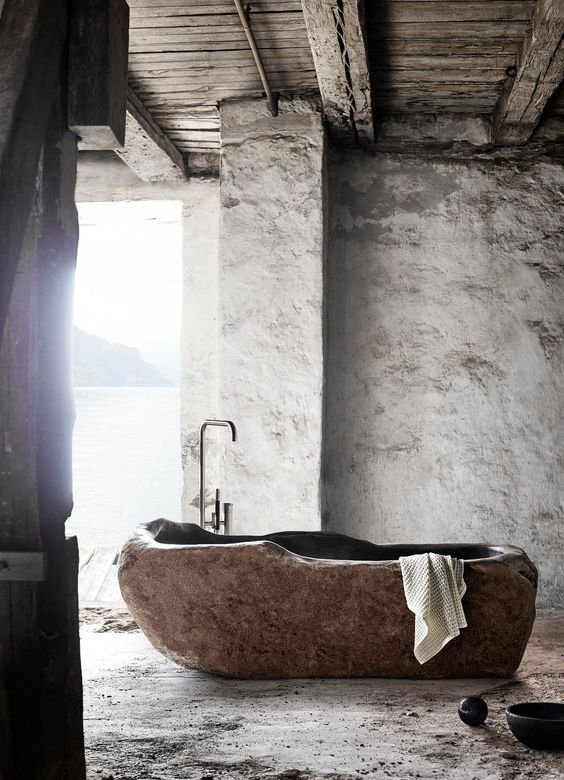 This bathtub overlooking the lake must have inspired a romantic movie script! Isn't it beautiful? 
24. NATURE AND MINIMALISM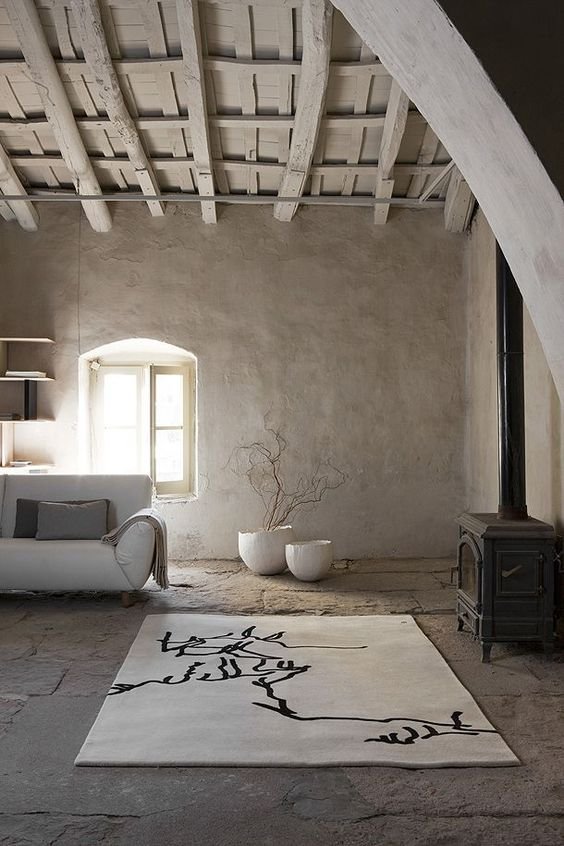 Natural ceilings, walls and floors, a proposal for enthusiast of pure minimalism.
25. VINTAGE SPIRIT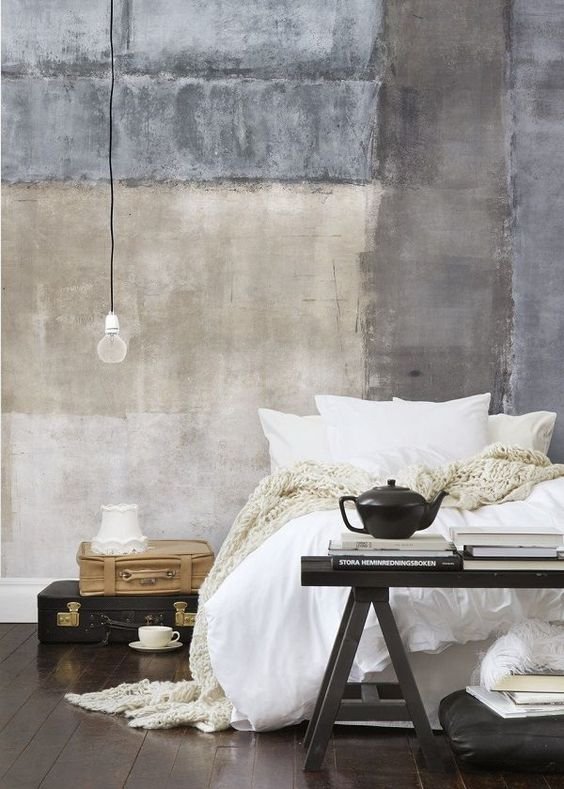 Another example of a natural wall that combines wonderfully with the vintage aesthetic provided by the two suitcases used as bedside tables.
---
LATEST POSTS: