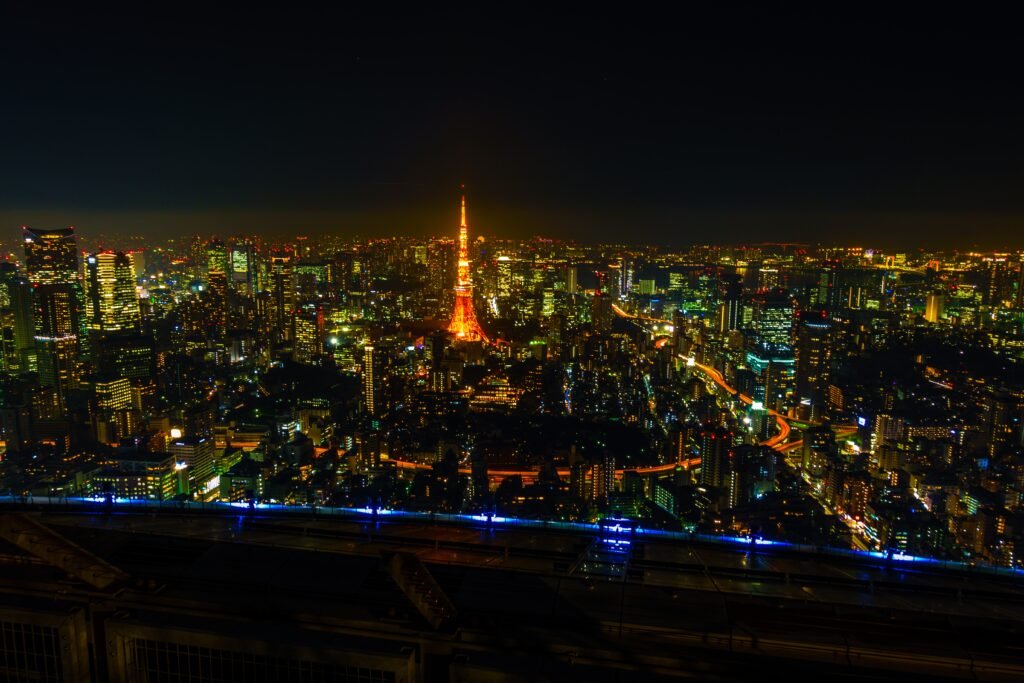 In Tokyo, there are many different sights to take in, like watching trains arrive and depart at terminal stations or gazing out over the city center with its tall skyscrapers. You might believe that restaurants with such awesome city views are only for the rich, but that's not true at all. We're here to tell you about restaurants where you can enjoy a fantastic view while you eat, whether you're looking for an affordable lunch spot at around 1,000 yen or a fancy restaurant for a special event. You can pick a place based on what fits your budget.
Restaurants with a view in Tokyo:
Table of Contents
1. Blue Room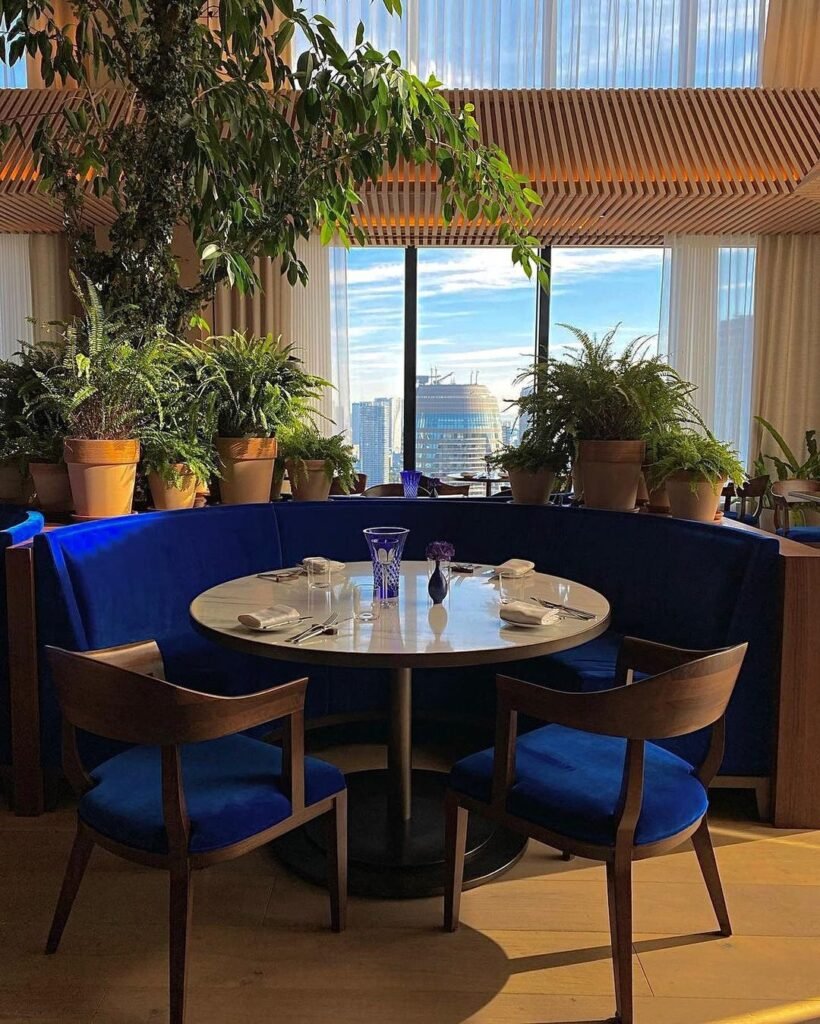 Blue Room is a restaurant on the 31st floor of Tokyo Edition Toranomon. They make tasty food using seafood, veggies, and ingredients that are kind to the environment and animals. They get these ingredients straight from the local market. When you eat there, you can look out at Tokyo Tower and see the huge cityscape over Tokyo Bay.
The feel is different during the day and at night when the lights come on. But if you want the best mix of great food and awesome views, you should try their weekend brunch called "WEEKEND FEAST." For ¥8,300 each, you get to enjoy nine different dishes. They start with fresh starters, then have filling main courses, and finish with tempting desserts. Why not treat yourself while enjoying the amazing sights?
Website: https://www.tablecheck.com/en/shops/editionhotels-tokyo-theblueroom/reserve
Address: 4-1-1 Toranomon, Minato-ku, Tokyo
2. The Kintan Steak
You can enjoy the best views from the restaurant floors on the 38th and 39th floors of Yebisu Garden Place Tower. You might think that the floor is full of high-end restaurants, but at The Kintan Steak, you can enjoy the same view at lunchtime for a single item in the 1,000 yen range. Various types of high-quality beef such as fillet, skirt steak, rump, and sirloin are grilled on an iron plate and offered.
The luxurious dinner course is 8,800 yen, but the weekend-only lunch course is 2,280 yen and comes with 20 types of drinks to choose from. For the best seats, request a counter by the window. The cityscape of Tokyo spreads out in front of you, and you can see Tokyo Tower and Sky Tree clearly.
Website: https://www.instagram.com/kintan_official/
Address: Ebisu Garden Place Tower 38F, 4-20-3 Ebisu, Shibuya-ku, Tokyo
3. New York Grill & Bar
Park Hyatt Tokyo is known as the filming location for the movie "Lost in Translation". New York Grill & Bar, located on the top floor, is still visited by people from all over the world.
The store offers panoramic views from Shinjuku to the hinterlands of Tokyo, and at night the city lights up to create an even more enchanting view. The menu focuses on high-quality local and imported beef and sustainable seafood. It's a restaurant you'll want to reserve for a special occasion.
At dinnertime, you can enjoy a 4-dish course for 19,800 yen, and on Saturdays, Sundays, and holidays, you can enjoy a course that includes an appetizer buffet and a main dish of your choice for 9,900 yen.
Website: https://restaurants.tokyo.park.hyatt.co.jp/en/nyg.html
Address: Park Hyatt Tokyo 52F, 3-7-1-2 Nishi-Shinjuku, Shinjuku-ku, Tokyo
4. Maison Marounochi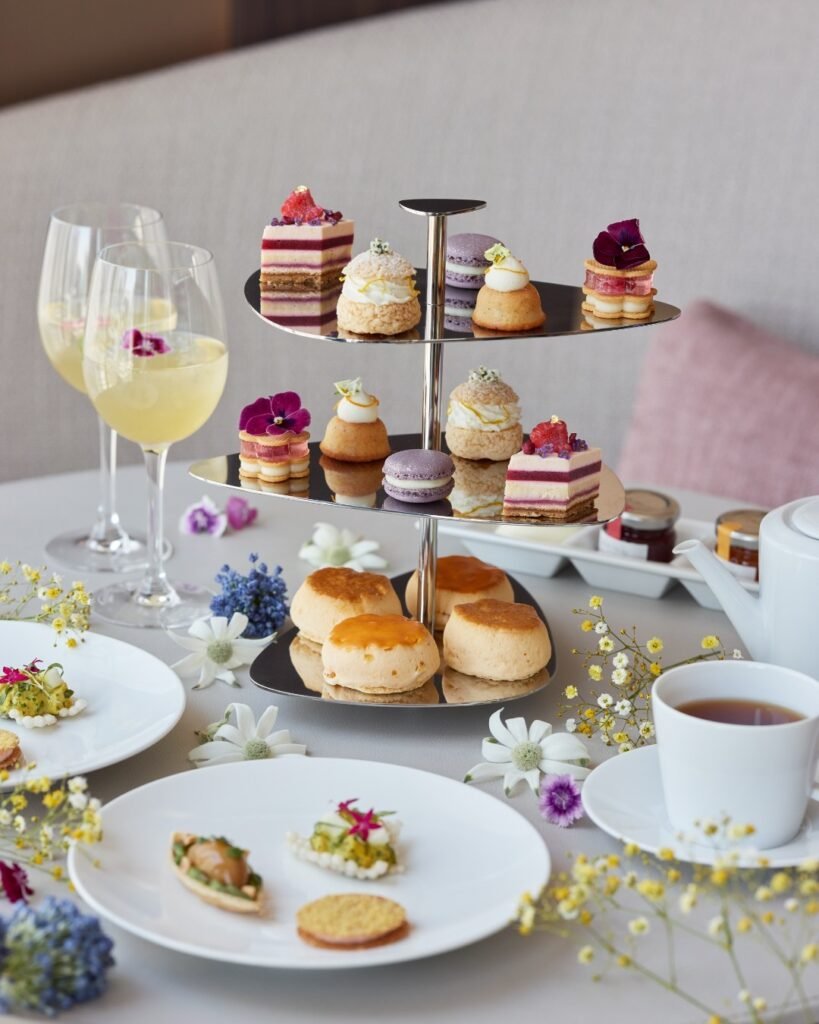 In 2021, a new eating place opened up on the 7th floor of the Four Seasons Hotel Marunouchi Tokyo. It's called MAISON MARUNOUCHI, and they're all about what they call "the French connection." They take old-fashioned desserts and make them fun and interactive. The person in charge of these sweet creations is Pastry Chef Patrick Thibaud. He's been making fancy desserts for more than 17 years, and he's really good at making delicious treats. Now he's bringing his talents to the Four Seasons Hotel Tokyo at Marunouchi.
Also, Chef Savi is making the food at our busy French bistro even better. He's focusing on using really good meats and special preserved foods to make his dishes stand out.
And they're picky about their drinks too, like making special non-alcoholic cocktails with local plants and fruits.
Website: https://www.fourseasons.com/tokyo/dining/restaurants/maison-marunouchi/
Address: Pacific Century Place Marunouchi Four Seasons Hotel Marunouchi Tokyo 7F, 1-11-1 Marunouchi, Chiyoda-ku, Tokyo
5. Tsurutontan Udon Noodle 
Tsurutontan sits on the 10th floor of Tokyu Plaza Ginza. While it might not be super high to see all of Tokyo, you do get a nice view of the fancy shops and buildings in Ginza. If you grab a seat by the window, you can even peek down at Sukiyabashi crossing.
They've got different types of seating like private booths and bigger tables for groups, around 10 people. So, if you're with your family or friends, it's a good choice. The noodles they serve are special and freshly made just for you. A dish they suggest is the "Sukiyaki Nabe Set Meal." It's a bunch of udon noodles plus some seasonal treats. People like it because it's not too expensive, starting at 4,500 yen.
Website: https://www.tsurutontan.co.jp/shop/ginza/
Address: 5-2-1 Ginza, Chuo-ku, Tokyo Tokyu Plaza Ginza 10F Tokyo
6. Shiseido Parlor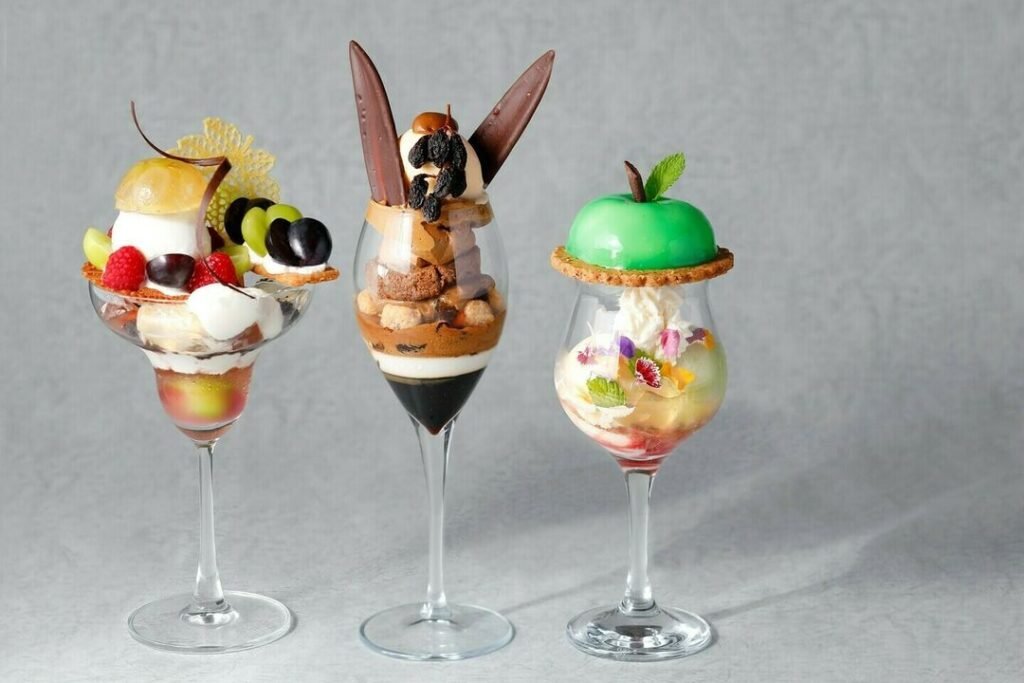 A restaurant and lounge located in the commercial facility With Harajuku, located just outside the Omotesando Exit of Harajuku Station . The interior was designed by Kazuya Ura, the view overlooking the Meiji Jingu forest, French-based course meals, and wine carefully selected by the sommelier are served.
Website: https://parlour.shiseido.co.jp/en/index.html
Address: 8th floor, 1-14-30 Jingumae, Shibuya-ku, Tokyo
7. The Tavern Grill & Lounge
The main dining area of Hotel Andaz Tokyo is on the high floors of Toranomon Hills. From the 51st floor, you can take in the Tokyo view while savoring dishes crafted by head chef Takuya Yamaguchi. He's got experience from France and he's all about using fresh seasonal ingredients.
They've given the place a makeover, and now the star is their grilled dishes. You can try out Hokkaido chateaubriand, which is this special beef from a fridge called "Yukimuro" that uses winter snow to keep things cool. They've also got shrimp dishes that are as big as lobsters. If you're looking for a morning meal or afternoon tea, they've got you covered too. So, whatever you're up for, you'll find a wide range of options to enjoy.
Website: https://www.andaztokyo.jp/restaurants/en/news/detail/597/
Address: Toranomon Hills Anders Tokyo 51F, 1-23-4 Toranomon, Minato-ku Tokyo
8. Teppanyaki Matenro Skyscraper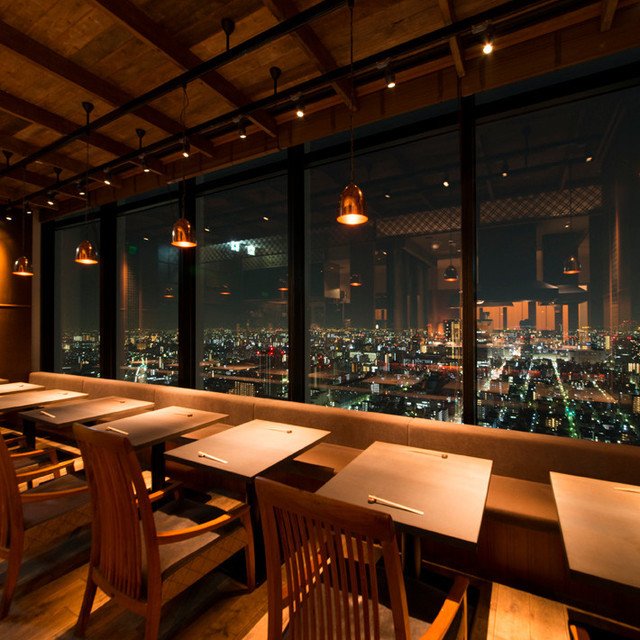 Tokyo Skytree isn't the only spot to get a cool view of Tokyo. Up on the 31st floor of Tokyo Solamachi, there's this Skyscraper place where you can chow down on teppanyaki while checking out the whole city. It's not as pricey as the Skytree lookout, and the view comes free with your meal.
They're all about teppanyaki, especially steak and spiny lobster. When it's dinner time, they've got set meals that start at 5,500 yen. You get to have this fancy experience while gazing at the sparkling city lights.
For a good deal, they say daytime is the way to go. Lunch starts at 3,300 yen and it comes with an appetizer, rice, dessert, plus coffee or tea.
Website: https://www.matenro.info/
Address: 31F East Yard Block 12 Solamachi Dining SKYTREE VIEW