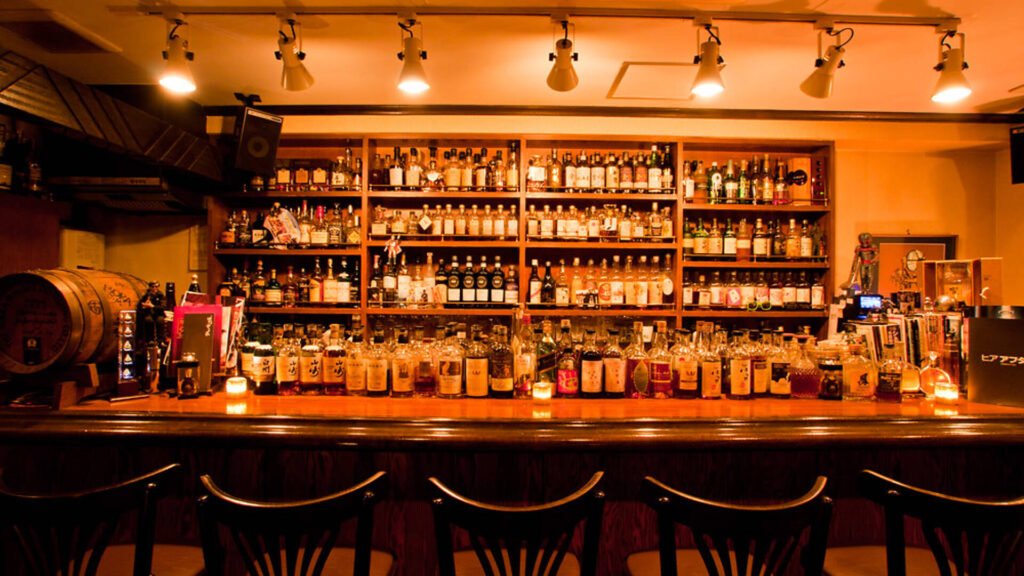 We handpicked a range of awesome bars for you to enjoy, from craft beer pubs to sake shops. These are the places we really like and want to share with you. We've gathered a collection of the most popular spots in Tokyo. What's special about them is that they offer really good drinks. We've included not only the well-known places in Ginza and the award-winning ones but also some casual and affordable options that you'll love to visit frequently. If you're into trying seasonal specialty cocktails recommended by the bartender, this list is perfect for you.
You'll find plenty of Tokyo best bars with great interior designs and unique menus that are worth checking out.
Table of Contents
1. The Bellwood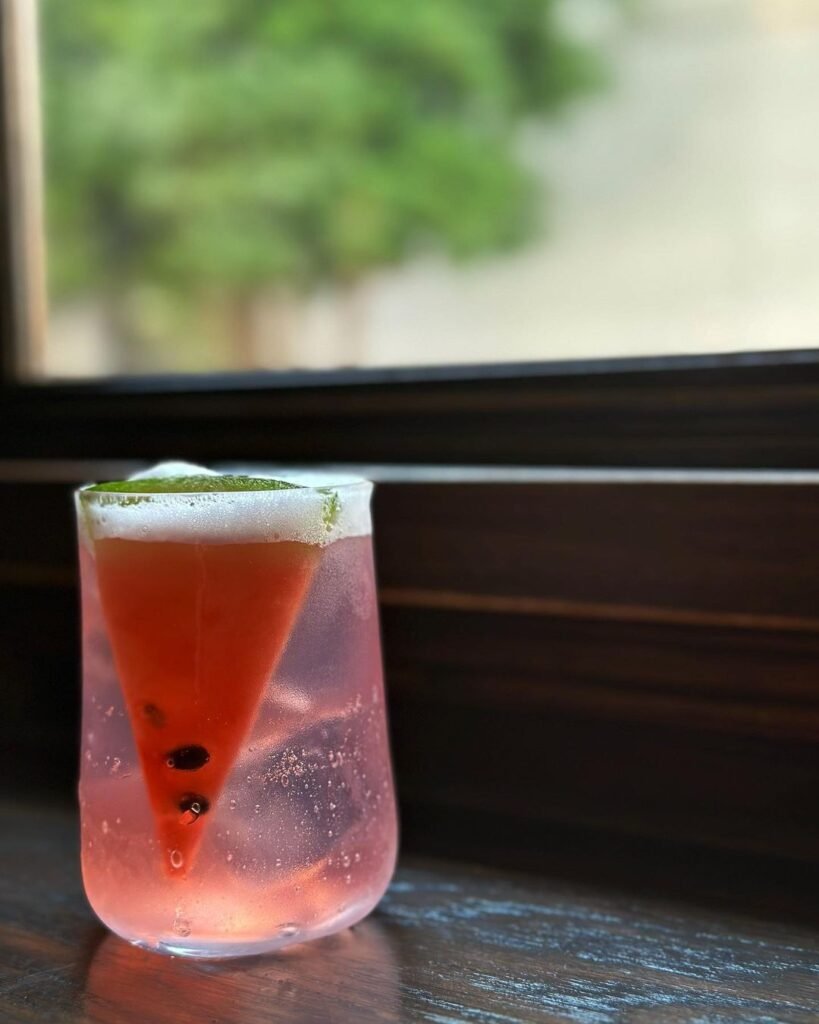 This is the second cocktail bar in the country managed by the SG Group, which also runs SG Club, a renowned bar worldwide. It opened its doors in 2020 and made it to the 69th spot in the "Asia's 50 Best Bars" list in 2021.
The bar holds special significance as it's the brainchild of Atsushi Suzuki, the world champion of "THE CHIVAS MASTERS 2017," a cocktail competition sponsored by the Scotch whiskey brand "Chivas Regal." Atsushi Suzuki has been part of the SG Group's leadership for five years. The bar's concept is inspired by the "Taisho modern special cafe," a trendy style from 100 years ago in Tokyo. It aims to bring this historic concept into the modern age as a cocktail bar, preserving the charm of the past while striving for innovation.
Website: https://www.instagram.com/the_bellwood/
Address: 41-31 Udagawa-cho, Shibuya-ku, Tokyo
2. Gen Yamamoto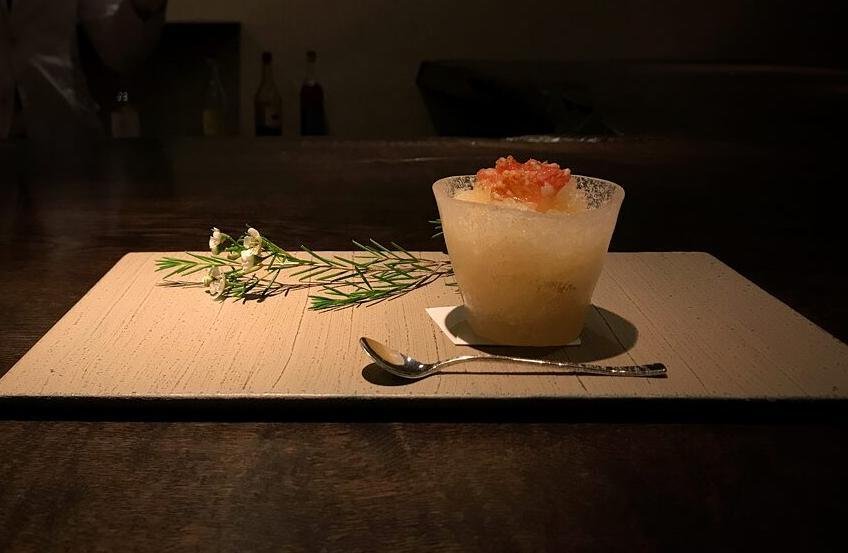 Gen Yamamoto is truly a unique bar in Tokyo. When it opened in 2013, it was a pioneer in the global bar scene for introducing omakase cocktails. In simpler terms, there's no regular menu to order from here. Instead, you choose from sets of four, six, or seven drinks .If you've ever opted for a 'bartender's choice' elsewhere, chances are this place inspired that concept.
At Gen Yamamoto, each cocktail is served individually by Yamamoto himself. He explains the story behind each ingredient in both English and Japanese. This entire experience takes around 90 minutes. You needn't worry about getting too tipsy, as the drinks here are typically smaller and less strong compared to those at most bars. But be assured, you're getting excellent value for your money. The menu changes frequently based on what's in season, ensuring that no two visits will be alike.
Website: http://www.genyamamoto.jp/
Address: Anniversary Building 1F, 1-6-4 Azabu-Juban, Minato-ku, Tokyo
3. The SG Club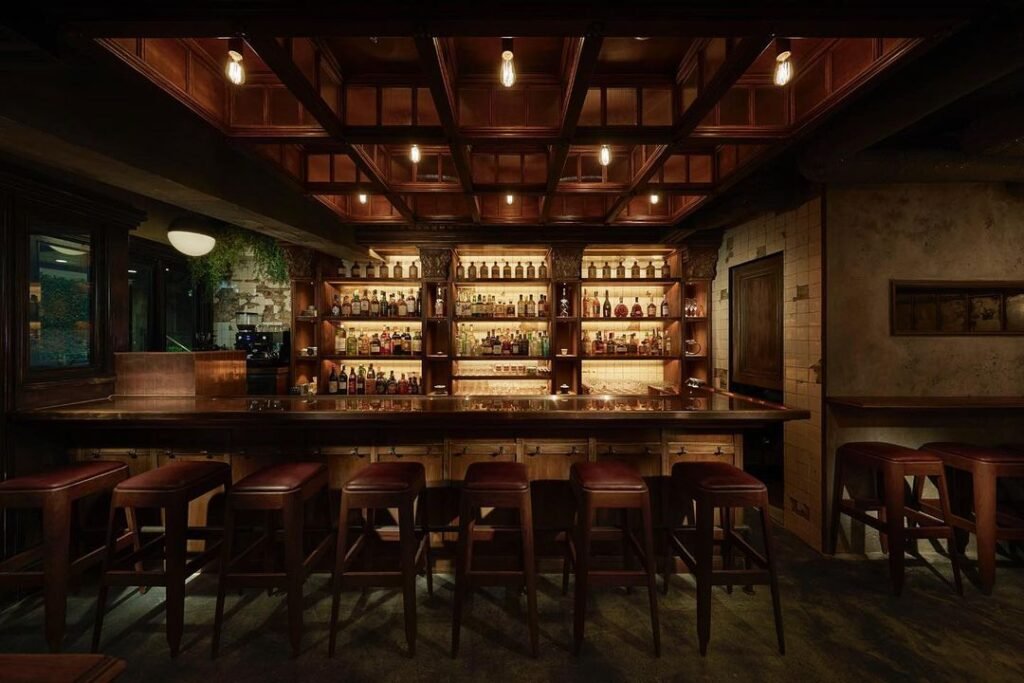 Ranked as the 3rd best bar in Asia according to the 2021 edition of "Asia's 50 Best Bars," the SG Club stands as a top-notch global establishment.
Conceived by Shingo Gokan, renowned as the world's foremost bartender, the bar's concept is truly exceptional. It involves reintroducing American culture in Japan through a unique bar setting. The venue consists of two distinct sections: the first floor, aptly named "Guzzle," offers a casual atmosphere for relaxed enjoyment, while the basement, known as "Sip," carries the vibe of an old-style gang club. This space beautifully blends Western and Japanese elements, with touches like laid-back noren curtains and sake-related rakugo (humorous storytelling).
The cocktail menu draws inspiration from Japan, the Caribbean, and New York—significant routes on Gokan's journey. Through this menu, the aim is for guests to savor a diverse array of flavors that have garnered international acclaim.
Website: https://www.instagram.com/the_sg_club
Address: 1-7-8 Jinnan, Shibuya-ku, Tokyo
4. Bar Orchard Ginza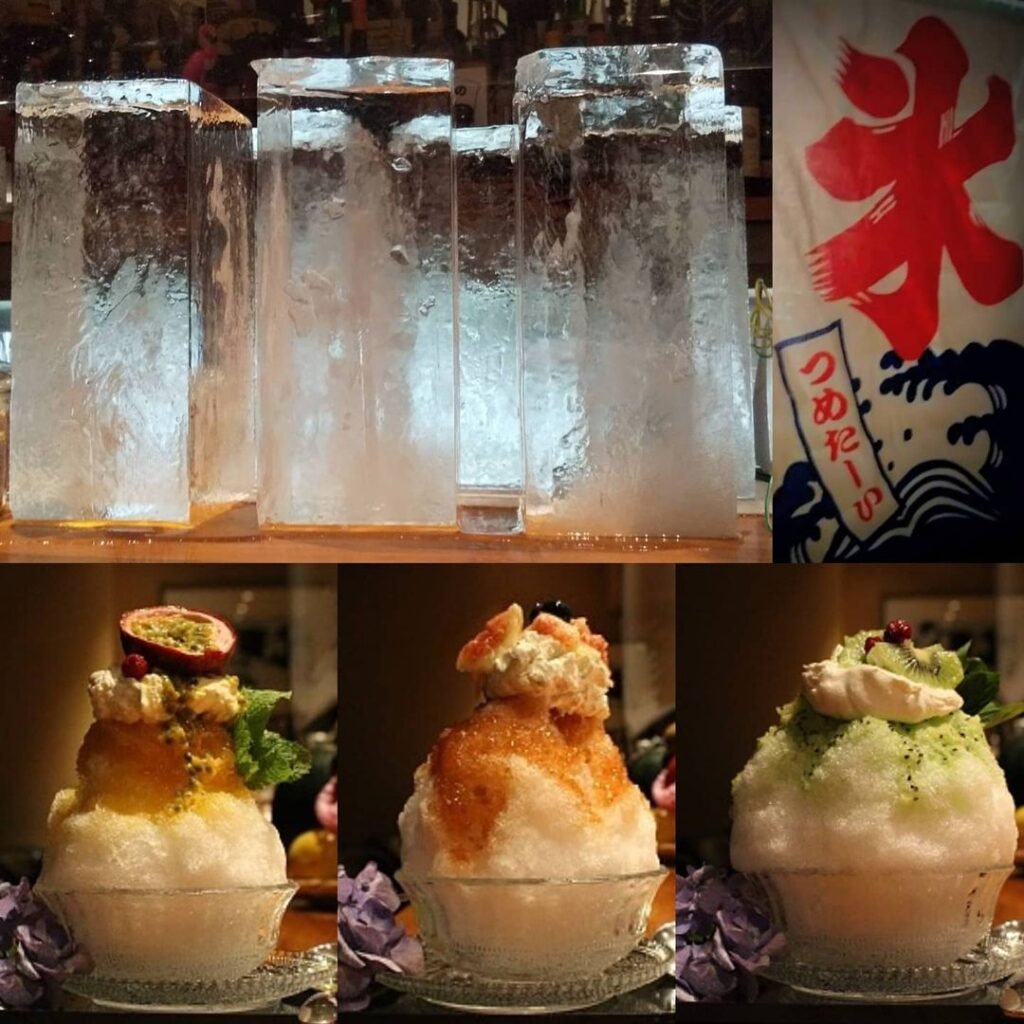 There's a bar close to Ginza station that made it to the 72nd spot in the "ASIA'S 50 BEST BARS 2021" list, which picks out the top bars in Asia.
It's called "Orchard," and as the name hints, they're known for yummy cocktails made from fruits of the season. They also have cool frozen drinks made with super cold liquid nitrogen, which adds to the bar's fame. You've got to see the cool smoke swirling around the counter at least once – it's quite a show!
Website: https://www.instagram.com/barorchardginza
Address: Sanraku Building 7F, 6-5-16 Ginza, Chuo-ku, Tokyo
5. Nakame Lounge & Gallery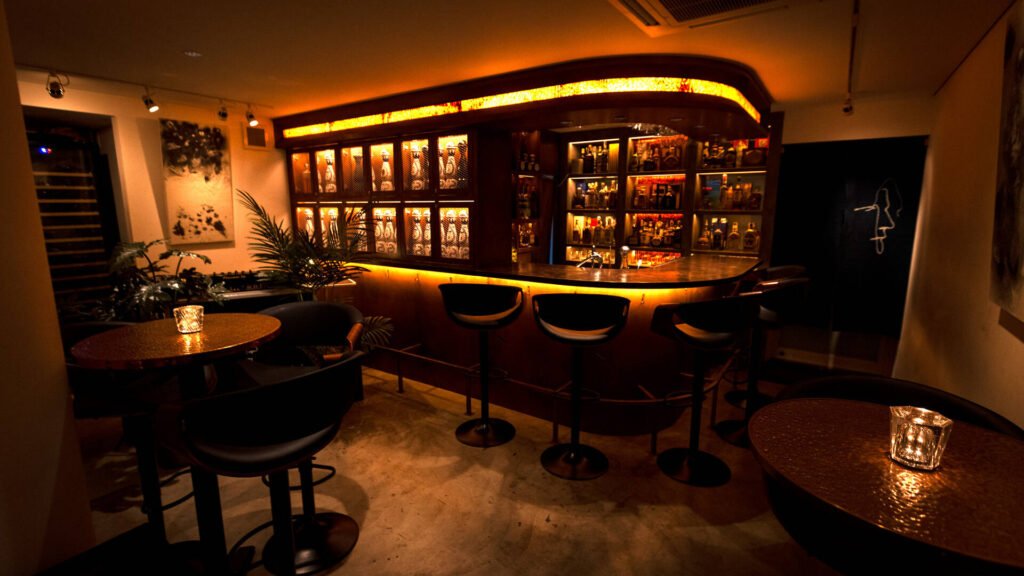 In Nakameguro, there's a bar that serves special vintage tequilas and drinks that change with the seasons. Here, you're not rushed to finish your drink; instead, you can savor your tequila slowly.
The bartender, Faramarz Khademhosseini, shows off rare bottles of pure blue agave tequila like "Cazadores Añejo Cristalino" and "José Cuervo Reserva" on the shelves behind the counter. They even have a cool hand-painted ceramic bottle called a decanter, as well as the 'Clase Azul' collection, which has rich flavors of vanilla and caramel. We're proud of the top-notch brands we've chosen to serve here. The place feels cozy, like you're having a drink in a good friend's living room, and there's art on the walls that adds to the vibe.
This is a great spot for folks who want to learn more about how tequila is made. They have a tasting menu where you can try different tequilas and mezcal along with a dinner course. Plus, you'll get to learn all about the whole process, from how the agave plant grows in the soil to how the tequila is bottled.
Website: https://www.nakame.gallery/
Address: 2-48-10 Kamimeguro, Meguro-ku, Tokyo
6. Mixology Salon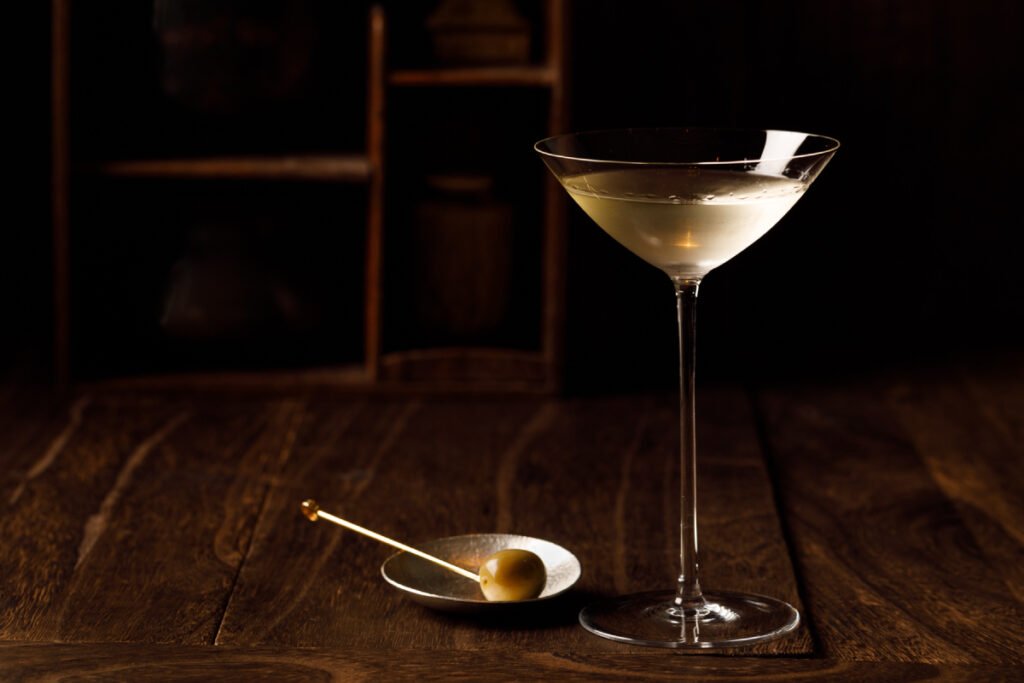 The location of this bar is on the 13th floor of Ginza Six. It's clean and minimalist, but has a warm feel to it. In fact, it looks more like a modern cafe than a drinking place, and there's a reason for that. All of the original cocktails at the mixology salon, which specializes in "teatails," use homemade spirits that are steeped and distilled from tea leaves. Enjoy a wide selection of products such as hojicha-flavored bourbon, buckwheat-flavored vodka, oolong tea-flavored rum, and sencha-flavored gin.
Website: https://ginza6.tokyo.e.abf.hp.transer.com/shops/1239
Address: Ginza Six 13F, 6-10-1 Ginza, Chuo-ku, Tokyo
7. Ishinohana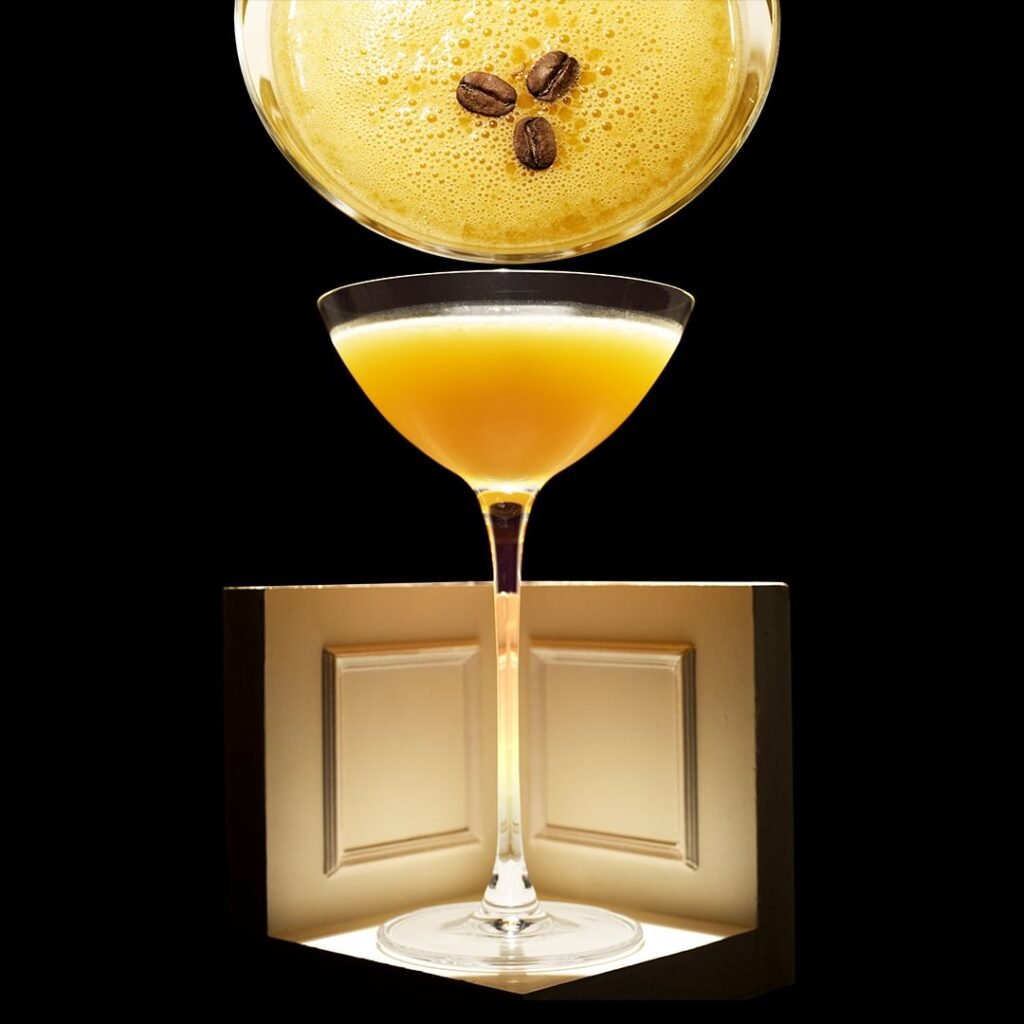 The seasonal cocktails that can be enjoyed at Ishinohana are Shibuya's response to Ginza's upscale cocktail bars, and are the hallmark of this bar. In the basement, just a five-minute walk from Shibuya Station, 2005 Bacardi Martini Grand Prix winner Shinobu Ishigaki uses an array of fresh fruits and vegetables to create signature cocktails.
The gin and tonic uses kumquats for a lively taste, and the margaritas are made with homemade candied cassis. In addition to mojitos and martinis, there's also an extensive list of original cocktails, including Ishigaki's award-winning Claudia and Polar Star.
Website: https://ishinohana.com/
Address: 3-6-2 Shibuya, Shibuya-ku, Tokyo 2nd Yagi Building B1F Tokyo
8. No. (Number)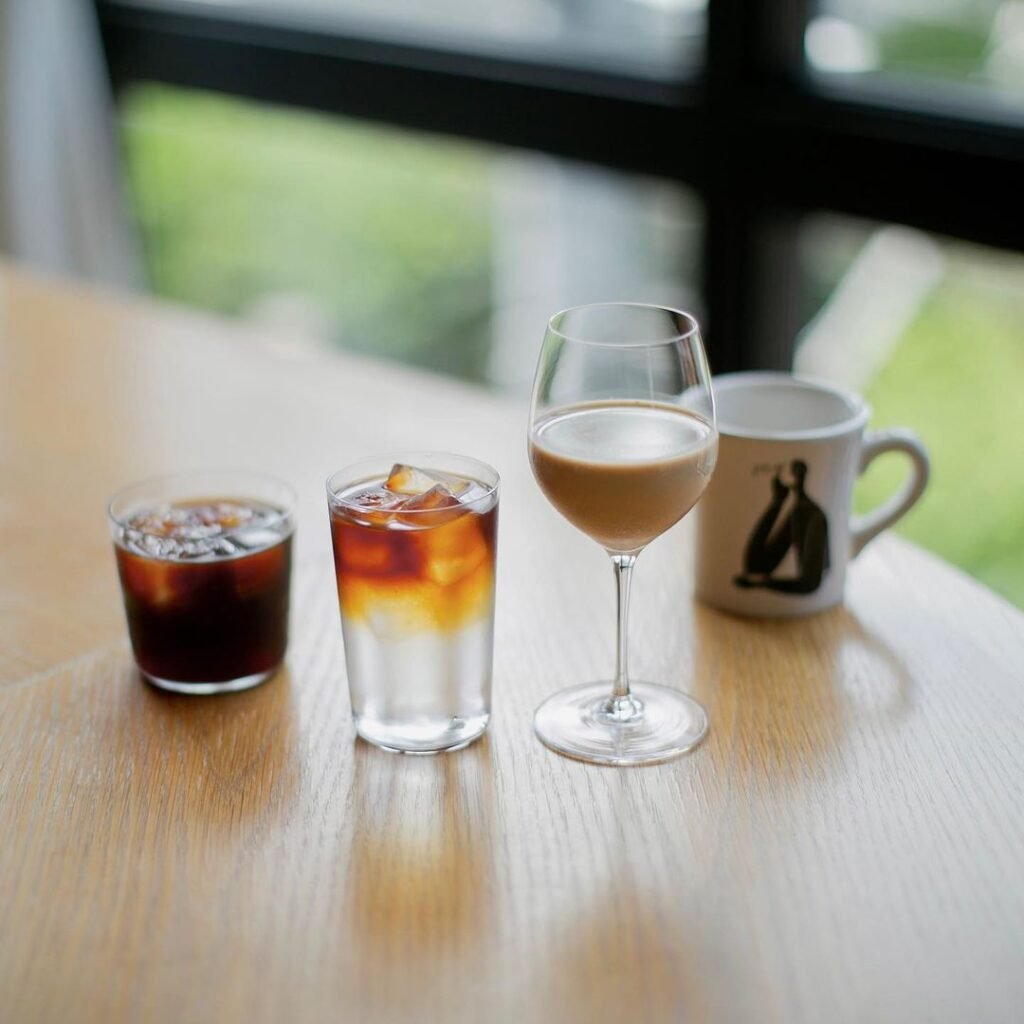 In addition to the terrace seats, the space is designed with a high degree of freedom in mind, such as standing bar counters on both sides and modern round tables.
Drinks will continue to offer mocktails numbered from 1 to 5 after the store name and seasonal special menus. In addition, you can enjoy blended tea in collaboration with Nakameguro's tea house "CHIYA-BA" and alcohol such as "Negroni" from noon.
There is a wide range of foods, from baked sweets such as carrot cake and banana bread, to egg sandwiches, fillet cutlet sandwiches, and green curry. After 17:00, we recommend the unexpected "Niboshi Ramen".
Website: https://www.instagram.com/no.tokyo
Address: CABO uehara 1st floor, 1-32-3 Uehara, Shibuya-ku, Tokyo
9. Gaslight
This bar is the main spot of a bar chain with the same name, which also has three other places in Yotsuya and Ginza. It used to be famous for having Takao Mohri, a big name in the Japanese bar world, associated with it. But now, it's managed by the owner and bartender Noriyuki Iguchi, who won the top prize at the 2007 National Bartending Skills Competition. The front might not be super clear with just a sign, to be honest. But if you manage to find your way in, a fantastic drink experience is waiting on the other side of the door.
Website: https://www.bar-gaslight.com/
Address: 3-3-3 Kasumigaseki, Chiyoda-ku, Tokyo All Nippon Express Kasumigaseki Building 1F Tokyo
10. Virtu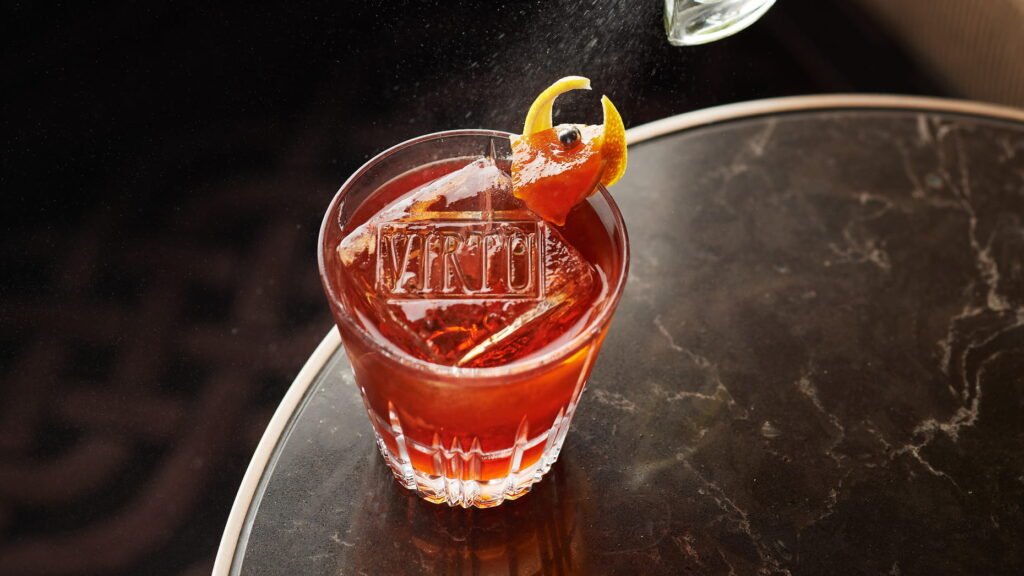 In Harajuku, there's an awesome bar called Cocktail Lounge VIRTÙ. You'll find it on the 39th floor of Four Seasons Hotel Tokyo Otemachi. The place feels like something out of "The Great Gatsby," and when you look out the window, you can see the Tokyo Sky Tree and the Sumida River.
The head bartender creates original cocktails that mix classic French tastes with Japanese ingredients. You've got to try the unique menu they offer here, including things like seasonal ingredients and flavorful cocktails that you can only get at this spot.
And it's not just about the drinks – they've got tasty food too, from truffle fries and beef cutlet sandwiches to treats like chocolate bonbons and berry cheesecake. So, you can enjoy a wonderful drink along with a delicious meal in this special place.
Website: https://www.fourseasons.com/otemachi/dining/restaurants/virtu/
Address: 39th Floor, Four Seasons Hotel Tokyo Otemachi, 1-2-1 Otemachi, Chiyoda-ku, Tokyo
11. Bar Ao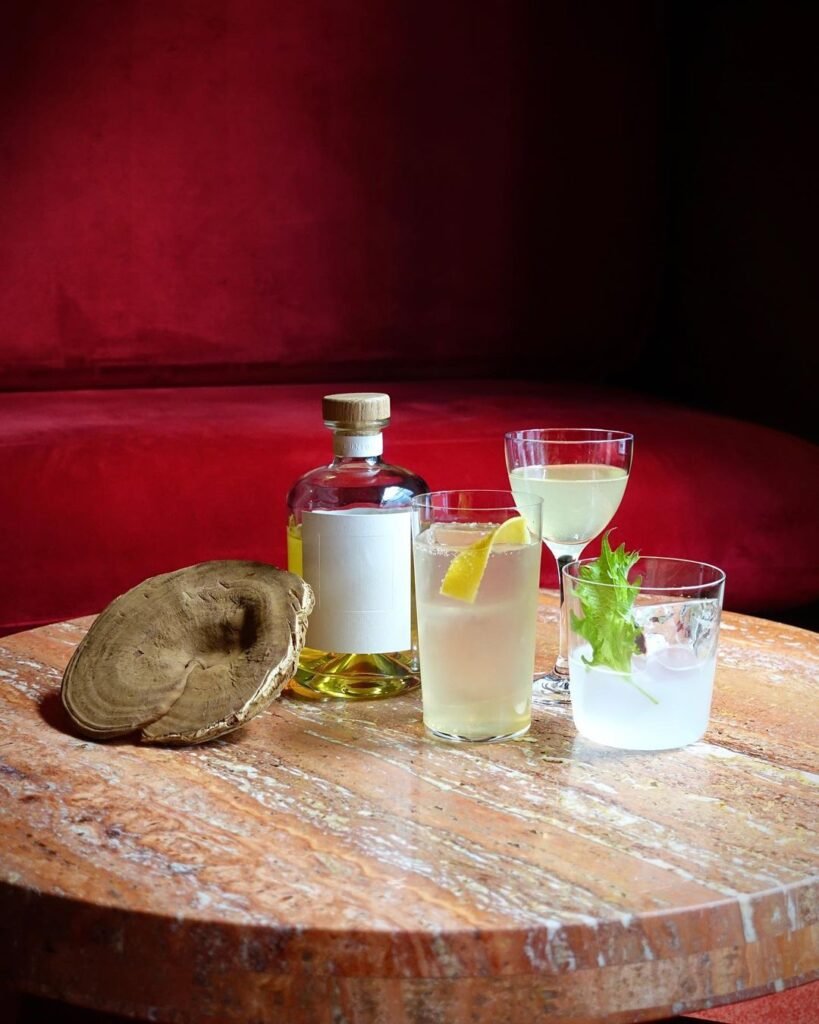 Before it changed, K-Five (K5) was a special place with a big history. It was Japan's first bank, started by Eiichi Shibusawa. One part of the building that used to be Shibusawa's own room got transformed into the cool library bar called Aobuchi (Ao), where they want to make you feel welcome. The super bright red couch and the low table made from red marble look really cool, and they're inspired by how Shibusawa had his study set up.
The bookshelf is set up in a way that takes you through the world like Eiichi Shibusawa saw it, step by step. You start from Kabutocho, then go to Tokyo, and finally see all of Japan. Even though the cocktails are influenced by the Asian way of thinking, they're not just about Japan. You can enjoy new and creative drinks that come from Chinese medicine ideas. And you can try flavors like green tea, hojicha (roasted green tea), and black tea. It's a special thing that lets you taste lots of different yummy things.
Website: https://www.instagram.com/ao_k5_tokyo
Address: 3-5 Nihonbashi Kabutocho, Chuo-ku, Tokyo K5 1st floor, Tokyo
12. Old Imperial Bar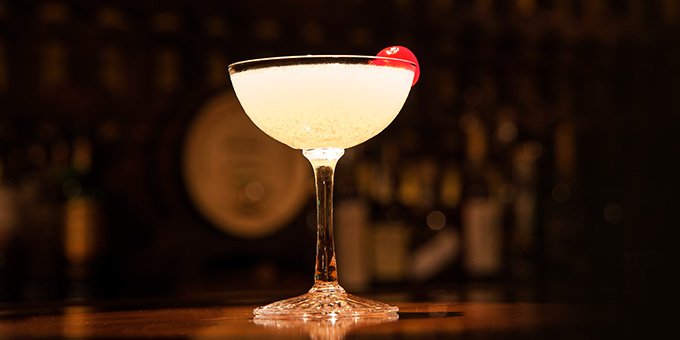 This bar is at the Imperial Hotel Tokyo. It's famous for holding onto the memory of the old main building of the hotel (people often call it the Wright Building), which was designed by Frank Lloyd Wright. You can still see some of that history in the brick behind the counter and the cool geometric wall at the far end of the bar. They moved these things from the Wright Hall.
Oh, and the table and chairs under that geometric wall are the same ones that were in the Wright Hall. You can still sit on them. They're right next to the wall, so they might not be super comfy, but some folks like sitting there for the history.
In this place with a fancy feel, there's a cocktail you shouldn't miss called "Mount Fuji." It's inspired by snowy Mount Fuji. This drink was made back in 1924 with gin, and it has egg whites that make it feel smooth and nice when you drink it.
Website: https://www.imperialhotel.co.jp/j/tokyo/restaurant/old_imperialbar/
Address: 1-1-1 Uchisaiwaicho, Chiyoda-ku, Tokyo Mezzanine floor of the main building
13. Shot Bar Zoetrope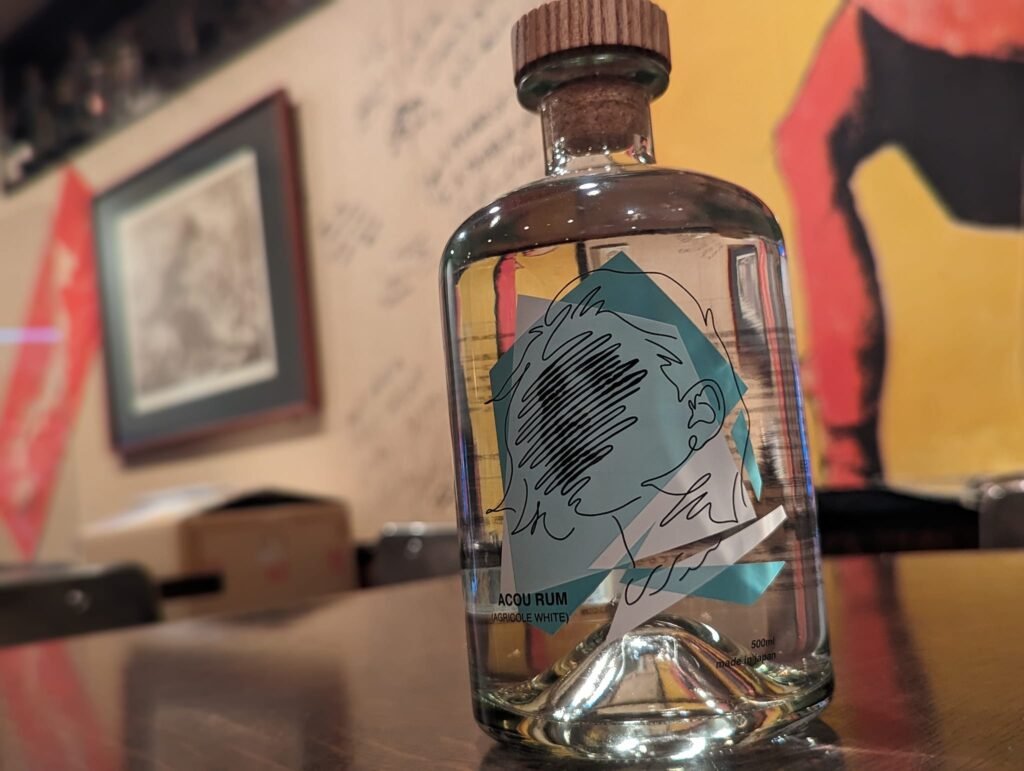 If you're into Japanese whiskey, Zoetrope is the place to check out. It's hidden away on the quiet streets of Nishi-Shinjuku. Inside, the lighting is kind of cozy and the atmosphere is chill. This bar has more bottles of whiskey than any other place in town. There are over 300 kinds, and a lot of them you can't find anywhere else anymore.
For folks who really know their whiskey, there are special bottles like Mercian, and you can even try the distillery's special whiskey. If you're just starting out, you can pick from different sets of whiskeys to taste from big brands like Suntory and Nikka. Or you can go for something different and get a special draft beer from Minoh Beer in Osaka.
The owner isn't just a fan of whiskey, they're also a big movie lover. The place is decorated by Takeo Kimura, who was a super famous art director in Japanese movies. So, while you're sipping your whiskey, you can enjoy silent films and old cartoons. It's a cool combo!
Website: https://www.facebook.com/ShotBarZoetrope
Address: 7-10-14 Nishi-Shinjuku, Shinjuku-ku, Tokyo Gaia Building 3F Tokyo
14. Bar La Hulotte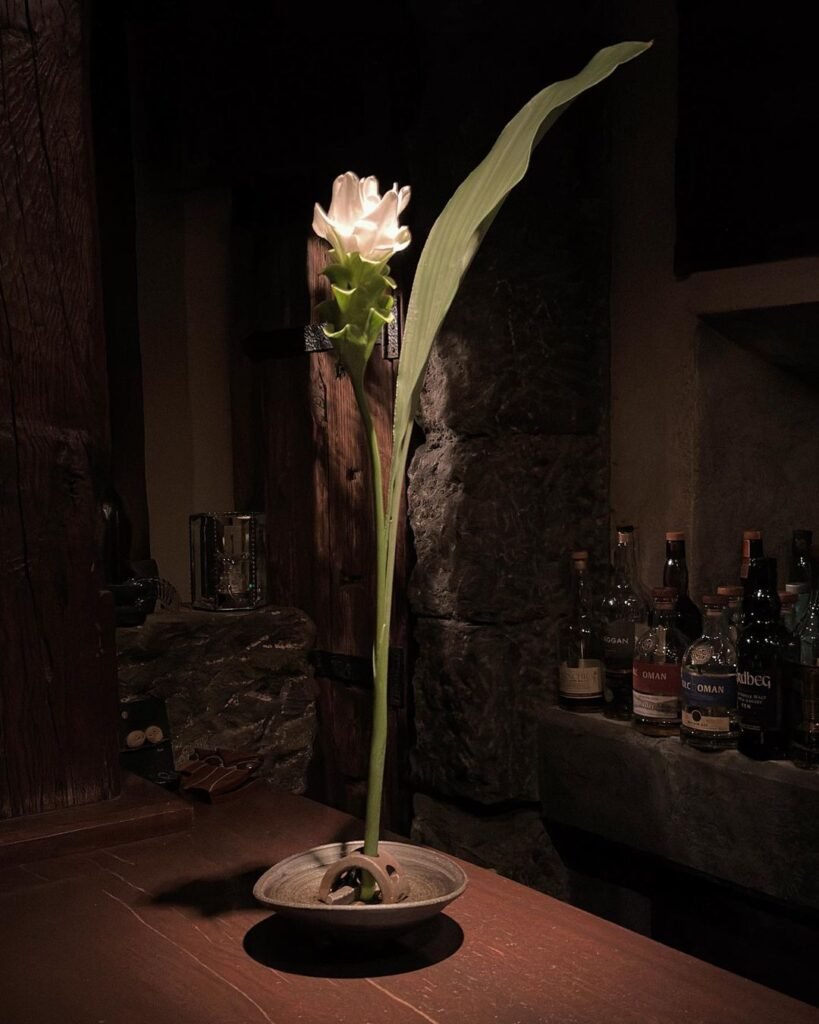 In the peaceful neighborhood of Azabujuban, there's a lovely bar. Everything in the place, from the walls to the inside, is designed super well and looks really nice. The owner used to work at the famous restaurant Radio in Minami Aoyama. If you're looking for a special and amazing place to hang out, you should definitely give it a visit.
Website: https://www.bar-la-hulotte.com/
Address: 3-12-34 Motoazabu, Minato-ku, Tokyo Ono Building 1FTokyo
15. Bar Trench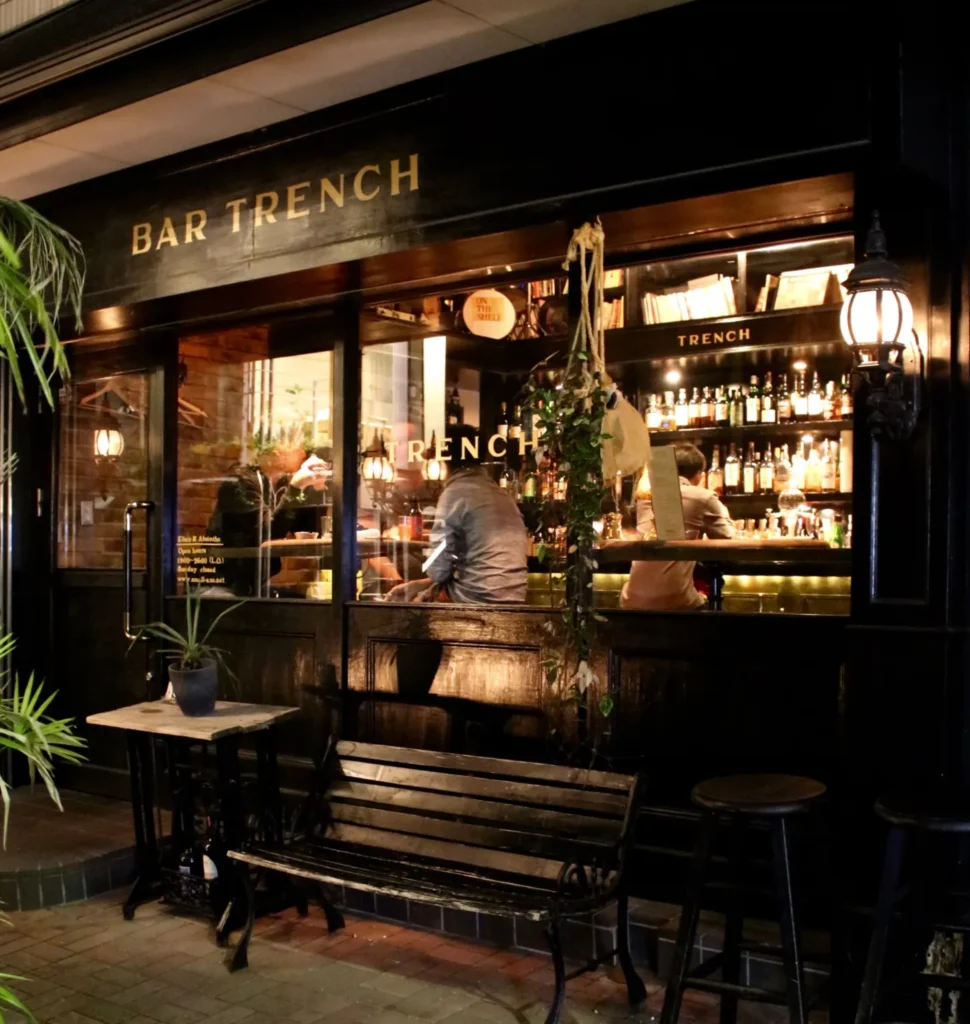 A small bar with 7 seats at the counter and 6 seats at the table, located about 2-3 minutes on foot from Ebisu Station. It's hard to find because it's on a back street, but you should look for the streetlight in front of the store.
Bar Trench has a wide variety of standard spirits and malts, mainly herbal liqueurs such as chartreuse and picon, and absinthe. We recommend mixing absinthe and sugar cubes with water, following the style once loved by artists. It would be nice to have a cocktail made to order based on an herbal liqueur. Stop by after dinner for a sip of absinthe, which will clear both your stomach and your head (and get you drunk, of course). A mysterious bartender, bookshelves that fill up to the ceiling, and a narrow but high ceiling create a comfortable and extraordinary atmosphere, filled with an atmosphere that makes you want to take your time drinking.
Website: https://small-axe.net/bar-trench/
Address: 1-5-8 DIS Building 102, Ebisu Nishi, Shibuya-ku, Tokyo